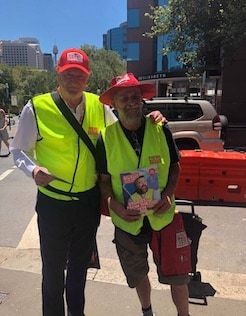 Sydney Swans CEO and Managing Director Andrew Ireland took to the streets for a good cause this week, selling copies of the Big Issue as part of the publication's CEO Selling Campaign.
The campaign aims to shine a spotlight on thousands of homeless and disadvantaged street paper vendors who are working hard to change their lives – in Australia and in 33 other countries around the world.
Ireland worked with vendor David S, known to his friends as "Dundee", to sell the Big Issue outside Sydney's Central Station.
Together the pair sold 16 magazines with the money raised being used to support vendor activities, such as the Big Issue's fortnightly breakfast.
More than 100 business and political leaders across Australia have put their hand up to take part in the challenge this year.
"I am a great supporter of The Big Issue vendors who are struggling a bit but are prepared to get our on the street," Ireland said.
"It is a good publication and is an active way for them to get some dollars into their pockets.
"I can't say it is hard when you only go down and do it for an hour because clearly you know you are not going to stay there, but when people walk towards you and you ask them to buy it you see the look from some people you certainly feel for those doing it day in and day out."