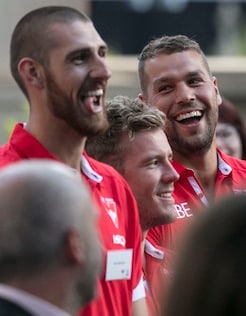 Sydney superstar Lance Franklin has declared himself ready for round one after recovering from multiple off-season operations.
The 31-year-old returned to full training last week following surgery on both knees and an ankle, and expects to play in an intraclub match on Friday.
Franklin told Seven News he was feeling fresh ahead of his 14th season at AFL level.
"I had both knees cleaned up at the end of (last) year and then I had my ankle (operated on) but everything has run really well and I've recovered great," Franklin said.
"I've been back training with the main group for the past week and a half, and we've got an intraclub game on tomorrow (Friday), so I think I'm going to play in that game.
"The body feels good because I've looked after myself over the break and came back in good condition, so I'm running well and training good.
"Everything is going really well, so I'll be right to play round one."
With questions marks over whether he'll be able to see out the remaining five years of his nine-year contract, a content Franklin was confident he would be there to the end.
The seven-time All Australian will be 35 years old and facing his 18th year in the competition in the contract's final season.
"The mind is still good, the body is good and the enjoyment is still there," he said.
"It's a great city, it's an awesome club, great culture and I'm really happy."
Franklin's capacity to add to his 860-career goals this season is likely to be made tougher with the retirement of Kurt Tippet, after the 30-year-old had to retire last month due to a troublesome ankle.
While he admits Tippett will be missed, the 271-game veteran is confident the depth of the Swans' list will again make them premiership contenders
"Kurt is a massive loss for us (because) we would love for him to still be playing but, unfortunately, he isn't, he said.
"We've got Callum Sinclair and Sam Reid down (forward) that can help us."