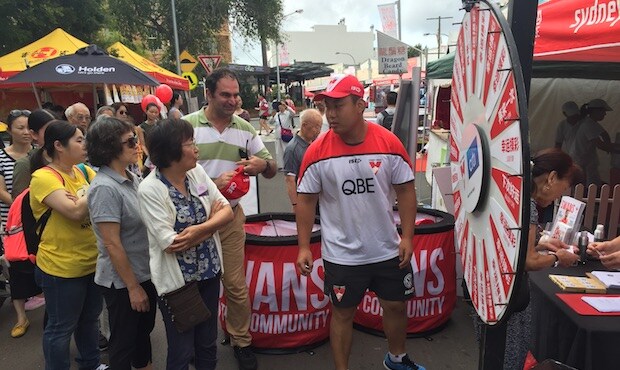 The Sydney Swans joined thousands of locals in Hurstville on Sunday for the annual Lunar New Year Festival held in Forest Road.
Now in its 15th year, the Hurstville event is believed to be the biggest Lunar New Year Festival held outside of the Sydney CBD with more than 150,000 people in attendance throughout the day.
The Chinese community were invited to learn more about the game of AFL and the Sydney Swans with thousands of prizes given away during the day at the Citi Spin 2 Win wheel.
It was a popular attraction on the day with people queuing for an hour before the start of the day just to have a chance at winning a prize on the wheel.
The Club's fan engagement team was joined by international exchange student Hao Huangyu from China who is in Australia studying sport management. The assistance of Hao was instrumental in being able to converse with the local community to teach them more about the game of AFL.
The Sydney Swans will continue to support everything happening in the community throughout the next few months, click here to find out where we are.