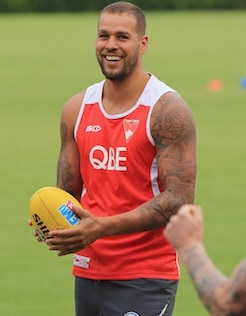 Lance Franklin and Josh Kennedy are among a host of senior players set to feature in Friday's inter-club practice match against Greater Western Sydney at Henson Park.
The pair trained with teammates during Wednesday's main session are look set to put off-season surgery behind them as they prepare for the start of the home and away season.
Coach John Longmire confirmed both players would play some game time in Friday's clash with the Sydney cross-town rivals.
"We have a pretty general idea about who will play, there will be five or six senior blokes that we will filter in over the next couple of weeks who won't play on Friday," Longmire said.
"We will have Kennedy and Franklin if they pull up well from training today available to play and playing some game time.
"They won't be playing huge minutes but they will certainly be exposed for the first time this week which is terrific."
Longmire confirmed Tom Papley and Sam Naismith who have both had modified pre-season programs were also expected to line up on Friday afternoon.
Dan Hannebery has continued to increase his training load this week but remains in doubt for the season opener against West Coast on March 25.
"Dan is ok now, but he has taken his time since coming off his groin at the end of last year so we were really conservative with him," Longmire said.
"He hurt his calf a number of weeks ago which put him back at bit but he is back into running now and looking good."
"I think he will be touch and go for the start of the season but is not about Round 1 for him it is about making sure he gets in the best posisble shape to have the best season he can have."
Click here to get full details on Friday's match to be held at Henson Park.