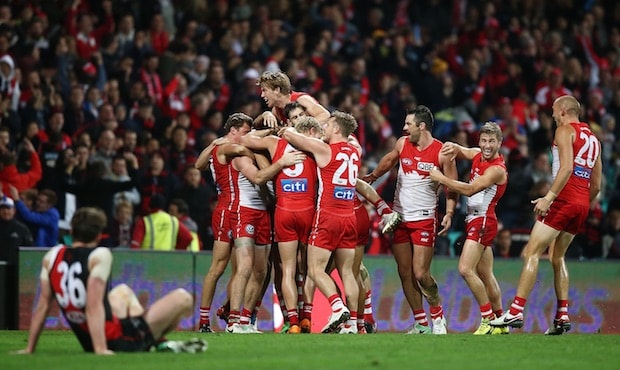 The Sydney Swans Annual General Meeting was held at the SCG on Thursday night, where chairman Andrew Pridham detailed financial results as well as some of the on and off-field highlights from season 2017.
The meeting heard that Swans membership grew by four percent to record 58,838 members, setting a new membership record for the fifth consecutive year.
In total Sydney welcomed more than 11,000 new members last year, while more than 12,000 signed on from Melbourne, interstate and overseas.
At the SCG, some 413,787 people made their way through the gates for an average crowd of 34,482 to watch the Swans play.
Last year also saw the first Pride Game in Sydney for premiership points, while the club led the AFL in becoming the first to launch a Diversity Action Plan.
Overall, the financial result for 2017 was a profit of $105,186 on revenue of $50,953,582 and net assets at year-end were $2,191,005, which Pridham said on balance was a good result.
"Our seventh successive year of profit and could not have been achieved without the continuing financial support of our members and our long time Principal Partner QBE, Major Partners Citi and Volkswagen, and our Premier Partners and other sponsors," Pridham said.
"I would also like to thank the Board of the Sydney Swans Foundation, and its chairman Peter Ivany, for their amazing work.
"Season 2017 was the 13th year the Sydney Swans Foundation has been in operation and it will play a major role in funding our new training and administration facilities."
The Swans chairman said Sydney continued to invest significant funds in both the football program and the Academy.
"The QBE Sydney Swans Academy has over 90 coaches in the community with over 570 boys from under-11 to under-19 in various Academy programs in three metropolitan and seven regional locations," Pridham said.
"The Sydney Swans Academy costs $1.4 million per annum to run with the vast majority of this funded by the Club – we have invested over $8 million in it since 2010.
"In 2018, we are really excited to introduce a Youth Girls Program with our first intake of 130 girls aged 12-13 years to commence in April."
Meanwhile Sydney Swans Directors Alexandra Goodfellow, Andrew Ireland and Brian Tyson retired in accordance with Clause 28.1 of the Constitution, with the Board resolving to unanimously re-appoint the three for a further three-year term.