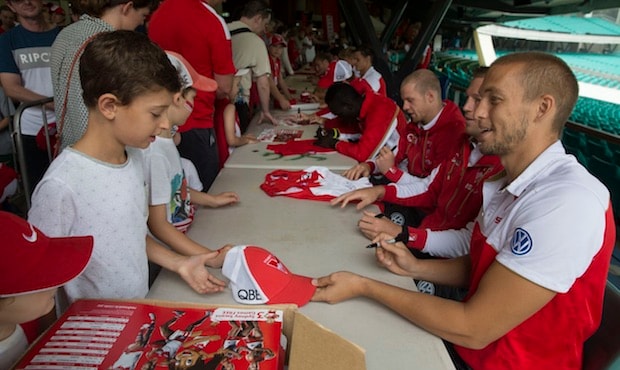 The 2018 Sydney Swans Fan Day, presented by Volkswagen, is not far away.
Fan Day will be held on Saturday March 10, from 10.30am to 1.30pm, and is free to all members and fans.
The event will once again be held at the SCG as we count down to the start of the home and away season!
There will be plenty of activities to take part in with the entire 2018 playing list in attendance on the day.
Whats On
Volkswagen Fan Zone
There will be plenty of fun Volkswagen activities to take part in including the Rear View Throw In, Handball Challenge or the chance to get a video of yourself singing our club theme song in the Club Song Car.

Citi Fan Booth
Come and get your photo taken with some of your favourite players at the Citi Fan Photo Booth.
Swans Fan Zone
Come and join in the fun at the Sydney Swans Fan Zone where we will be giving away some great prizes and you could win as part of our Spin 2 Win Wheel.
Member Redemptions
Member Services will be in attendance on the day to assist you with renewing your membership, answer your membership questions or help you join up for the 2018 season.
Swans360° – made possible by QBE
Get a sense of the inner sanctum of the SCG with Swans 360 made possible by QBE. Through a powerful 360 degree virtual reality video, get behind the scenes with unique access to the SWans on match day.
Merchandise
Stock up on the newest merchandise available from the Swans Shop to make sure you are ready to cheer on the team from the SCG in season 2018.
Please note parking for this event is available on Driver Avenue and at the Entertainment Quarter.
Sydney Swans 2018 Fan Day, presented by Volkswagen
Saturday, March 10, 10:30am – 1:30pm
Sydney Cricket Ground, Moore Park
FREE
More information on the Melbourne Fan Day will be communicated shortly.