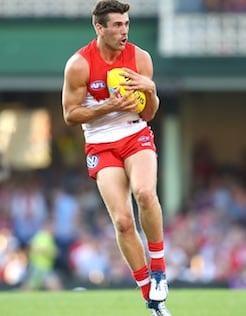 The Swans' NEAFL side fell to the GWS Giants last week but is as ready as ever ahead of a clash with the Brisbane Lions in Queensland on Saturday.
The reserves opened their 2018 campaign with a four-point Sydney Derby loss and are now set for a grand final rematch in Burpengary, a town situated 35 kilometres north of Brisbane.
Development coach Jeremy Laidler said the reserves were primed for the Round 2 match.
"The spirits have actually been not too bad since the loss to the Giants," Laidler said.
"We know we lost the game but we did a lot of things well. We didn't take our opportunities going forward and were a little bit sloppy with our ball-use and skills, but we reviewed the game pretty heavily and the young boys will take a lot out of last week's loss.
"It will be interesting to see how the new group gel and bond but they're all pretty close. Living in Sydney, they all have to move out of home and have to stick together. They're a great group of boys and we're really looking forward to getting up to Burpengary and playing against the Lions.
"We'll need to bring a bit of energy, a bit of spirit to the Lions game. We've got to get around each other and use our run. We've got a lot of speed in our NEAFL side and we've just got to use our attributes to the best of our abilities."
The Lions are also eyeing a return to the winners' circle after succumbing to a one-point loss to the Northern Territory Thunder in Darwin last Saturday.
They won 17 games last season and had just three losses in a rapid improvement from their 2016 campaign in which they took out the wooden spoon.
Brisbane claimed the four premiership points on three of the four occasions the Swans and Lions met in 2017 and emerged three-point grand final victors.
Laidler says the Swans await a tough encounter.
"They've got a lot of AFL-listed players in the NEAFL and they've got a lot of experience with Tom Bell, Clay Beams and Daniel McStay playing up there," Laidler said.
"So it's going to be a really hot challenge for our boys but one we're looking forward to."
The Swans' Aliir Aliir and Nic Newman (AFL duties) are two of six omissions for the Lions clash, while Ryley Stoddart, Kyle Veerhuis, McKinlay Pearce and Darcy Cordell will all make their first NEAFL appearances of the season.
Jordan Foote is another omission after suffering a toe injury in the Swans match with the Giants but Laidler said there's strong cover.
"We've got some really good players in the NEAFL at the moment and they're putting strong cases towards the seniors," Laidler said.
"Ben Ronke is playing really good footy, Dan Robinson is playing really consistent footy and down back Harry Marsh has been the most consistent of them all."
BRISBANE
B: 50. Jai Kennealy 45. Jack Frost 19. Jacob Allison
HB: 20. Cedric Cox 25. Dan McStay 24. Liam Dawson
C: 4. Ryan Bastinac 39. Corey Lyons 22. Marco Paparone
HF: 17. Claye Beams 35. Ryan Lester 7. Tom Bell
F: 1. Ben Keays 46. Oscar McInerney 41. Matt Eagles
Foll: 44. Archie Smith 38. Connor Ballenden 37. Brandon Starcevich
Inter: 48. Jack Tomkinson 51. Nick Smith 53. Daniel Fleming 54. Billy Johnson 55. Ben Sloan
Emer: 56. Ronan Mayes 52. Corey Gladdish 56. Jonah Farry
In: 20. Cedric Cox 22. Marco Paparone 35. Ryan Lester 51. Nick Smith 45. Jack Frost 54. Billy Johnson
Out: Jake Barrett (AFL) 51. Jesse Quint (Academy) 52. Ethan Hunt (injured) 33. Zac Bailey (AFL) 42. Mitch Hinge (injured)
New: 51. Nick Smith 54. Billy Johnson
SYDNEY
B: 38. Colin O'Riordan 21. Jack Maibaum 45. Angus Styles
HB: 19. Matthew Ling 49. Darcy Cordell 33. Ryley Stoddart
C: 1. James Rose 32. James Bell 42. Robbie Fox
HF: 27. Daniel Robinson 30. Tom McCartin 51. Luke Skrivanic
F: 25. Ben Ronke 46. Joel Amartey 56. Lachlan Dent
Foll: 17. Darcy Cameron 41. Jake Brown 31. Harrison Marsh
Inter: 55. Bailey Stewart 50. Nick Eynaud 54. Dylan Smith 57. Kyle Veerhuis 58. McKinlay Pearce
Emer: 52. Tom Meacham 53. Domonic Soffe
In: 42. Robbie Fox 33. Ryley Stoddart 57. Kyle Veerhuis 58. McKinlay Pearce 49. Darcy Cordell 51. Luke Skrivanic
Out: 36. Aliir Aliir (AFL) 28. Nic Newman (AFL) 49. Isaac Bartholomeus (Academy) 6. Jordan Foote (injured) 56. Joey Reinhard (Academy) 52. Tom Meacham (omitted)
New: 33. Ryley Stoddart 57. Kyle Veerhuis 58. McKinlay Pearce 49. Darcy Cordell