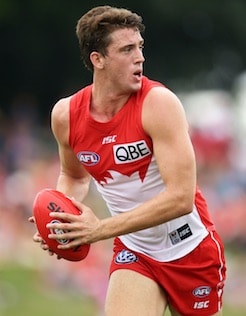 The Brisbane Lions notched a commanding 50-point victory over the Sydney Swans with a 12-goal barrage in the second half blowing apart an initially seesawing affair.
The inaccuracy which plagued Sydney in Round 1 was on full display again at Burpengary on Saturday afternoon, as the Swans kicked a lacklustre 10.14 (74) to Brisbane's 19.10 (124).
As is usually the case when these two teams meet, the first half was an arm-wrestle characterised by lead changes and tightly contested possession.
Sydney had a real chance to take the game away from Brisbane at the beginning of the second term with the ball taking up permanent residency in Sydney's forward half between the third and 10th minute.
However – just like last week – Sydney's inaccuracy off the boot meant they only had 1.4 to show for their efforts.
Considering their underwhelming kicking display, the Swans were lucky to go into the first two breaks leading on the scoreboard – by one and seven points respectively.
However, the Lions made the Swans pay for their poor aim, as they emerged from the sheds at half-time a completely different team, and kicked an impressive 12 goals to Sydney's three in a dominant half of football.
Claye Beams led the charge, slotting two goals in the half's first three minutes. Not to be outdone, Connor Ballenden and Ryan Bastinac quickly followed suit, making it four goals in the first five minutes for the Lions.
Brisbane didn't let up in the final quarter, notching a further six goals and finishing the match with 13 different goal scorers.
By the time the final siren sounded, the Lions had outplayed the Swans in almost every statistical category, winning the hit-outs (43-25), disposals (381-254), clearances (37-22) and inside 50s (56-38) by considerable margins.
For the Swans, captain Darcy Cameron was one of his team's best on ground, with 14 disposals, three tackles, 17 hit-outs and two goals to his name.
While there were extenuating circumstances for Sydney's poor showing – as James Bell left the field in the second-quarter with a possible knee injury, while Daniel Robinson failed to start the match – it was ultimately their own inaccuracy that was the Swans' undoing.
The men in red-and-white will now have an extra week to regroup and reflect on their performance, with a much-needed bye up next in Round 3.
BRISBANE 3.3 7.5 13.8 19.10 (124)
SYDNEY 3.4 7.12 8.13 10.14 (74)
GOALS – Brisbane: R Bastinac 3 D McStay 2 Starcevich 2 R Lester 2 T Bell 1 C Beams 2 J Allison 1 B Keays 1 C Ballenden 1 A Smith 1 D Fleming 1 C Lyons 1 N Smith 1. Sydney: B Ronke 2 D Cameron 2 J Rose 1 J Brown 1 T McCartin 1 J Amartey 1 B Stewart 1 M Pearce 1.
BEST – Brisbane: C Beams R Lester T Bell C Lyons J Allison D McStay. Sydney: R Fox H Marsh T McCartin B Ronke.