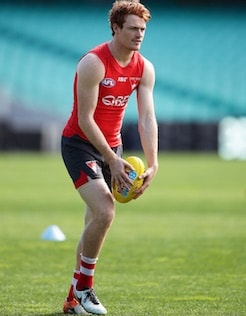 Sydney has placed no expectations on Gary Rohan's availability for Friday night's massive clash with Adelaide at the SCG, but the forward has returned to the club.
Rohan's wife Amie gave birth to twin girls last Thursday, Bella Rae and Willow Nevaeh, but Willow, who had been already diagnosed with a fatal brain condition, tragically passed away hours after being born.
Rohan missed the Swans' win over the Western Bulldogs on Saturday to remain in Sydney but took part in a short skills session on Monday.
Swans coach John Longmire said Rohan was in good spirits, but any decisions on his return to the senior team would be made when the popular clubman was ready.
"We'll just take it one day at a time and see how it goes – we're not going to make any grand statements on a Monday," he said.
"Obviously he and Amie had some challenging moments last week, but also some exciting moments as well, but they're going really well considering."
It's not the first time the Swans have been hit by a family tragedy, with veteran Jarrad McVeigh and his wife Clementine losing their daughter, Luella, just four weeks after birth in 2011, due to serious heart conditions.
Longmire and his opposite number Luke Beveridge paid emotional tributes to the Rohan family after the Swans' seven-point win at Etihad Stadium, and Longmire said the touching words of his opposite number weren't lost on him or the grieving couple.
"We really appreciated, and they really appreciated what Luke Beveridge said after the game," he said.
"They commented on how the whole football community comes together as one, whether they're supporters, clubs, coaches or players, in challenging times.
"Unfortunately we've experienced it a couple of times now, but there's no better spot to be (during tough times) than in the AFL industry and the families involved really appreciate that)."