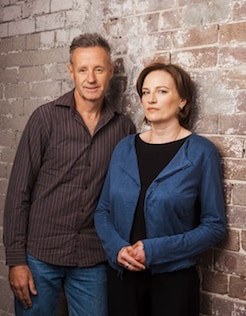 When it comes to inspirational people Sydney Swans ambassador and Diversity Action Plan committee member, Cynthia Banham, is right up there.
An accomplished journalist, solicitor, author and teacher, Cynthia Banham made her mark in Canberra as the foreign affairs and defence correspondent for the Sydney Morning Herald. She also holds a Doctor of Philosophy and a Masters in International Affairs.
It's an impressive resume – but it's courage, grit and determination that make this Swans ambassador truly remarkable.
In 2007, Cynthia Banham survived the Garuda Indonesia plane crash in Yogyakarta that killed 21 people. She was left with shocking injuries, including burns to 60 per cent of her body, and both legs required amputation.
Eleven years later, her story of survival, family, loss and hope has been detailed in her book A Certain Light.
"This book tells a story that I tried to write many times before, but couldn't," Banham said.
"For a long time, it was too painful to tell. It is also one I hadn't known how to tell. It had to be more than a story about surviving a plane crash, a random event without intrinsic meaning."
In the book, Banham speaks of her special relationship with the Sydney Swans. Introduced to AFL by husband Michael, the couple share a passion for the red and white.
During her recovery in Perth, former coach Paul Roos, along with players Adam Goodes, Brett Kirk and Craig Bolton, paid the couple a surprise visit, taking them out for lunch following a game against West Coast.
Banham writes:
The Swans offered an unexpected, beautiful gift to us: a lightness and an escape amid all the suffering and darkness. By reaching out, Roosy and the club gave Michael and me a special closeness to the game that we loved watching together. Roosy and the players didn't ask difficult questions; they hadn't known me before the crash and couldn't make painful comparisons to what I had been. We just talked about the Swans' football season and the state of Irish defender Tadhg Kennelly's knee.
I was an unlikely football fanatic: I'd never before supported any kind of organised sport or team. But the athleticism and tribalism of AFL appealed to me. And Roosy, an exceptional individual – generous, dependable, composed, good-humoured – genuinely cared about me and Michael. He and his wife Tami became our friends.
Written for her young son so that he would know what had happened to his mother, Cynthia Banham's inspiring memoir speaks to the heart of what really matters in life
"Life is not defined by the bad things that happen to us. It certainly isn't for me," she said.
A Certain Life by Cynthia Banham is available now via the Swanshop: CLICK HERE TO PURCHASE YOUR COPY