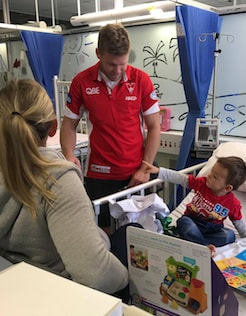 Sydney Swans pair Dan Hannebery and Harry Cunningham spent time with patients, families and staff at Sydney Children's Hospital this week in the lead up to Swans Red Day.
On Saturday night when the Swans take on Fremantle at the SCG #SwansRedDay will help celebrate the long-standing partnership the club has with Redkite.
All fans and members are urged to wear red and collect a limited edition Red Day wig for $5 with all donations going to Redkite – supporting children and young people living with cancer and their families.
Hannebery and Cunningham took time out of their training to visit the oncology ward at the hospital.
Cunningham said he enjoyed being able to carry on the relationship first started by Brett Kirk and Brad Seymour over 18 years ago.
"I was involved through Rhyce Shaw about three years ago and it is something I am very grateful for and enjoy being able to do," Cunningham said.
"We are in a position to be able to inspire kids and to be able to do that on a yearly basis I feel grateful to be a part of it."
"Redkite are an amazing foundation that for a tremendous amount of work to help the families and patients here at the hospital."
"To be able to give back is something that I treasure a lot."
We visited the Sydney Children's Hospital today and the boys sang little Marcus Happy Birthday for his 2nd Birthday! @Redkite pic.twitter.com/7nJ6Eg2TNg

— Sydney Swans (@sydneyswans) May 16, 2018