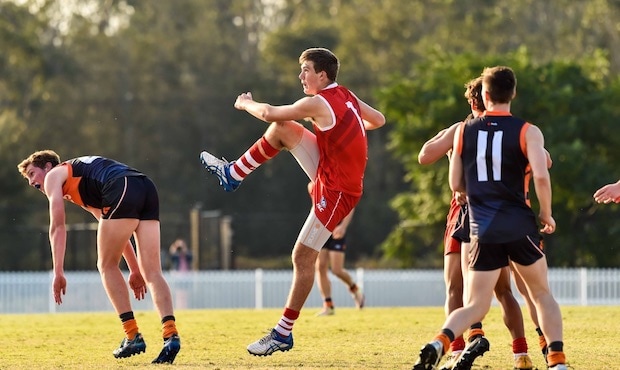 Dillon Walsh-Hall
Age: 16
Club: Warners Bay
Selected in NSW-ACT RAMS team for 2018 National AFL U16 Championships
When Dillon Walsh-Hall finishes training with the QBE Sydney Swans Academy Under 16 squad on Thursday nights, his evening is far from over.
While most of his Academy teammates are picked up and whisked home for a meal, Dillon heads to Sydney's Central Station for the train ride home to Newcastle.
After arriving around 11pm, he's up the next day at 5am to head to work as an apprentice electrician.
But his commitment and discipline to do whatever it takes has paid off. Walsh-Hall, 16, has been recognised as one of the most talented junior AFL players in the State, selected to play for the NSW-ACT RAMS in the upcoming National AFL U16 championships.
His State selection comes after impressive performances during the recent U16 Academy Series, where the Swans Academy played three games against the GWS Giants Academy.
The Swans won the Series 2-1, with the 198cm Walsh-Hall playing a prominent role in the ruck.
Academy coach and Swans premiership player, Nick Davis, says he's been impressed with Dillon's competitive nature, his mobility and his skill level for a player of his size.
"He has a strong physical presence which brings other boys into the game and allows them to stand taller, and that was reflected in our results against the Giants,'' Davis said.
"He thoroughly deserves his NSW selection. Dillon is a shining example of the commitment that some of our Academy boys make in order to go further with their football.
"He has shown real maturity and a sense of discipline to take on an apprenticeship as well, and get to this level with his football so quickly.''
What makes Walsh-Hall's achievement more notable is he only began playing junior AFL in 2015, firstly in Port Macquarie and then for the past two seasons at Warners Bay near Newcastle.
It's been a big year for him so far. He was recruited to the Academy in January, and then also started an electrical apprenticeship.
His parents are very happy about his football achievements but have told him he needs to stick at his career too.
"Playing footy and working does get pretty complicated at times but I just have to be prepared to do both,'' Dillon says.
"On Thursdays I had to leave work at midday to go to Academy training in Sydney, and then catch the train back to Newcastle that night, then I had to get up at 5am for work, and then go back to Sydney on Friday afternoon to play in the Academy Series. It's been hectic.''
His employers have been very supportive and understand he wants to try to chase his dream.
"My dream would be to play in the AFL but the next couple of years will be telling,'' Dillon says.
The AFL U16 Championships will be held in June and July, with NSW-ACT taking on Northern Territory on June 11, Queensland on July 10 and Tasmania on July 14.