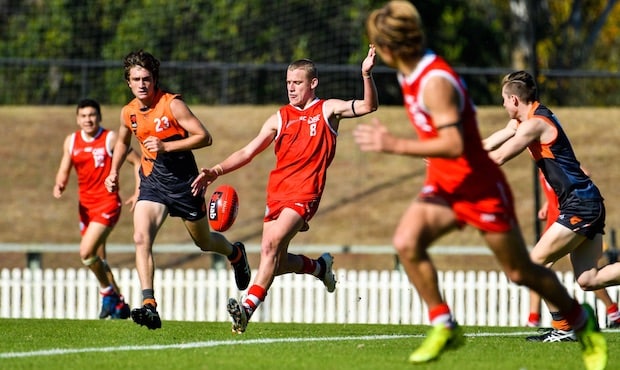 Pierce Roseby
Age 16:
Club: Willoughby/Mosman Swans
Captain, U16 QBE Sydney Swans Academy team v GWS Academy in 2018 Academy Series
Selected in NSW-ACT RAMS team for 2018 National AFL U16 Championships
Pierce Roseby is a good listener as well as a good footballer.
Ahead of the recent U16 Academy Series against the GWS Giants, Roseby and his teammates were schooled in how to play Swans-style football.
Roseby was given the honour of captaining the Swans Academy side, and took on board the lessons from Swans 2005 premiership players and current Academy coaches, U16 mentor Nick Davis and head coach Jared Crouch.
"They talked to us about the Swans culture and playing pressure football, to always defend and tackle, so it's amazing to have them as coaches,'' Roseby says.
"It was fantastic having Nick Davis as our team coach as he represented the club we all hope to play for one day. We trust him because he's been there and done that.
"At the Academy we want to live up to the standards set by the Swans.''
Roseby was one of those who led the way in that regard during last month's three match Academy Series, which the Swans won two games to one. The Series was tied one-all but the Swans took the honours in the fiercely contested third match.
At the end of the Series, Roseby, a tough in-and-under midfielder, was rewarded for his strong form and on-field leadership with selection in the NSW-ACT RAMS state team for the upcoming National U16 AFL carnival.
"I went out and played my role, and tried to win the contested footy and help my teammates. Now I just want to keep improving and learning from the Academy coaches and the RAMS coaches,'' he says.
Pierce, in Year 11 at Riverview College, started playing football at the age of six when he joined the Willoughby Wildcats.
"My dad grew up in Richmond (in Melbourne) so footy is in the family,'' he says.
When he's not playing for the Academy or the NSW-ACT RAMS, Pierce is a member of the North Shore U19 team.
Nick Davis has high hopes for Roseby.
"He's a very committed young player, with a fantastic character,'' Davis said.
"The coaches have total trust that he is doing everything possible on and off the field to improve his game.
"Boys can be reluctant to stand out at a young age, worried about what their peers think but Pierce has no hesitation setting high standards at training and in games, and ensuring others follow. He switches on as soon as he arrives and that sort of attitude can take him a long way.''