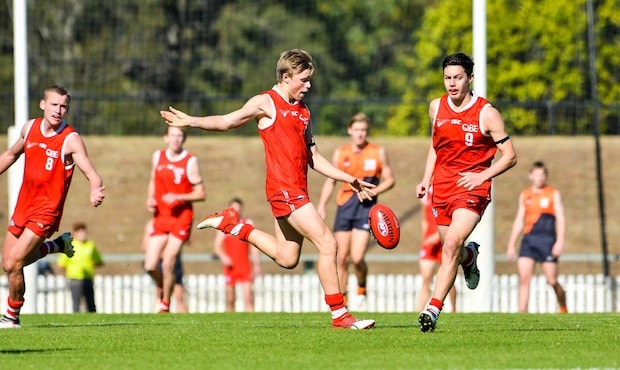 Braeden Campbell
Age: 16
Club: Westbrook/Northern Lights
2018 U16 Academy Series:
Sydney Swans Academy Coaches' Most Valuable Player Award
Sydney Swans Academy Players' Player Award
Selected in NSW-ACT RAMS team for 2018 National AFL U16 Championships
By his own admission, Braeden Campbell was a 'super quiet' teenager. At school and while playing football, he wasn't comfortable speaking up.
At the end of last year, his coaches at the QBE Sydney Swans Academy gave him specific, firm feedback. If he wanted to be a better player and a better teammate, they urged him to talk more.
Braeden, 16, says that advice has played a big part in his improved form on the football field so far this year.
"The U16s Academy program has really made me. I started using my voice and I found myself as a footballer,'' he says.
In mid-May, at the end of the three-game U16 Academy Series against the GWS Giants Academy, Campbell received all the recognition a young footballer could want.
Even though he only played two of the three games, Campbell won the Swans Academy coaches' Most Valuable Player Award, and the Players' Player Award voted by his teammates.
As well, he was one of 14 Swans Academy players named in the NSW-ACT RAMS team to play in the AFL U16 National Carnival against NT, Queensland and Tasmania in June and July.
"I was stoked to be chosen in the RAMS and I was so happy to receive the awards from my coaches and the players,'' Braeden says.
"At the start of the year the coaching staff told me to use my voice to direct other people at training and in games. I was super quiet but talking became my main focus and it's worked really well.
"I've talked more on and off the field, and it's helped me in all aspects, at school and on the football field.''
Braeden began playing football seven years ago when, encouraged by his father who had played for a team in Penrith, he joined the U9s at Westbrook. He loved it from the start and hasn't looked back.
He plays as a midfielder or at halfback, and is a passionate Swans fan who aspires to play for the Club one day.
While he had an outstanding Academy Series, he's always looking to improve.
"I still need to use my voice even more on the field and I want to improve everything I do, my kicking, marking and tackling,'' says Braeden, who is in Year 11 at Knox Grammar and plays in the school's first XV111 Australian football team.
Academy general manager, Chris Smith, has known Braeden since he was invited to join the Academy at the age of 11.
He says Braeden is a special talent.
"What's exciting is that he has the right mix – he's athletic, competitive and skilful, mixed with a natural feel for the game,'' Smith says.
"He's very versatile and tends to make an impact no matter what position we play him. He's an exciting prospect but the great thing is that he likes to knuckle down and work hard which gives us confidence he has a bright future ahead of him.''