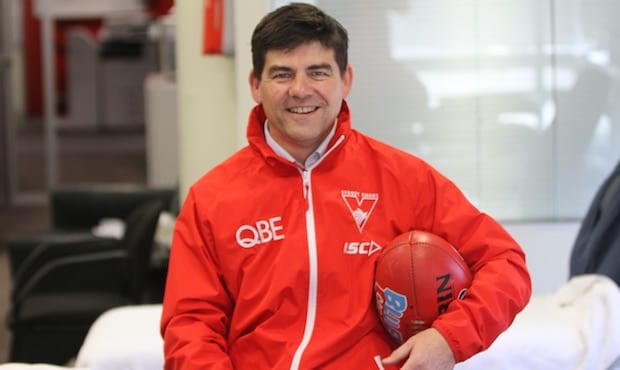 From Gary Rohan to Alex Johnson, a long-time Sydney Swans podiatrist has helped a host of players cruelled by injury return to action.
Dr Michael Kinchington arrived at the Club with Swans great Adam Goodes in 1997 and although he's mainly involved in injury prevention, he's told of the "utter enjoyment" he finds in helping a player bounce back.
"With any player that rehabilitates from a long-term injury and comes back, you feel for them as a human being because they are injured," Dr Kinchington said.
"This is their livelihood and their passion and for them to have an injury affect them on so many levels – seeing them bounce back makes for a great feel-good moment.
"Because they've become almost a friend you sadden when they get injured and at the same time you rejoice when they come back."
Johnson fought his way back from five knee reconstructions and an additional seven surgeries to play nine NEAFL games over the back half of last season.
He first ruptured his ACL in a 2013 pre-season match and last year broke a 1736-day stint on the sidelines to return via the second-tier competition in Round 14.
He hasn't played a senior game since Sydney beat Hawthorn in the 2012 grand final and this season is eyeing a long-awaited return to the big time.
Dr Kinchington was only involved in ensuring the luckless defender wore the correct footwear, although he played a more hands-on role in helping Rohan return from a broken leg.
The speedster broke his leg in a clash with North Melbourne in 2012 and returned via the NEAFL in Round 17, 2013, before running out for the senior side in Round 21.
Dr Kinchington said seeing Rohan burst through the banner on return to football made for a special moment.
"Everybody, from every supporter to every member of staff, got a huge kick out of seeing him return to play," Dr Kinchington said.
"For him to run out again was just wonderful. There was huge relief for him and it was utter enjoyment to see him get through the game.
"With Gary I was more involved once he was up and running again. It was about watching his movement patterns and making sure he was wearing the correct footwear and altering that footwear depending on the ground surface he was training on."
Rohan has since unearthed the Gary of old, rediscovering his tidy boot and the blistering pace that brings plenty of threat to the wing and forward line.
The 2009 draftee reached 100 AFL games in Sydney's match with North Melbourne earlier this season.
But Dr Kinchington hasn't only offered a helping hand to the feet of Swans.
The Sydney University alumnus runs a podiatry clinic out of two locations and last August launched an initiative for those who are homeless.
Social-enterprise program Soul to Sole sees the clinic use the sales of an anatomical flip-flop thong to purchase new shoes for homeless Australians.
It was a walk through Tent City in Martin Place which triggered Dr Kinchington and he said it was making important inroads.
"For them to get something that's going to help protect them from the environment, to make them more comfortable, to protect them from the elements, they're rapt," Dr Kinchington said.
"It is a reminder to those who live more fortunate lives that there are people who are worse off and this initiative is a way of helping the homeless.
"The reason we do that is there are 105,000 Australians that are homeless in any given year and their primary form of transport is walking. A lot of the homeless people have chronic health issues – diabetes, vascular issues, arthritis. A lot of them have either no footwear or very poor footwear and they need to be protected from the environment."