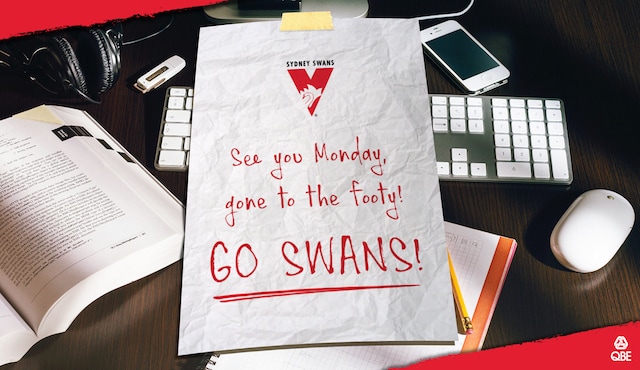 We have had some fantastic entries for #RedandWhiteFriday so far this season, and now as we look forward to a blockbuster Friday night match at the SCG against the Eagles, we are helping you take your #RedandWhiteFriday game up a notch!
Download our Swans screensaver HERE (simply right click and save the image) and pop it on your device and let your colleagues know you're off to the footy. Remember to take a snap of your setup and use #RedandWhiteFriday and you could win THE MATCH BALL from the game!
Can't make it to the SCG but are still going to be watching or listening to all the action from the SCG? You don't miss out either, download the screensaver and still send us your creative pics on social media and you too will get yourself in the draw.
John Longmire wants a "Red and White Army" at the SCG this Friday night so don't let him down!
We can't wait to see your entries!
Some previous entries for #RedandWhiteFriday which may inspire you!
The Reachout crew getting in the spirit #redandwhitefriday @sydneyswans pic.twitter.com/XYCzmfAaZy

— Maxine Bartlett (@MBartlett158) June 1, 2018
Excited about the game tonight #RedandWhiteFriday pic.twitter.com/QhAw9HLtpR

— Sergio Almeida (@fsergiojr) June 1, 2018
Getting ready for Hanners 200th @sydneyswans #RedandWhiteFriday pic.twitter.com/fB3XKayH06

— Nathan Gerritse (@nathangerritse) May 31, 2018
Kicking back 🏉 #redandwhitefriday pic.twitter.com/XwkhbjozrH

— Vince Ripepi (@Vince_Ripepi) April 20, 2018