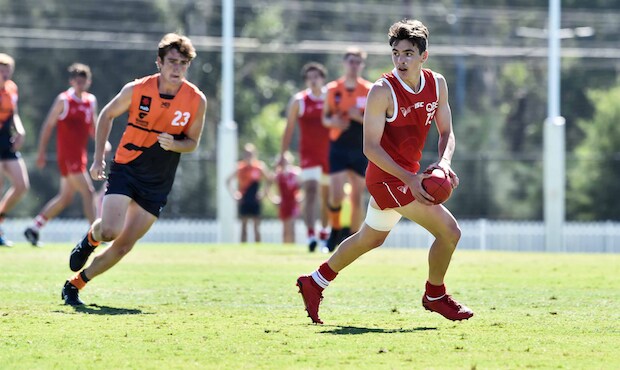 Two of the QBE Sydney Swans Academy's brightest prospects, Errol Gulden and Braeden Campbell, have been named in the 2018 All Australian U16 team.
It is a huge honour for Gulden and Campbell to be chosen among the best 23 young players Australia-wide, and reward for their outstanding form in the recent National U16 AFL Championships.
Gulden plays for the Maroubra Saints and UNSW-Eastern Suburbs, while Campbell plays for Westbrook in the city's north-west.
Gulden and Campbell starred for the Swans Academy in the three match series against the Giants Academy in April this year, and were then chosen in the NSW-ACT Rams to play in the U16 Division Two National Championships.
Their fine form continued at that higher level where they both received best-on-ground honours.
In the first game of the National Championships, against the Northern Territory, Gulden recorded statistics rarely seen - 27 kicks, 11 handballs, 10 marks, eight clearances, four tackles and five goals.
At the end of the Championships, which also included games against Queensland and Tasmania, Gulden was named the Most Valuable Player for NSW-ACT and also won the Allan McLean Medal for the best and fairest player in Division Two.
Over the three games, Gulden averaged 31.7 disposals, 4.7 clearances, two goals and 5.7 tackles.
The All-Australian selectors noted that Gulden, who turned 16 this week, is a "prolific ball winning small midfielder/forward with outstanding work rate, football knowledge and penetrating left foot. Reads play exceptionally well''.
NSW-ACT U16 coach, Lloyd Perris, said Errol deserved his place in the All Australian team. "Errol was brilliant all carnival. His numbers from our first game against the Northern Territory in Sydney were pretty incredible, and to his credit, he carried that right though the carnival.
"Errol is a very smart footballer with elite ball use, but he is also a quality young man. He really listens and wants to learn and develop,'' Perris said.
Braeden Campbell has come on in leaps and bounds this year, and it was his slick ball use and ability to win the footy both inside and outside that caught the eye of the AFL's national U16 selectors.
They noted that Braeden, who is a left-footed defender/midfielder "is an outstanding kick, both long and short, and is a smart decision-maker. Clean ball handler who averaged 19.3 possessions at 74 per cent efficiency, and won an equal share of contested and uncontested football.''
In the third game of the National Championships, NSW-ACT was trailing Tasmania at half time, but ran out winners by 13 points. Lloyd Perris said moving Campbell into the midfield in the second half played a huge role in his team's comeback.
"(Braeden) really galvanized the group," said Perris. "The combination of his hard attack on the ball, but also his composure and ball use helped us attack.''
While NSW-ACT has two players in the All-Australian U16 team of 23, West Australia is the best represented with six.
Another 27 players from around Australia in the U16 age group will be selected by the AFL later this year to become part of the 50-player Level One AFL Academy.
Sydney Swans Academy general manager, Chris Smith, said Errol and Braeden were extremely consistent during the National Carnival and thoroughly deserved their All Australian selection.
"The Academy has complete faith that they are doing all they can on and off the field to improve their game,'' Smith said.
Smith says other Swans Academy players who performed impressively for NSW-ACT, including Pierce Roseby, Marc Sheather, Kye Pfrengle and Sam Eynaud, are all on the right track with their football development and he is hoping some may make the expanded 50-man AFL Academy squad which will be named in September.