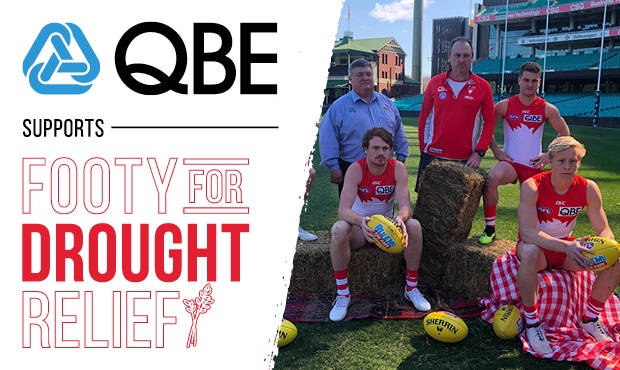 QBE Insurance will join the Sydney Swans in rallying behind Australian farmers by supporting Saturday night's Footy for Drought relief initiative at the SCG.

QBE has kindly guaranteed to match the Sydney Swans Foundation's $10,000 donation to Rural Aid's Buy A Bale campaign, as well as the Sydney Cricket and Sports Ground Trust's $1 for every supporter that attends Saturday's night's Swans-Hawthorn blockbuster and NRL game next door.

All money raised on Saturday night will go directly to Australian farmers through Rural Aid's Buy A Bale campaign.

With 100 per cent of New South Wales currently drought affected and over 350 farmers registering for assistance each week for food, water and fodder, QBE's generous donation will make a huge difference to the lives of so many farmers and their families.

Supporters can also contribute to the cause by texting 'FOOTY' to 0437 371 371, dropping by a tin rattler on their way into the SCG on Saturday night, or they can bid on a Round 23 match-worn signed Swans or Hawks guernsey through the Swanshop online auction.

QBE's CEO of Australian and New Zealand Operations, Vivek Bhatia, said they were keen to support such an important cause.

"We see the devastating impact this has on our customers and partners – both through QBE and our Elders Insurance network – and just how hard these communities are doing it at the moment," Mr Bhatia said.
"As insurers, it's our job to support the communities in which we operate, but we're also part of those communities, and that's why we want to be part of the effort to help.
"The forecast might be for a wet weekend here in Sydney, but I'd encourage everyone to get down to the SCG or SFS and brave it. Not only are there two cracking matches being played, with finals positions at stake, but it's a hugely worthwhile cause."

A $20 donation to the Buy A Bale campaign will see a farmer receive one bale of hay, $52.50 will provide an essential hamper to a farmer's family and $250 will see 11,500 litres of water delivered to a farm.

For more information on the Buy A Bale campaign or to donate online, visit: buyabale.com.au