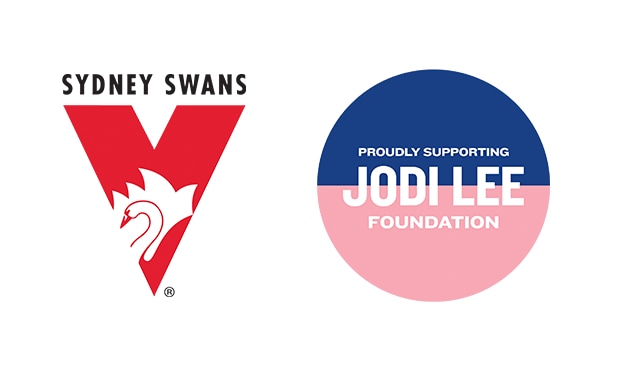 The Sydney Swans are proud to support match-day charity partner Jodi Lee Foundation at the SCG on Saturday night.
The Jodi Lee Foundation is an organisation that aims to tackle bowel cancer and support people in living healthy lives.
While bowel cancer is Australia's second-biggest cancer killer, 90 per cent of cases can be treated successfully if detected early.
Sydney Swans coach John Longmire encouraged all Australian's to take the test as a preventative measure.
"It is really important that people take the tests but also have the conversation around the family table," Longmire said.
"Discuss it, be open about it and when you turn 50 take the test. It is very easy to be treated if you get it nice and early enough."
The Swans are supporting the Jodi Lee Foundation in raising awareness about bowel cancer prevention. The Jodi Lee Foundation's message is simple. It may be your Mum, Dad, Grandfather, Grandma or a friend who has been impacted.
By taking a simple screening test you can help prevent bowel cancer and save a life.
When you turn 50 and every two years ago after you receive a free Bowel Screening kit in the mail from the Government.
Currently around 40 per cent of people invited to participate in the Bowel Screening program, are doing their screening tests. The lowest participation in the program is by those aged 50-54 where only 28 per cent of people are completing the test.
If you recognise yourself in that group the Jodi Lee Foundation urges you to understand that increasing participation will not only save hundreds of lives – including possibly your own – but also billions of dollars in health care and treatment costs.
For more information, visit www.jodileefoundation.org.au.