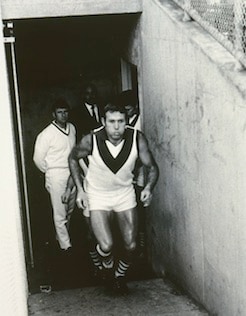 The Sydney Swans' 2005 grand final win, which ended a 72-year premiership drought, is probably the most glorious finals moment in club history.
Any grand final win, too, will always be special, but other facts and figures go to make up the Swans' overall finals history.
THE SKILTON FINAL
A massive crowd of 104,329 packed the MCG on 5 September 1970 when South Melbourne played St Kilda to end a 25-year absence from the finals.
It is the biggest crowd ever to watch the Swans play, and a match famously remembered as 'the Skilton final' because it was the only final ever played by 237-game triple Brownlow Medallist and nine-time best and fairest winner, Bob Skilton.
But it was more than that. It was the first and only final for 12 Swans teammates. And one of two for a further four teammates.
Russell Cook (184 Swans games), Peter Bedford (178), Reg Gleeson (128), Haydn McAuliffe (105), Graeme Jacobs (93), John Sudholz (84), Tony Haenen (83), Fred Way (81), Keith Baskin (75), John Murphy (58), Stuart Bennett (53) and Richard Luke (39) also tasted their only finals action in this game. And for Jacobs, Bennet and Luke it was their last game.
Four others who played their first final in the 1970 semi-final loss to St Kilda played long enough to also play in South's next final in 1977 – David McLeish (213), Gary Brice (171), Greg Lambert (167) and Steve Hoffman (149).
So only three members of the Swans side in 'the Skilton final' played finals elsewhere.
John Rantall played eight finals and two grand finals at North Melbourne in 1974-75 before returning to South to play his 10th final in 1977. Wayne Walsh played 15 finals and three grand finals at Richmond from 1972-77, and John Pitura played two finals at Richmond in 1977.
Skilton had missed the entire 1969 season after he snapped his Achilles in a practice match in Adelaide. He was 14 weeks in plaster and 16 weeks on crutches, and reportedly put on 20kg during his time out of the game.
But he'd returned in Round 2, 1970 to pick up 31 possessions and kick two goals.
It was the year Bedford won the Brownlow Medal and the first time the medal count was broadcast live on television.
South had been a consistent side all year but lost the final home-and-away game by 96 points to Collingwood at Victoria Park, when Peter McKenna kicked nine goals for the Pies and Wayne Richardson five.
Skilton was 31 in his 218th game in his long-awaited finals debut, but there the fairytale finished.
Down 2.5 goals to 6.1 goals at quarter-time, the Swans showed great courage to claw their way back into the game in the second term and led by five points at halftime. But the Saints, led brilliantly by ruckmen Carl Ditterich and Brian Mynott, outscored them 13.8 to 4.4 in the second half to win 22.11 (143) to 13.12 (90).
Skilton led the Swans possession count with 27 from Walsh (23), Hoffman (21), Murphy (21) and Bruce (20) and was listed among the best players with Walsh, Hoffman, Brice, Murphy, Haenen and Way. Hoffman kicked four goals and Bedford three.
The South Melbourne Annual Report recounted the occasion fondly with the heading: THE 25-YEAR DROUGH IS BROKEN on the front cover.
It said: "Respect is a hard quality to earn in the field of League football; for 25 years the South Melbourne Football Club earned nothing but sympathy. They were painful years that just had to come to an end. They did this season when the club won the praise and congratulations of the Victorian public by reaching fourth place on the premiership ladder and playing its first finals match for a quarter of a century".
DEBUT IN A FINAL
Among 1416 Swans players, only three have debuted in a final. So you'd think the odds of two of them debuting in the same game would be astronomical. Right? Wrong!
It happened in 1924 in a bizarre situation in which South Melbourne found themselves playing what was virtually a meaningless final. It was arguably the only "dead rubber" in AFL finals history.
This came after the League, operating a nine-team competition after the addition of Melbourne in 1918, made a hotly disputed decision to adopt a round-robin finals series after a 16-match home-and-away season played over 18 weeks.
It was like the format used and discarded in the first year of the competition in 1897 except that the minor premiers were given the right of challenge.
South, coached by Charlie Pannam and captained by Paddy Scanlan in the season in which the Brownlow Medal was first awarded, had finished second on the home-and-away ladder with an 11-5 record, behind Essendon (11-1-4) and ahead of Fitzroy (10-6) and Richmond (10-6).
In week one of the finals, Essendon beat Fitzroy and Richmond beat South. In week two, Fitzroy beat Richmond and Essendon beat South.
The Swans were the only side without a win so effectively their season was over even though they had to play a third semi-final against Fitzroy.
That they won by 13 points was immaterial to most, but very special for two young players.
Jacky Harris, a 23-year-old listed at 165cm and 65kg, and Gil Miller, younger at 21 but bigger at 182cm and 86kg, made their debuts.
While the pair are largely anonymous in club history, aside from this quirky anomaly, the records do show that Harris kicked three goals and Miller one in South's 13.8 (84) to 10.13 (73) win by a side that included the great Roy Cazaly, an inaugural AFL Hall of Fame Legend, and Mark Tandy, later named in the Swans Team of the Century.
Miller never played again, while Harris played the first five games the following season and kicked seven more goals. Both passed away in their 40's.
The other Swans player to debut in a final was Ron Bywater. And he did so in 1942 on his merits.
A key position player born in suburban Moonee Ponds, Bywater was called into the South Melbourne semi-final side to play Footscray at Princes Park after the Swans (11-4) had finished third in the home-and-away season behind Essendon (12-3) and Richmond (11-4) and ahead of Footscray (10-4) in a season heavily disrupted by the war.
Geelong had withdrawn from the competition, Melbourne and Collingwood struggled to field a team and at one stage contemplated getting together to form one team, and, with the availability of grounds an ongoing issue, the fixture in the second half of the season was done weekly.
It meant that some teams played one match less than others and were compensated with four premiership points for an extra bye which effectively gave them an advantage.
Bywater joined a side coached by Joe Kelly and captained by 1940 Brownlow Medallist Herbie Matthews which won by 27 points but he lost his place in the side the following week, when South were beaten by eventual premiers Essendon in the preliminary final.
But unlike Harris and Miller, Bywater went on to have a good, if eventful, 58-game career with the club spread over nine years.
With his football heavily disrupted by war service, he played his second game in 1944 and eight more in the first half of the 1946 season before retiring on the spot due to a heart condition.
But, in an amazing sequence of events, he returned nine months later to play all 19 games in 1947 and come within five votes of winning the Brownlow Medal. He polled 18 votes to finish equal third behind Carlton's Bert Deacon (23) and St Kilda's Harold Bray (21), and equal with Hawthorn's Wally Culpitt.
After only five games in 1948 he was pushed forward in 1949 and with 25 goals in 16 games was second in the club goal-kicking behind Dick Jones.
After a total of 58 games, he left South midway through 1950 to join Corowa where ex-South teammate Billy King was captain-coach. Bywater later coached Corowa. He died in 1975 aged 56.
FINALS BY THE NUMBERS
Heard the saying 'defence wins finals'? Think finals are a tough hard slog? You'd be right. In 88 finals, the Swans have scored 100 points nine times. Their average finals score is 73.2 points, and never have they kicked 20 goals in a final.
The Swans' highest score in a final is 19.22 (136) in the 2014 preliminary final against North Melbourne at Stadium Australia.
The same game on 9 September 2014 produced their biggest finals win of 71 points after North scored 9.11 (65).
It was Adam Goodes' 350th AFL game, Lance Franklin kicked five goals, Kurt Tippett four, Goodes and Luke Power three. Josh Kennedy had 27 possessions, Parker 26, Franklin 23, Gary Rohan 23, Kieren Jack 23, Dan Hannebery 22 and Rhyce Shaw 20.
Which Swans player has kicked most goals in a final?
Interestingly, it's not one of the club's great full forwards like Franklin, Bob Pratt, Tony Lockett or Barry Hall. It is a player who ranks 56th on the club's all-time goal-kicking list.
Lindsay White kicked nine goals in a standout individual performance in the 1942 preliminary final, when South lost 14.12 (96) to 19.10 (124) at Princes Park.
White played 25 games for the Swans for 111 goals, including 82 and three bags of 10+ in 16 games in 1942 after he'd transferred from Geelong.
The 185cm spearhead moved clubs after Geelong went into temporary recess due to travel restrictions imposed due to the Second World War. He returned to Geelong in 1944, was named captain in 1948 and topped the League goal-kicking again in 1951.
Ted Johnson is the only other Swans player to kick more than five goals in a final. He kicked seven of his team's 10 in the 1923 semi-final, when South beat Essendon 10.14 (74) to 8.9 (57) at the MCG.
Most disposals in a final? No surprise with this one … Jarrad McVeigh and Josh Kennedy each boast a finals best of 42.
McVeigh led a possession-fest in the 2013 preliminary final win 13.8 (86) to Carlton's 8.14 (62) at Stadium Australia when Dan Hannebery (33), Heath Grundy (32), Ryan O'Keefe (30) and Kieren Jack (30) also reached 30.
It was a milestone party too, as Nick Malceski played his 150th game and Hannebery his 100th. Shane Biggs played his second game and Harry Cunningham his fifth.
Kennedy had 42 possessions in the 2016 semi-final win 18.10 (118) to 12.10 (82) over Adelaide at the SCG when Isaac Heeney (32), Tom Mitchell (32) and Hannebery (31) also had plenty of the ball and Tom Papley (4), Franklin (4) and Ben McGlynn (3) led the goal tally.
Harry Marsh, Sam Naismith and Aliir Aliir played their second final in their sixth, 11th and 12th games respectively.
OLDEST & YOUNGEST FINALS PLAYERS
Thirty-five Swans players have played finals for the club as teenagers, and 17 have played finals beyond their 33rd birthday. But only two players have done both. Adam Goodes and Jude Bolton, who sit first and second on the club's all-time games list.
Goodes and Bolton were 19 when they played their first final together in 1999. It was Goodes' 20th game and Bolton's 9th game. A 22-year-old Brett Kirk also made his finals debut in his 5th game and 20-year-old Ben Mathews likewise in his 21st game as the Swans fell to Essendon at the MCG in a qualifying by 69 points.
Bolton played his 24th and last final and his career-ending 325th game at 33 in the 2013 preliminary final loss to Fremantle at Subiaco.
Goodes played a club record 28 finals – which will be matched by Jarrad McVeigh on Saturday – before ending his 372-game career at 35 in the 2015 preliminary final loss to North Melbourne at Stadium Australia.
The oldest Swans finals player all-time is Arthur Hiskins. He was 37 years, 27 days old in his 185th and final game in the 12-point preliminary final loss to Fitzroy at the MCG in 1923.
Hiskins, a robust key position player, spread his career over 16 years from 1908-1923 but missed the 1916, 1917 and 1918 seasons due to war service.
He made his finals debut in 1909, when he played three finals including the grand final at centre half forward, and played his 10th and last final in the 1923 preliminary final, when the South team included three 20-year-olds – Harold Alexander, Jack O'Connell and Ted Johnson.
He was also South captain-coach in 1920.
Swans Team of the Century member Vic Belcher was the first teenager to play finals for the Swans at 19 in 1907, while Jack Scobie (1909) and Ron Clegg (1945) were the youngest at 17.
Swans Teenage Finals Players: Vic Belcher, Jack Scobie, Tom Grimshaw, Fred Carpenter, Arthur Punshon, Jack Walsh, Artie Wood, Herb Matthews, Art Mietzcke, Maurie Hearn, Owen Evans, Harold Traynor, Ron Clegg, John Pitura, Steve Hoffman, Mark Bayes, Michael O'Loughlin, Justin Crawford, Shannon Grant, Jason Saddington, Adam Goodes, Jude Bolton, Lewis Roberts-Thomson, Adam Schneider, Jarrad McVeigh, Paul Bevan, Patrick Veszpremi, Dan Hannebery, Sam Reid, Alex Johnson, Luke Parker, Harry Cunningham, James Rose, Isaac Heeney, Callum Mills. On Saturday v GWS: Tom McCartin, Will Hayward.
Swans Finals Players Aged 33+: Harry Lampe, Bert Franks, Arthur Hiskins, Arthur Hando, Jack Bisset, Dinny Kelleher, Laurie Nash, John Rantall, Derek Kickett, Paul Roos, Tony Lockett, Andrew Dunkley, Peter Everitt, Brett Kirk, Jude Bolton, Adam Goodes, Rhyce Shaw. On Saturday v GWS: Jarrad McVeigh.