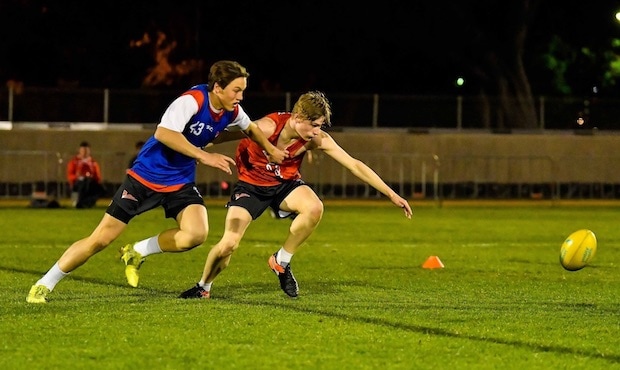 Nick Davis will have his eyes peeled for potential young AFL champions when he heads to Coffs Harbour next week for the Australian junior Oztag championships.
Davis, the 2005 Swans premiership hero, will be in Coffs Harbour as part of his role as Talent Identification and Development Manager at the QBE Sydney Swans Academy.
Davis is hoping to spot budding stars who can tread the same path as Daniel Bertolissio, a talented young Oztag player who'd never tried his hand at junior AFL until six months ago.
Daniel was playing in the NSW State Oztag Championships in February when his parents responded to a call from the Academy for talented players who might be interested in trying AFL.
After Davis watched him play, Bertolissio was invited to join the Swans Academy and also played for his local Sydney AFL team, St Ives, during the winter.
Daniel has adapted quickly to his new sport and was a standout player for the QBE Sydney Swans Academy at the annual NSW Joss State AFL Trials in Albury at the start of October.
At the carnival, featuring U13 and U14 players from the Swans Academy and GWS Giants Academy, Daniel's coaches voted him the best player in his U14 Academy team and he was also rewarded for his defensive acts.
Davis says Daniel is a very impressive young athlete who has made a fantastic transition from Oztag to AFL.
"He has speed and agility and a great vertical leap,'' Davis says. "The skills that make a good Oztag player can be very transferable to AFL.''
Oztag is a non-tackling game where the aim is to score a try, similar to touch footy, with players wearing a tag on their shorts that the opposition tries to remove.
If any young athletes feel they may have the attributes to be part of the Academy's talent search program, please email details to academy@sydneyswans.com.au