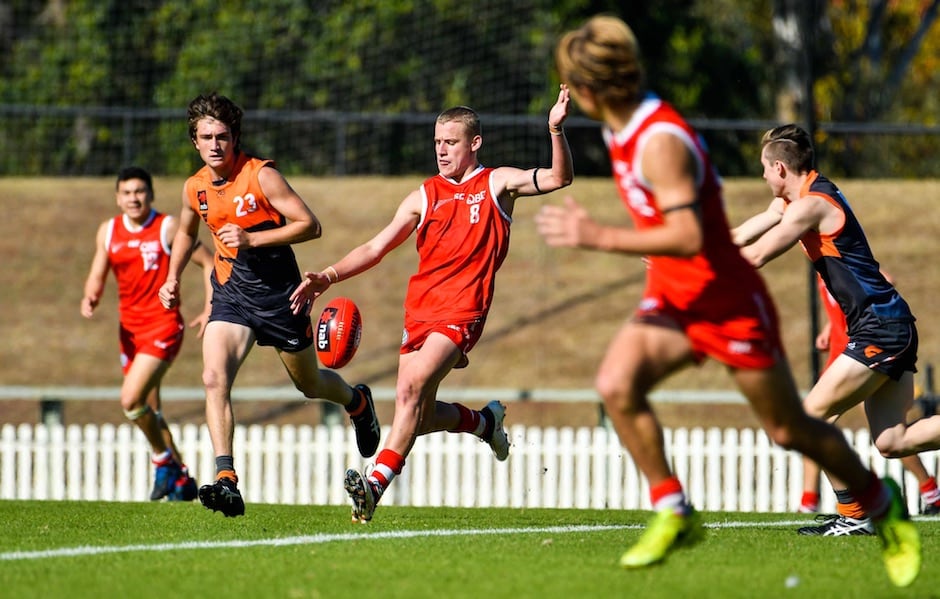 It's not only the senior Sydney Swans players who've returned to action on the training track.
More than 100 QBE Sydney Swans Academy members began their five-week Benchmark pre-season program with a two-kilometre time-trial on Sunday.
There were plenty of nerves as the young stars, from the Top End U16 to U19 squads, were all trying to press their claims for selection in the Academy's 2019 program.
Academy head coach Jared Crouch says the coaching staff were pleased the vast majority of boys turned up for the first session at ES Marks Athletics Field ready to go.
"It's great to see how professional many of our young Academy players are becoming,'' Crouch said.
"The Benchmark program helps them understand how important it is to be mentally and physically prepared.''
The Benchmark program is a new experience for boys set to transition to the U16 squad next year, and Crouch says expectations are high but realistic.
"It's their first glimpse of our Top End program, which is our pathway to senior elite football,'' Crouch said.
The two-kilometre time-trial was a challenge for some of the youngsters, who need more work on technical aspects of their running or learning how to pace themselves.
"It gives us a good snapshot of the boys who are very capable runners and those who we need to do more work with,'' Crouch said.
The top performers in the two-kilometre time-trial in the 2019 U16 group were Corey Last from the Maroubra Saints, Byron Middleton from the Moore Park Tigers and Jeremy Woodford from the Northern District Tigers.
A handful of other boys also broke seven minutes to make a solid impression on the coaches.
There are big hopes for Academy players in next year's U18 squad, with as Crouch declaring they're a "talented, coachable and competitive group''.
"Many of them are eligible for the Draft next year and have started their preparations in strong fashion. A lot of the boys ran under seven minutes which is a great start.''
The overall winner of the time-trial was Errol Gulden, reinforcing a fantastic year for the Maroubra/UNSW Eastern Suburbs youngster.
Gulden, who won't be eligible for the Draft until 2020, was this year named in the All-Australian U16 AFL team.
He was closely followed home by Cooper Wilson from Manly and Sam Thorne, also from the UNSW Eastern Suburbs club.
Other impressive performers included Josh Rayner from North Shore, Lachlan Swaney from UNSW and Marc Sheather who plays for the Pennant Hills club.
Zac Youlten, from Manly, identified as a talented player during the recent AFL Sydney junior finals, is working hard to enter the Academy for the first time.
"He's never been part of the program before but it shows we're always on the lookout and there are opportunities for those playing well at the local level,'' Crouch said.
"Zac made a great first impression and ran well, as did Sam Gaden, Max Geddes, Harry Parker and Pierce Roseby who all know the ropes and have been part of the program for a number of years.''
The program for the U17 and U18 boys will ramp up next week, with more skills and game-sense drills.
The national AFL U18 representative programs will start earlier than usual in 2019, so Crouch said the boys needed to combine fitness with football skills from the get-go.
The Benchmark program will run until mid-December and 2019 Academy squads will be finalised before Christmas.
"Overall we've been really happy with the way the squad has started and it's great to see them back and raring to go in good shape," Crouch said.