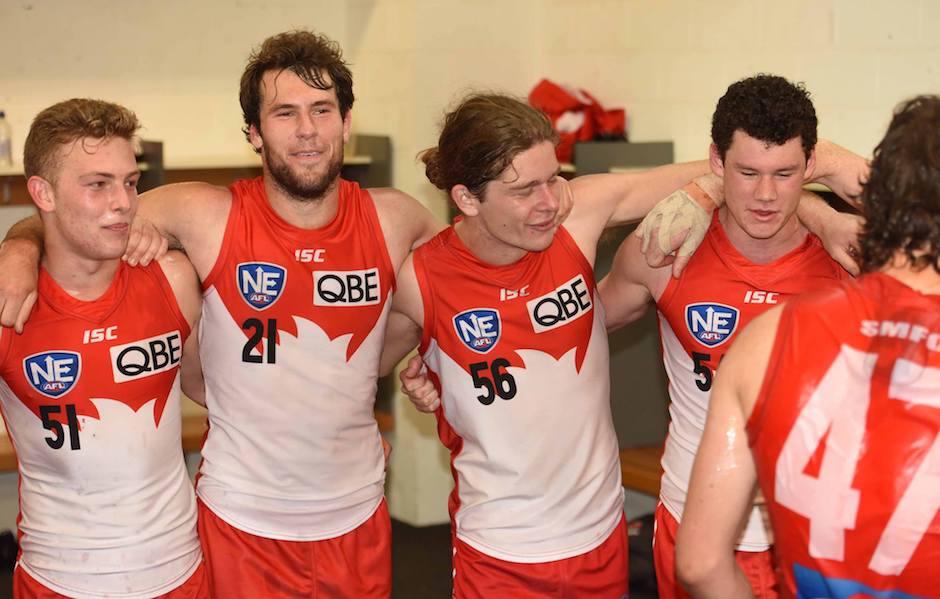 The Sydney Swans have welcomed the release of the 2019 NEAFL fixture.
Sydney will kick off its season in a cross-city clash with GWS at Spotless Stadium on April 6, while the Swans have a long list of home games to look forward to.
The Swans will host Redland at home once and GWS, Gold Coast and Brisbane at home twice, while they're also set to host 2018 Grand Final opponent Southport in Round 15.
The 2018 season showed once again the NEAFL provides a pathway to the AFL, with five Swans transitioning from the second-tier competition to the big time in 2018.
Young Swans Ben Ronke, Tom McCartin, Ryley Stoddart, Colin O'Riordan and Darcy Cameron all honed their craft in the NEAFL and were presented with AFL debuts in 2018.
Swans development coach Jeremy Laidler says the release of the NEAFL fixture shows there's plenty to get excited about.
"It's always exciting to be able to face GWS in the opening round of the season," Laidler said.
"The Sydney Derby has developed into a rivalry that's only growing each year and I'm sure things will be no different in 2019.
"It's also exciting for not only our AFL-listed players, but our Academy players, to be facing AFL sides on 12 occasions. It's very rewarding to be testing ourselves against AFL-quality talent, while it's also great to be playing the non-AFL clubs. They're only going from strength to strength as the NEAFL develops.
"There's a lot to like about the 2019 NEAFL fixture and we're training hard ahead of an exciting campaign."
2019 NEAFL Fixture
Round

Date

Opponent

Time

Venue

Round 1

Saturday, April 6

Giants Reserves

12.55pm

Sydney Showgrounds

Round 2

Saturday, April 14

Gold Coast

10:45am

Metricon Stadium

Round 3

Saturday, April 20

Redland

1.30pm

BISP

Round 4

Saturday, April 27

Giants Reserves

3:45pm

TBC

Round 5

Saturday, May 4

Brisbane

12.00pm

South Pine SC

Round 6

Friday, May 10

Giants Reserves

4.10pm

TBC

Round 7

BYE

Round 8

Saturday, May 25

Gold Coast Suns

11.30am

Metricon Stadium

Round 9

Saturday , June 1

Brisbane Lions

12.00pm

South Pine SC

Round 10

Sunday, June 9

Giants Reserves

11:40am

TBC

Round 11

BYE

Round 12

Saturday, June 22

Canberra Demons

12.00pm

Phillip Oval

Round 13

Saturday, June 29

Gold Coast Suns

12:55pm

TBC

Round 14

Saturday, July 6

NT Thunder

6:30pm

TIO Stadium

Round 15

Saturday, July 13

Southport

10.05am

TBC

Round 16

BYE

Round 17

Saturday, July 28

Brisbane Lions

11.40am

TBC

Round 18

Saturday, August 3

Giants Reserves

10.30am

Sydney Showgrounds

Round 19

Saturday, August 10

Aspley

12:00pm

Voxson Oval

Round 20

Saturday, August 17

Gold Coast Reserves

12:00pm

BISP

Round 21

Saturday, August 24

Brisbane Lions

TBA

TBA