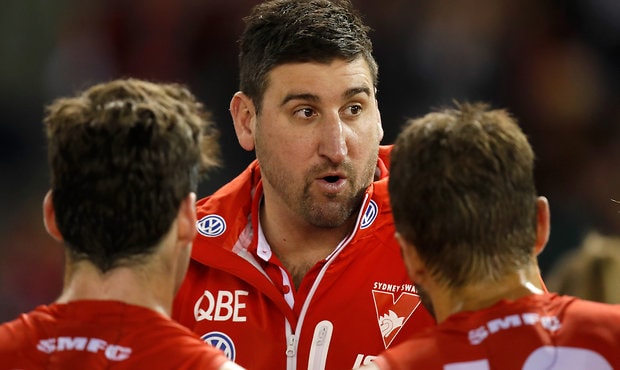 Sam Naismith is tracking well on the road back from a ruptured ACL, Callum Sinclair is flying through the pre-season and Darcy Cameron is eyeing another monstrous campaign.
That was the snapshot delivered by Sydney Swans ruck coach Dean Cox before the players broke for Christmas – and he says it means one thing.
"The ruck stocks are in tip-top shape," Cox told Swans Media.
"Sam is improving on the road back from injury and is doing more as the weeks go by. He's progressing really well, he's doing all he has to do and he's been really diligent with his program. He'll keep working through his program and ticking off the milestones as he goes.
"Callum is doing a hell of a lot of running and a heap of weights and is slowly working his way into the skills sessions. Part of his pre-season last year was to continue to build up certain parts of his body and he's on the same program again now. He was back into the skills by the end of the pre-Christmas block of training, and we'll really ramp up his training come early January.
"Darcy has had a bit of a sore quad but was back into the thick of things by the end of the pre-Christmas block of training. He had an enormous 2018 season and will be looking to continue the good work when the players return from the Christmas break."
Sydney's ruck department took a battering when Naismith suffered a season-ending ACL rupture on the cusp of the 2018 season.
But Sinclair, who had primarily played as a forward and pinch-hit in the ruck since becoming a Swan ahead of season 2016, would do an admirable job as Naismith's replacement.
Cameron was meanwhile carving out a monumental season in the NEAFL, bashing down the door to make his AFL debut in Round 18, finishing runner-up in the NEAFL MVP award and helping the Swans to a grand final berth against the Southport Sharks.
Cox says it's great to have all three big men kicking goals ahead of season 2019.
"What you want is competition for spots and you want to be in a position where all your players are playing good footy – and if pre-season training tells us anything, it's that Sam, Callum and Darcy are all set for a great 2019," Cox said.
"One thing with Sam coming back is we've got to be pretty cautious and realistic about some expectations of him, but we're confident he can make a huge contribution once he's fit and firing.
"Sinclair and Cameron have both shown they can be really versatile as they can play in the forward line and in the ruck and have an impact in both positions. Whether that be at AFL or NEAFL level, they've both shown they're able to do that."