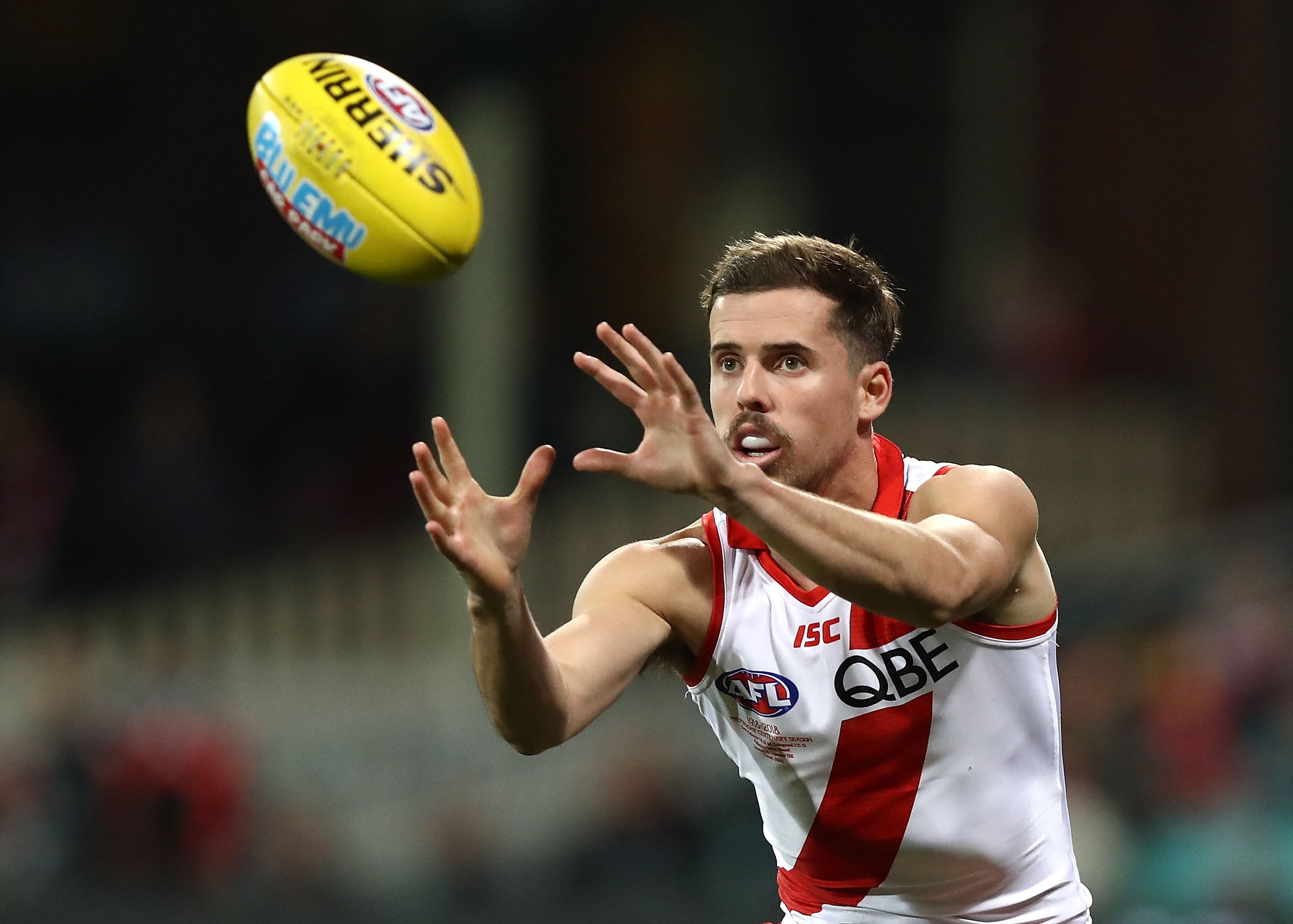 CALLUM Sinclair (RUC, $673,000) was the pick of the year for Fantasy Draft coaches who selected him late.
A pre-season ACL injury to Sam Naismith (RUC, $299,000) saw Sinclair hold down the No. 1 ruck position, taking his 2017 average of 74.5 to 92.7. With his increased opportunity, the former Eagle produced the best numbers of his career and played every game for the first time.
Last season's form may be an anomaly as Naismith is close to joining the main group and Darcy Cameron (RUC, $170,000), who averaged 142 last year in the NEAFL, could be job sharing with Sinclair and adversely affect his scores.
You can't go past Jake Lloyd (DEF, $738,000) as a dependable defender. With durability a strong point, he has missed three games since 2014 and had increased his average by 10 points each year since his debut to post an average of 101.6 last season.
With a top score of 163 versus Fremantle and exceeding 110 nine times, the 25-year-old is ranked second of the available defenders.
Lloyd took more than half of the Swans' kick-ins, electing to play-on about a quarter of the time. The new kick-in rule could see a few more +3s as he uses his run and carry to transition the ball following a behind.
Once again Lloyd will be one of the top scoring defenders and he will be in your side at some point, it might as well be from the start.
Could 2019 be the year that we see Callum Mills (DEF, $522,000) break out?
A ball-magnet as a junior, Mills has generally played as a defender in his three seasons at the Swans, averaging 73.1, 69.4 and 74.2. The 21-year-old's 2018 season was cut short after a freak foot injury in May sustained in an impromptu American football game with friends.
There is a lot of value in the defensive line this year and the predicted 80-plus average may not be enough to justify picking Mills, but he could be a bargain for coaches on Draft day.
Isaac Heeney (MID/FWD, $658,000) has been a popular Fantasy player since his debut. He has demonstrated outstanding consistency, with five scores under 88 last season including a first-quarter concussion for 18 points.
That low score contributes to Heeney's average and many coaches believe him to be under-priced as a result.
The knock on Heeney is that he doesn't have the ceiling that other top dual-position players possess. His top scores of 2018 were 118 and 115, and were the only ones above 105. Heeney is a safe pick for scores in the 90s and with some extra midfield time, he may push that elusive 100 average and be a top-six forward.
This time last year Ryan Clarke (DEF, $511,000) was on the radar for many Fantasy coaches after finishing 2017 averaging 90 playing at half-back for North Melbourne. While that didn't come to fruition, averaging 70.4 in his final year as a Roo, the switch to the Swans could help the 21-year-old as he approaches his fourth season.
It has been suggested that he plays through the midfield, and the departure of Dan Hannebery may facilitate that. As a junior, Clarke averaged 30 disposals, five tackles and 121 Fantasy points in his final year in the TAC Cup.
The Swans were able to take father/son selection Nick Blakey (FWD, $252,000) with their first pick in last year's NAB AFL Draft.
A noted goal-kicker who is capable of rotating through other positions, Blakey won the Harrison Medal in the 2017 Under-18 Championships and was runner up last year. Don't expect huge Fantasy numbers from the 195cm key position player, but if he is in line for early games, he will be a slow-burning cash cow.
Some of Fantasy's best contributors over the years have come from the Swans. Luke Parker (MID, $694,000) averaged 109.7 back in 2016 and could be considered some value, especially in Draft, if he can once again average triple figures.
The same could be said for Josh P. Kennedy (MID, $654,000) whose output has declined by more than 18 points in the last two seasons. Kennedy is priced at 90.1 after averaging 108.9 in the same year as Parker's outstanding season.
No one has dropped off as much as Kieren Jack (MID/FWD, $427,000) since 2016. After half a dozen seasons averaging 90-plus, the 31-year-old returned his worst numbers since 2008. Even with dual-position status, Jack is a bench option in a deep Draft at best.
Luke Parker, Callum Sinclair and Lance Franklin are all intriguing options this season. Picture: AFL Photos
It's a big call to suggest avoiding a player who has consistently finished the season as a top forward, but there is risk attached to selecting Lance Franklin (FWD, $666,000).
The key forward was hobbled by a heel injury sustained in the round one fixture at Optus Stadium, in which he posted his season high of 151 thanks to his eight-goal haul. A groin injury saw him miss in round 23 and return to play the elimination final loss in which he was soundly beaten, scoring 22 points.
Franklin has had surgery on his groin and didn't hit the training track before Christmas.
While there is no doubt he is likely to average more than 90, as he has done in five of his six years as a Swan, it might be safer to go for a younger player.
| | | | | |
| --- | --- | --- | --- | --- |
| Player | Position | 2018 Average | 2018 Games | 2019 Price |
| Lloyd, Jake | DEF | 101.64 | 22 | $738,000 |
| Parker, Luke | MID | 95.62 | 21 | $694,000 |
| Sinclair, Callum | RUC | 92.68 | 22 | $673,000 |
| Franklin, Lance | FWD | 91.72 | 18 | $666,000 |
| Heeney, Isaac | MID/FWD | 90.71 | 21 | $658,000 |
| Kennedy, Josh P. | MID | 90.14 | 22 | $654,000 |
| McVeigh, Jarrad | DEF | 78.78 | 18 | $572,000 |
| Cunningham, Harry | MID | 75 | 22 | $544,000 |
| Mills, Callum | DEF | 74.22 | 9 | $522,000 |
| Clarke, Ryan | DEF | 70.37 | 19 | $511,000 |
| Aliir, Aliir | DEF | 69.36 | 11 | $503,000 |
| Jones, Zak | DEF | 68.72 | 18 | $499,000 |
| Hewett, George | MID | 65.91 | 22 | $478,000 |
| Rampe, Dane | DEF | 65.32 | 22 | $474,000 |
| Ronke, Ben | FWD | 64.76 | 17 | $470,000 |
| Grundy, Heath | DEF | 63.94 | 17 | $464,000 |
| Florent, Oliver | MID | 63.05 | 22 | $458,000 |
| Papley, Tom | FWD | 62.32 | 19 | $452,000 |
| Hayward, Will | FWD | 62.14 | 22 | $451,000 |
| Menzel, Daniel | FWD | 60.83 | 12 | $441,000 |
| Reid, Sam | FWD | 80 | 1 | $435,000 |
| Smith, Nick | DEF | 59.2 | 20 | $430,000 |
| Jack, Kieren | MID/FWD | 58.83 | 18 | $427,000 |
| Thurlow, Jackson | MID | 64 | 7 | $423,000 |
| Dawson, Jordan | MID | 67 | 4 | $399,000 |
| O'Riordan, Colin | DEF | 63.33 | 3 | $363,000 |
| Fox, Robbie | DEF/FWD | 46 | 10 | $334,000 |
| McCartin, Tom | FWD | 44.14 | 14 | $320,000 |
| Naismith, Sam | RUC | 0 | 0 | $299,000 |
| Melican, Lewis | DEF | 51.33 | 3 | $294,000 |
| Blakey, Nick | FWD | 0 | 0 | $252,000 |
| Rose, James | FWD | 41 | 1 | $223,000 |
| Rowbottom, James | MID | 0 | 0 | $222,000 |
| Stoddart, Ryley | FWD | 34 | 2 | $188,000 |
| McInerney, Justin | DEF | 0 | 0 | $184,000 |
| Cameron, Darcy | RUC | 27 | 1 | $170,000 |
| Maibaum, Jack | DEF | 0 | 0 | $170,000 |
| Tucker, Durak | DEF | 0 | 0 | $170,000 |
| Reynolds, Harry | DEF | 0 | 0 | $170,000 |
| Amartey, Joel | FWD | 0 | 0 | $170,000 |
| Pink, Toby | FWD | 0 | 0 | $170,000 |
| Foot, Zac | FWD | 0 | 0 | $170,000 |
| Bell, James | MID/FWD | 0 | 0 | $170,000 |
| Ling, Matthew | MID/FWD | 0 | 0 | $170,000 |
| Wicks, Samuel | MID/FWD | 0 | 0 | $170,000 |