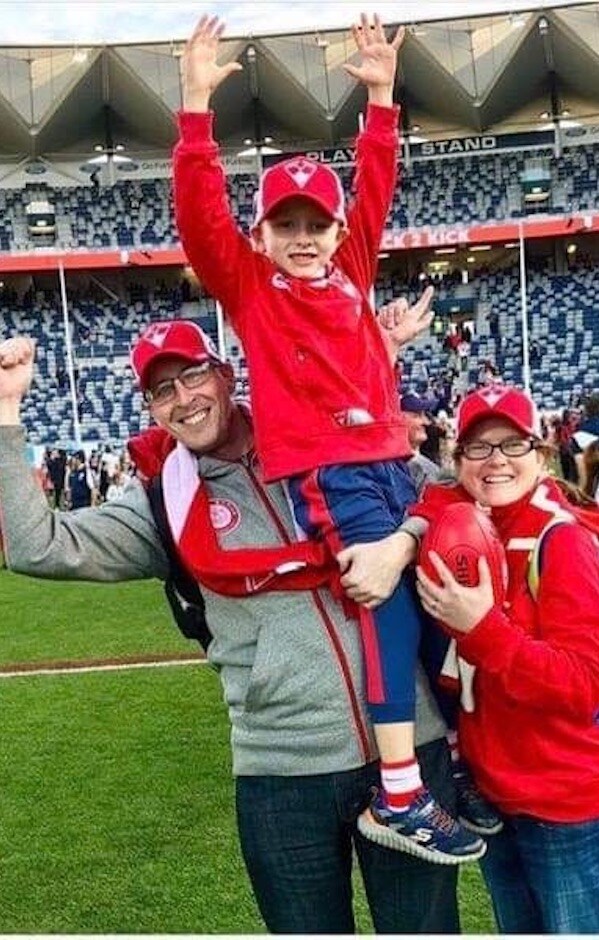 In this series, we uncover the moment when passionate Swans members fell in love with the red and white.
A two-year-old Matthew Hope watched on with his dad at Moore Park's Sydney Showground as South Melbourne treated locals to an exhibition match in 1981. Thirty-eight years later, the deputy principal, his wife Sarah and his son Josh wait religiously for the release of the Swans' fixture before planning anything for the year ahead.
In Hope's own words, he is a "fiercely loyal" Swans supporter – and the die-hard fan treasures South Melbourne's 1981 visit to Sydney as the moment that sparked his love affair.
"We had just moved from Melbourne to Sydney and my dad heard about the Swans coming up to play an exhibition game in Sydney," Hope told Swans Media.
"So he thought, 'Well, I'll go out, I'll take Matt and we'll have a look and give them some support'. So dad fell in love with the Swans from that moment and being a young tacker I didn't have any choice, thank goodness."
Hope at first cheered on the Swans from the Bob Stand, replaced by the Pat Hills Stand in 1984 and known now as the Bill O'Reilly Stand.
As a youngster he would kick-start the full-blooded Swans chants with a whistle and, although he now watches on empty-handed, he still pulls the strings behind the raucous cheers of the Bill O'Reilly Stand faithful.
Hope, who's missed just five Swans home games since South Melbourne relocated to Sydney in 1982, said his childhood obsession with the red and white had laid the platform for his life-long passion.
"From the age of two dad would take me along to all the home games," Hope said.
"Growing up it was something very special. It was just dad and I and that's what we share. We went to the footy and watched the Swans together through the good times and the bad times."
It's of no surprise Hope has remained loyal to the Swans through thick and thin – one glance at his office paints a striking picture of just how deep his wholehearted passion runs.
"At work I have up in my office, 'Welcome to Mr Hope's office', and I have a Sydney Swans poster and a big logo of the Swans," Hope said.
"I was also actually signing a farewell jersey at work yesterday, and I wrote 'Go Swans, Mr Hope'.
"I am a Sydney Swans tragic and will love the red and white until I'm no longer here."