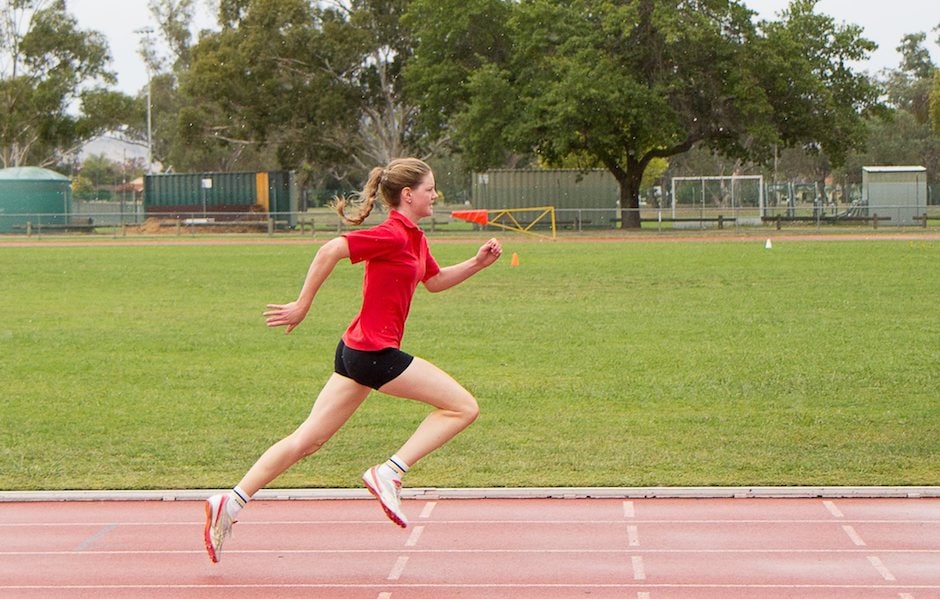 I associated the Swans with positive reinforcements, such as 'You can do this', 'It's totally fine', 'You've been through the worst of this', 'Your Swannies will win on the weekend'. Even if my Swannies lose, I've always associated the red and white with happiness.
Sophie Howard
A typical 2015 day for die-hard Sydney Swans supporter Sophie Howard saw her churning out laps in full fight at the Australian Institute of Sport (AIS) athletics track with an elite squad of athletes.
But it was only until November 15, 2015 that Howard's life centred on laps at the AIS, with the darkest of all her days picking her up, tossing her wildly through the air and dumping her in an intensive-care unit (ICU) in the nation's capital.
Howard – a daughter of warm-hearted parents and a sibling to a beloved brother and sister – had spent the bulk of 2015 honing her sprinting craft through lap after lap under the guidance of Australian Olympian Matt Beckenham.
But she would soon be staggering through laps of rehabilitation at Canberra Hospital as she retrained herself to walk.
Fractures had torn through her pelvis, neck and spine, her liver and kidneys had been lacerated, she was left with contusions and a hole in a lung, and she had suffered "terrible" whiplash.
That's the damage a T-bone car crash at 110 kilometres per hour can cause – no shortage of horror for a woman just 19 years in age.
It was at the famous Dog on a Tucker Box, situated just off the Hume Highway near Gundagai in NSW, that Howard's world collapsed before her eyes.
The University of Canberra (UC) student would spend the next four weeks unable to do anything other than wince in pain in a hospital bed, lying flat on her back and stretched from tip to toe as she eyeballed the paint of the ceiling.
It wasn't until eight months after the crash that Howard had retrained herself to walk at a manageable level, and it would take 18 months of intense physiotherapy for her to complete the long and gruelling road to recovery.
Howard, who said retraining herself to walk made her feel like "a baby giraffe", offered a grim insight into the impact of November 15.
"It put me in a standstill. I lost my independence and I lost my ability to function at a really high standard, which I take a lot of pride in. I was in a standstill for two years as the crash had delayed my progress with sport, uni, my social life and so much more," Howard told Swans Media.
"I'll never get those two years back because it was a standstill. It actually took me until 2017 for me to be able to function like I always had prior to the accident.
"There's only one way to build up muscle – and that's just by repetitively trying to build it back up again. And because I was in a hospital bed for so long – for four weeks straight – my body actually used my muscle for a fuel source, so I came out with legs looking like my ankles and arms looking like my wrists. And I was thinking, 'Bloody hell, how am I going to build my calf muscles back up?'"
Sophie Howard tackling the gruelling grind of trauma-related physiotherapy.
It all happened as Howard was on her way home to her family's Riverina property after tackling her first year as a UC student.
With her bags packed and the boot of her car full, she was ready to settle back in at home – her family lives just outside Milbrulong – for the summer ahead.
She was looking forward to making a bit of cash as a farmhand to set herself up for a comfortable second year at UC, and she had just received a diploma in speech teaching at the Australian Speech Communication Association (ASCA) – a certificate that would allow her to teach speech in schools come the return of class in February 2016.
But the summer months ahead she thought would hold so much promise could not have appeared further from reality.
Howard had only just passed the half-way point between UC and home when she was suddenly at the centre of screaming sirens.
The Public Relations and Tourism and Events student was rushed back to Canberra in a helicopter – and after four weeks of lying motionless in a hospital bed, she'd begin on the punishing road to retraining herself to walk at Wagga Wagga Base Hospital.
It was there the Wagga-born youngster swapped laps of the AIS track with laps of rehabilitation "that would kill me", with brown, timber, gymnast-like rails supporting her on both sides of her body as she stumbled through an eight-metre lap up, and an eight-metre lap back, time and time again.
Howard was already as thin as a rake before the crash, but she would lose 10 kilograms during the recovery process and have to fight tooth and nail to put the weight back on.
She was introduced to the mind-numbing marathon of trauma-related physiotherapy under the direction of Derek Lum, with squats, bridges, calf raises, abdominal work and pelvic-floor exercises all standing in her way.
When asked how many repetitions she had to do of each, she could muster only a trembling chuckle.
"You don't realise how quickly you would lose the ability to walk," Howard said.
"In my mind I was like, 'I can walk!' But then you try to walk – and even with the support rails – and you just couldn't. I had been walking for 19 years, but then you spend four weeks straight on your back and you're like, 'Bugger, how did I used to do that?' And you're like, 'I'm not sure'.
"My pace of walking and my stability and my balance were all shocking. With all those sorts of things, the physio at the hospital had some serious work to do with me. It was serious, serious physio that had me walking okay by July 2016, and I was then able to return to uni for semester two of that year.
"You know when you're shopping for groceries and you have to awkwardly side-step people? That skill was so hard to relearn. Dodging people, moving out of people's road and side-stepping was just so terribly, terribly hard to relearn."
One quaint source of inspiration throughout her tormented brush with death was a quote painted on a canvas: May my heart be brave, my mind fierce and my spirit free.
It had hung high on her wall at university, it had sat on the back seat of her car for the end-of-year trip home, and – thanks to an emergency worker at the scene of the crash – it would overlook her bed at Canberra Hospital.
Her battered and bruised body meant she wasn't able to attend her first post-accident Swans game until Sydney's clash with the Western Bulldogs at the SCG in Round 15, 2016, but – just like the quote on the canvas – her through-and-through passion for the red and white would put a smile on her face in even the most ruinous of times.
"I associated the Swans with positive reinforcements, such as 'You can do this', 'It's totally fine', 'You've been through the worst of this', 'Your Swannies will win on the weekend'," Howard said.
"Even if my Swannies lose, I've always associated the red and white with happiness. There are always positives to take out of a game – win, lose or draw.
"I found that cheering on the Swans during a game – with all the goals that are scored, the chase-down tackles and the high-flying grabs – that I'd get caught up in the excitement of the match and just forget about my struggles with the injuries.
"And you could definitely say that about anything to do with the Swannies, music or even a friendship you've maintained through all the struggles."
Howard's dad is split between Sydney and Richmond, her sister isn't a huge fan but follows the Swans, and her mum and brother are Carlton tragics.
But Howard, now aged 22 and an enormous fan of star Sydney forward Lance Franklin, has lived and breathed the red and white from the moment her dad, aunties and uncles began teaching her the lyrics of the Swans' club song:
Cheer, cheer the red and the white,
Honour the name by day and by night …
Sophie Howard sporting her favourite colours, the iconic red and white of the Sydney Swans.
The Swans fell to the Bulldogs in a four-point loss in Howard's return to the footy, but she said it was "awesome" to be back in the thick of the atmosphere and cheering on her team.
She even enjoyed a kick-to-kick with her brother on the hallowed SCG turf after the game.
And as the 2019 season and another kick-to-kick edge closer, Howard's excitement is rising by the day – and not only for the return of the footy.
"I am now honestly so excited about most things," Howard said.
"I feel like I've now got a second shot at my life, and now that I've got a fully functioning body I've realised I don't actually have to be an elite athlete. That's what I came to realise after not having had sport in my life for so long. I thought to myself, 'I actually don't need to be an elite athlete' – and that realisation really hit me. I thought, 'I can just admire elite athletes and just be me'.
"I'm going to try to take my final year at uni pretty seriously, get my two pieces of paper and then take on the world as a real adult with a real job. I just think it'll feel so satisfying to have two bits of paper you've worked so hard to get. I now just cannot wait to graduate and move on."
Central to moving on through the deepest of troughs was Howard's belief in the power of positivity.
"If you're negative about things you're never, ever, ever going to get anywhere, so there's no choice but to be positive about things," Howard said.
"Knowing how strong I am now and what I can get through, I know that any obstacle can be beaten."
Howard's positivity is so striking that even after such a torturous time in her life, she's able to work up the smallest of laughs when reliving the journey she's conquered.
"I guess I gave my brain box and body a really good rattle."