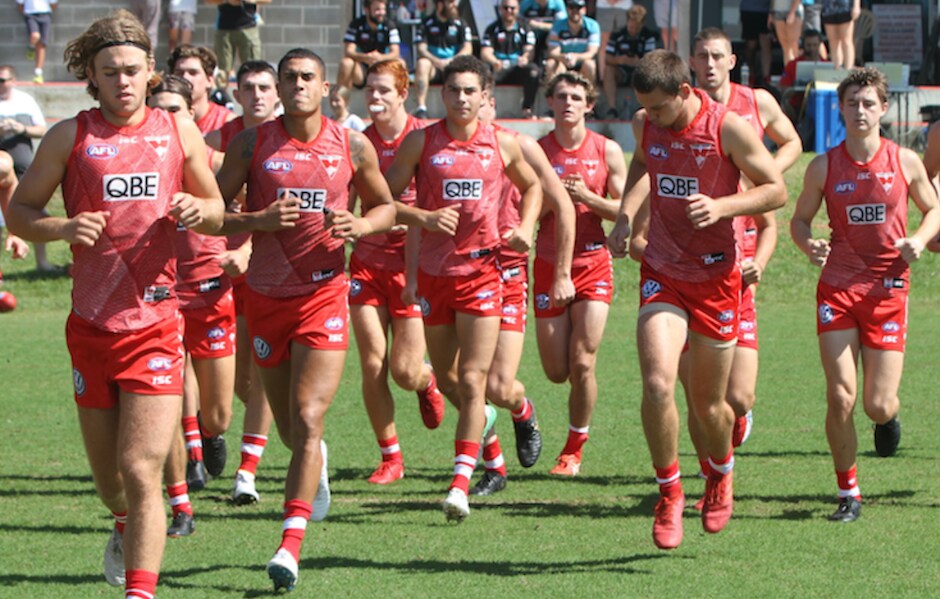 There have been different players each week who have stepped up and put their hand up. We're not relying on individuals; we're playing as a team, which is very pleasing.
Jeremy Laidler
A host of emerging Sydney Swans young guns shined as the red and white grinded out back-to-back wins to start the season in a 38-point victory over the Gold Coast Suns on Sunday.
Rising ruckman-forward Joel Amartey recorded 17 disposals and three goals in just his second game back from an injury-hampered pre-season campaign, while Darcy Cameron, James Bell and James Rowbottom were among the many other drivers behind the 17.8 (110) to 10.12 (72) win.
Nine Swans scored a goal, with Amartey, Rowbottom and Sam Wicks kicking three each, while Ryan Clarke, Bell and Rowbottom all posted 26 touches or more.
But the feel-good story of the day belonged to 19-year-old speedster Matt Ling, who returned for his first game in almost a year after a frustrating battle with a broken toe, with the Swans' first-round 2017 draft pick taking part in the second half and earning his coach's praise.
Sydney trailed by 12 points at half-time, but a raft of Swans would combine to lead the travelling side to a six-goal-to-one third term en route to the Round 2 victory.
Sydney development coach Jeremy Laidler said the Swans had been striving for a team-wide performance.
"We've been focussing on not relying on any individuals and making it a team effort," Laidler told Swans Media.
"We didn't have much of the ball. Gold Coast had a lot more disposals than us, but we capitalised going forward and it was pleasing that we kicked straight. We had a few different goal-kickers and there have been different players each week who have stepped up and put their hand up. We're not relying on individuals; we're playing as a team, which is very pleasing."
Off-season recruit Clarke tallied a Sydney-high 28 possessions, while Bell (26 disposals, one goal) and Rowbottom (26 touches, three goals) were also among the best.
Rowbottom brought the small legion of Swans fans to its feet when he goaled on the run from 80 metres out early in the final stanza, beating his opponent to the footy on the right wing and slamming the Sherrin into an open forward 50.
Ruckman Darcy Cameron collected 17 disposals, 25 hit-outs and two goals, new Swan Hayden McLean (two goals) was a powerful force inside 50, and Colin O'Riordan (24 possessions) injected a wealth of drive out of defence.
And the presence of QBE Sydney Swans Academy top-ups again shone through, with young stars Kyle McKellar and Pierce Roseby both hitting the scoreboard.
Laidler was rapt with the performances of a long list of his players and spoke particularly highly of Bell and Rowbottom.
"I was really impressed with James Bell's game. His hit and intent around the ball was really good. He was hard and clean and he really brought his teammates into the game by showing that intent," Laidler said.
"James Rowbottom's stuff inside is really, really good, and once he's got the outside part of his game worked out he'll definitely turn into a really good player. It was good for him to also finish his goals.
"The last couple of weeks we've been using him half-half between the forward line and midfield. We want our players to add another string their bow and be versatile, because when you go up to AFL level you can't just be stuck in one position. It's all a part of learning. James is still learning his craft as a forward, but he does his special work when he's around the footy."
Ling played on a wing and finished with just five possessions, but Laidler couldn't have been prouder of the returning star.
"To have a year off footy but have the composure and skills that he showed in the second half was really good," Laidler said.
"We didn't care if he didn't touch the ball; we just wanted him to get out on the field. We couldn't take the smile off his face and that's the way he's been through his whole rehab. He's just kept smiling and he's such an infectious character."
The Swans sit in fourth on the ladder after the opening two rounds of the season, and they are now set to face Redland at Blacktown International Sportspark on Easter Saturday.
Sydney Swans 5.1 6.2 12.3 17.8 (110)
Gold Coast Suns 2.2 7.8 8.10 10.12 (72)
Goals – Sydney: J Amartey 3, J Rowbottom 3, S Wicks 3, D Cameron 2, H McLean 2, J Bell, Z Foot, K McKellar, P Roseby