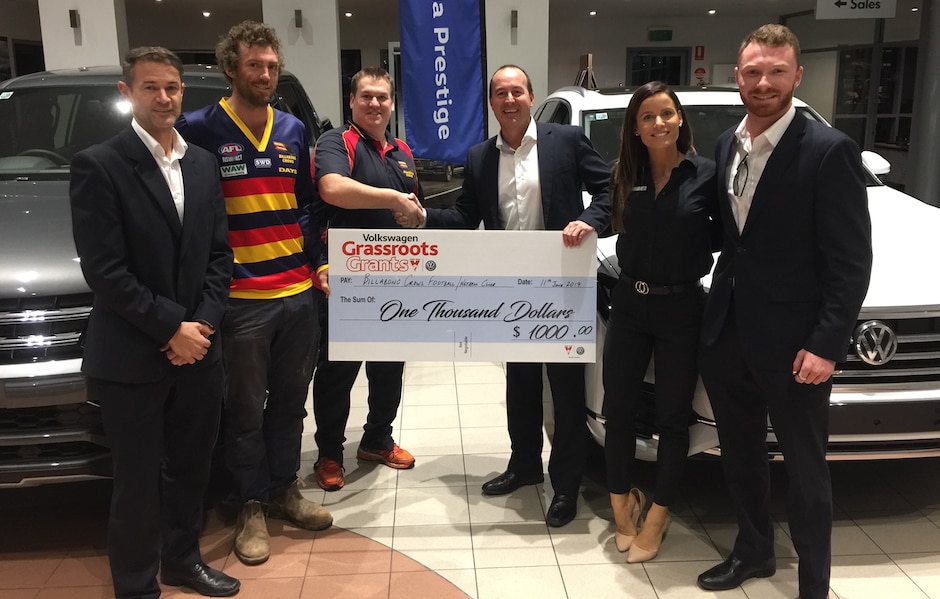 Major Partner of the Sydney Swans, Volkswagen, has reached out to a Riverina club battling serious drought, injecting a $1000 donation into the "ecstatic" Billabong Crows as part of the Volkswagen Grassroots Grants program.
The drought meant the Crows couldn't play any 2018 home games in Urana, forcing the club to host opposition teams at its second home venue 30 kilometres away in Oaklands.
The Crows have called two grounds home since Urana and Oaklands Football/Netball clubs merged in 2005, and while it's believed the amalgamation has been a major success, it's said the unusable Urana ground had made for difficult times.
The Crows had long relied on the struggling Lake Urana as the Urana ground's source of water, but thanks to a game-changing deal, Wodonga Pristige Volkswagen's $1000 grant has enabled the club to purchase water for the town tower.
Crows treasurer Ben Brndusic said Urana's side of the camp was "ecstatic" at Volkswagen's generous donation.
"It's about 30 kilometres down to Oaklands and 30 kilometres back, so playing at the Urana ground saves people time and money, and it means the elderly people who've been involved in the club for a very long time can get down and watch a game in Urana," Brndusic told Swans Media.
"Our merger has worked very, very well, but having no games in Urana last year put a strain on the locals and also sponsors, like the local pub. They all normally benefit from having home games in Urana, but they missed out last year, which caused a bit of angst. So it's wonderful to now be playing some games in Urana again."
Brndusic says a day at the footy is central to the social fabric of country towns.
"This town is only a town of about 350-400 people, and for a lot of people footy is the only social outlet on the weekend," Brndusic said.
"At country footy clubs, game day is a really social event, and this $1000 will go a long way to making sure we can keep the ground in the state that it needs to be kept. We want to be able to train here and play games here, so this grant is highly important."