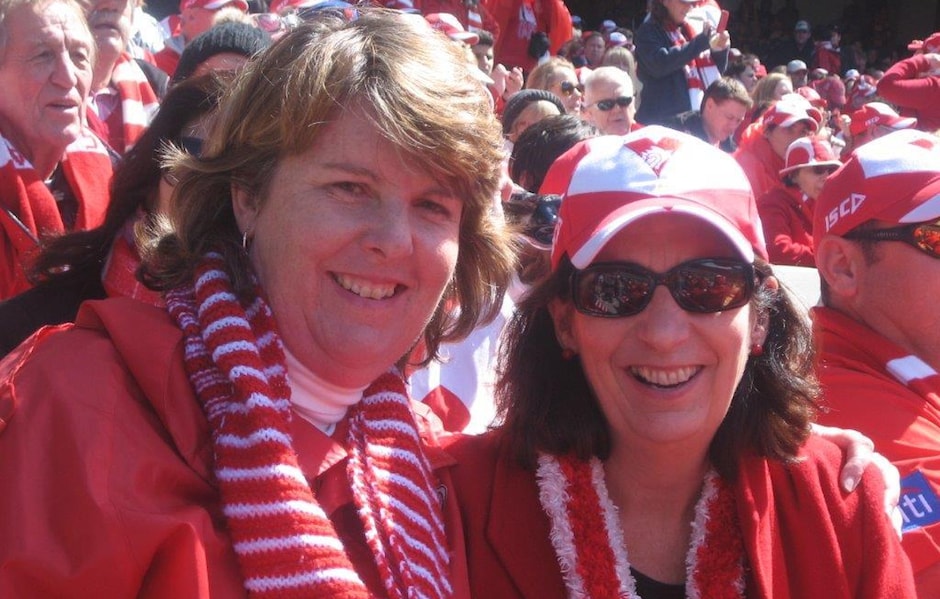 In this series, we uncover the moment when passionate Swans members fell in love with the red and white.
Not many can say their dad and uncle both donned the famed red and white of South Melbourne, but Annette Moloney is among the few and has adored the club for as long as she can remember.
Annette's dad George played eight matches for the Swans in 1943 and 1944, while her uncle Vin featured in six games in the same era.
And while Annette wasn't born until 1959, plenty of family outings were enjoyed at South Melbourne games when the time arrived.
Annette, her dad and her uncle were familiar faces of Lake Oval crowds from the time Annette was born, admiring glorified names like Bob Skilton, Barry Round and Graham Teasdale as they stunned the footy world on "the muddy Albert Park track".
"We'd come home from the game and in those days there was just one TV show about the game, which we would gather around and watch," Annette said of her family's deep-running passion for the Swans.
"I'd also get the Footy Record out after games and fill out all the details. Dad's aunty always used to go with us as well, and she was one of those ladies who'd be all meek and mild and then as soon as the siren went she'd be going crazy if we had won. And we'd get into all the newspaper articles and I used to collect them. The Swans were just always a big part of our lives when I was young, and it's remained that way ever since."