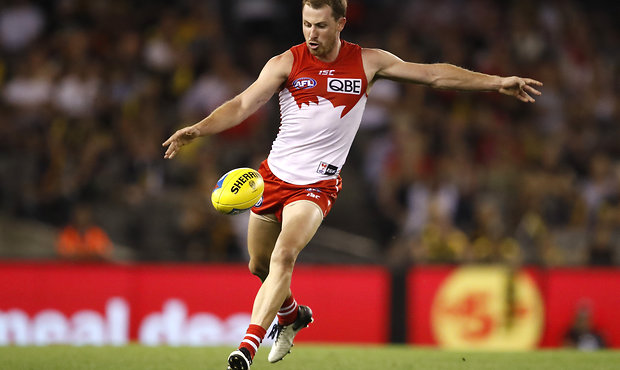 Nic Newman's former teammates are plotting a fierce welcome back to the SCG on Saturday afternoon when Sydney hosts Carlton, but they know any verbal battles they engage in won't be one-way exchanges.
Newman, who played 31 games in four seasons at the Swans before requesting a trade to the Blues at the end of last season in a bid to find more opportunities at senior level, has enjoyed a solid first year back in his home town.
The 26-year-old has played 13 of 15 matches this season and leads Carlton in kicks and rebounds 50s.
His ball use by foot from the defensive half is Newman's biggest strength, but he can let himself down at times with his decision-making, and the Swans are keen to put him under immense pressure whenever he's got the footy on Saturday.
Sydney midfielder Harry Cunningham formed a close bond with Newman while he was at the Swans but told AFL.com.au on Wednesday that friendships won't mean much when the two teams clash this week.
"I'm very close to Nic, we talk pretty regularly and we're still good mates, but I'm not sure what's going through his head ahead of the game," he said.
"Tom Papley is pretty close to 'Newy' as well and it's fair to say he'll cop a little bit from him, given 'Paps' has a fair bit to say to most opposition players.
"But 'Newy' isn't quiet on the footy field either, so there might be a bit of friendly banter there all in good fun, and it'll be good to run past him and give it to him a bit.
"He's been playing some good footy and he sets them up from the backline when he gets his kicking game going, he's an elite kick, so we need to create some turnovers there."
Sydney was disappointed by their loss to Essendon last week, after they beat the Bombers on most statistical areas, but blew several opportunities to hurt the home side on the scoreboard.
The defeat seriously hurt their slim chances of contending for a top-eight spot, not that the players are even daring to think about finals.
"That's your (the media's) job, isn't it?" Cunningham said with a laugh.
"We'll leave it to yourself and others outside the four walls of the club to speculate about what can happen later in the year.
"We'll just concentrate on each week as it comes, I know it's a cliché' but Carlton is in bloody good form and we need to bounce back from last week."
Saturday's clash holds special significance for Cunningham, who is an ambassador for children's cancer charity Redkite.
The round 17 match at the SCG has been re-branded as 'Red Day' by the Swans, with the club aiming to raise plenty of funds for the charity during the match.
Cunningham was introduced to Redkite as a rookie by then teammate and current North Melbourne caretaker coach Rhyce Shaw eight years ago and has been visiting hospitals all over Sydney to entertain sick kids ever since.
"I'm in a privileged position to be able to do what I do, and those kids and their families are going through a life battle, so it puts things in perspective," he said.
"Tommy Papley and I went last week and what we're really good at is making idiots of ourselves, and that makes the kids laugh, so it's something I love doing."