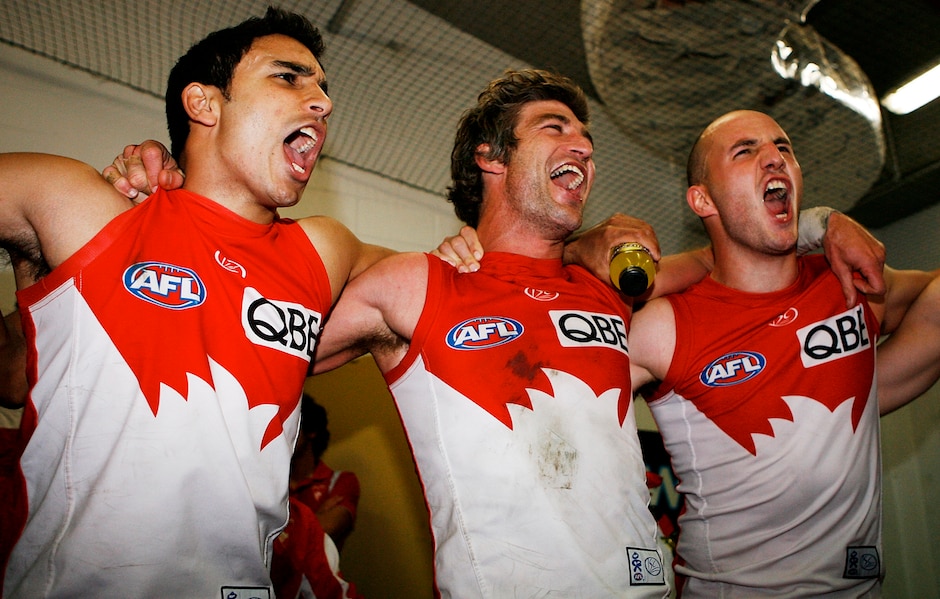 My mum actually has a cool photo at home where I'm cheering and Chris Judd is in the foreground of the photo looking disappointed as all hell, which is my favourite photo of my playing career ever captured.
Trent Dennis-Lane
In a series new to 2019, we revisit moments in history involving the Sydney Swans' round-by-round opposition.
History, nostalgia and memories form a special part of what makes Australian rules football great, and we hope the Footy Flashbacks series reignites some of your fondest Swans moments.
In the latest edition, we wind back time to the day Trent Dennis-Lane produced a brilliant chasedown tackle and goal to all but seal victory in the Swans' 2010 elimination final.
Sitting in his parents' family room is Trent Dennis-Lane's most treasured photo of his short-lived playing career.
The former Sydney Swans speedster snared four goals from just six touches in his side's thrilling 2010 elimination final victory over Carlton – and his fourth was the work of a magician.
As Sydney clung to a six-point lead with just over three-and-a-half minutes left in the ANZ Stadium clash, lively Blue Dennis Armfield swooped on the footy at a stoppage deep in the Swans' forward 50, tucked the Sherrin under his right arm and motored towards the right-forward pocket.
And while the lightning-quick Lewis Jetta wasn't at the stoppage to end the desperate dash, another Western Australian tearaway was.
Dennis-Lane hunted Armfield, closing with searing pace, latching on to his hips and, with a final gritted-teeth effort, crunching him in a tackle to pin him for holding the ball.
The 22-year-old, playing just his seventh AFL game, then steadied himself for a set shot from a tight angle, strode in and slotted the goal to all but end Carlton's chance of a win.
And as a framed photo at his parents' place will remind him forever, he "celebrated like a madman".
The Blues would strike back via a Lachie Henderson goal with just over 60 seconds left on the clock, but Dennis-Lane's major had ensured the Swans enough of a buffer en route to a 14.15 (99) to 13.16 (94) triumph.
Dennis-Lane won't ever forget the pandemonium that followed his clutch tackle and goal.
The photo that always makes Trent Dennis-Lane smile when he returns home to his parents' place.
"I just remember going ballistic. The first person I got to was Rhyce Shaw, I stuck the tongue out and the celebrations were insane," Dennis-Lane told Swans Media.
"I was pretty close with Rhyce Shaw at the time, he instilled a lot of belief in me through my playing career and as soon as I saw him the tongue went out. I don't actually know what I was doing. Usually my trademark celebration was a fist-pump and maybe a bit of a clap, but I went berserk.
"My mum actually has a cool photo at home where I'm cheering and Chris Judd is in the foreground of the photo looking disappointed as all hell, which is my favourite photo of my playing career ever captured.
"I'm definitely really proud looking back, and more so for the fact that during the week I was actually challenged to make a chasedown tackle. When I first started my AFL career I certainly wasn't known as a pressure forward. I had a very attacking mindset. But I was lucky enough to execute a chasedown tackle at a pretty crucial stage in the game, and it's one of the highlights of my reasonably short playing career."
Trent Dennis-Lane after booting a goal in the Sydney Swans' 2010 elimination final.
A 41,596-strong crowd held its collective breath as Dennis-Lane lined up for his shot at goal.
Adding to the pressure of the moment was the fact coach Paul Roos and co-captain Brett Kirk had less than three minutes left in their Swans careers if the team lost.
But Dennis-Lane would channel his inner calm.
"The old saying 'a handy point' rang true," Dennis-Lane said.
"A point would have meant Carlton would have to kick two scores to get back in front, so in my head that took a bit of pressure off me.
"The right-forward pocket is also usually the non-favoured pocket for a right-footer, but my kicking style has a bit of left-to-right, so I actually like the side of the ground I was on."
Ecstasy and agony: The siren sounds to end the Sydney Swans' 2010 elimination final clash with Carlton.
Dennis-Lane was the most prolific goal-kicker of the game despite recording the fewest touches.
Across the 2010 campaign, his first season at the Swans, he averaged 2.25 goals per match from just 9.25 possessions.
The key to his exceptional goal sense? Sidestepping the gym.
"I was obviously never too massive in terms of my body, and I actually hated going to the gym," Dennis-Lane laughed.
"Through all my junior days, under-18s footy and WAFL footy, I used to dodge the gym as much as I possibly could. And the best way to do that was to go outside with a footy and have shots at goal. I used to get to training a couple of hours early, and I'd be out having shots and shots and shots and shots, and I think that's why I was able to really hone my craft around goal."
Tom Harley, at the time a Channel 7 commentator and now the Swans' CEO, offered Dennis-Lane a glowing endorsement as he all but sealed Sydney's elimination-final win.
"He just looks so neat and so composed," Harley said.
"I know it's the tackle and it's a final and it's a big stage, but every time he's lined up for goal he's been really smooth and measured in his approach."
Not done yet: Sydney Swans co-captain Brett Kirk (second from left) and coach Paul Roos (third from left) fight on.
Although Dennis-Lane produced arguably the best performance of his 29-match career in the 2010 elimination final, Carlton superstar Chris Judd threatened to single-handedly deny the home team victory.
The midfield gun, who would collect his second Brownlow Medal just over two weeks later, finished with 29 touches (18 contested), eight clearances and 10 inside 50s.
He was an unstoppable force in the third term, racking up 10 possessions (five contested) and six clearances as the Blues piled on five goals to the Swans' none.
The Blues trailed by 24 points at half-time but headed to their final-change huddle seven points ahead, prompting Roos to hand Josh Kennedy a tagging role on Judd for the last term.
"Best third quarter of footy I've ever seen anyone play – hands down," Dennis-Lane said.
"It felt like there were about six of him out there. He was absolutely incredible.
"I just remember Josh had to limit 'Juddy' as much as he possibly could in the last quarter, especially inside the contest because he was just exploding out every time. I think Josh did a reasonably good job on him because we were able to start getting better supply up forward, but 'Juddy' was simply on another level in the third quarter."
Gun Carlton midfielder Chris Judd breaks away from Nick Malceski.
Dennis-Lane played 19 AFL games with Sydney between 2010 and 2012, before adding another 10 matches with St Kilda in 2013 and 2014.
He's now living in Melbourne with his girlfriend Nina, and works for LifeChanger Foundation and Fast-Lane Programs, organisations committed to mentoring youth.
The 30-year-old is also coaching both the under-11s and under-14s at the East Brighton Vampires while, although he laughs that he doesn't leave the goal square, he plays for and co-coaches Bonbeach Football and Netball Club.
Dennis-Lane says he finds great enjoyment in nurturing young talent.
"That's why you coach. You get a good sense of fulfilment from that. I can't play at a high standard anymore, I've had my shot and age is a factor now too, so if you can help other people coming through it's a great feeling," Dennis-Lane said.
"Hopefully they can learn from some of the mistakes I made or some of the experiences I went through, and if that gives them more of a chance to reach the top level then that's why I do what I do."
Almost seven years have passed since Dennis-Lane left the Swans, but he will forever savour his time in Sydney.
"I absolutely loved it at the Swans," Dennis-Lane said.
"I still go for Sydney. Obviously they gave me a chance at the highest level, and I still keep a close eye on the red and white."