Two of the most committed members of the QBE Sydney Swans Academy have been awarded the 2018 Frank Burton Scholarships.
Harrison Parker, from Cronulla in Sydney's south, and Michael Weathers, from the NSW Central Coast, both in the Academy's U15 squad, were rewarded for their outstanding off-field discipline and their on-field talent.
The boys received their scholarships on July 31 at a Swans Foundation Function held in the Club Lounge.
The Frank Burton Scholarship was first awarded to two Academy members in 2017, to honour a much-admired member of the Swans community who died in 2015.
Frank Burton, a former employee of the Swans and passionate club member and fan for more than three decades, left a generous legacy to the Swans Foundation.
The Foundation, at Frank's request, has allocated part of the legacy to an annual scholarship to assist two Swans Academy players to further their football development.
The general manager of the QBE Sydney Swans Academy, Chris Smith, nominated Harrison and Michael for the scholarships based on their unparalleled commitment to improving their knowledge and skills.
"Harrison is the first to arrive and the last to leave,'' Chris Smith said. "He has been an extremely dedicated member of the Academy since he was first selected as a 10 year old, and I know he will do everything he can to get the most out of himself.''
Smith said Michael had recently been selected in the U15 NSW Schoolboys team, a testament to his talent.
"Michael has to travel from the Central Coast to train and play, and he has shown extraordinary commitment,'' Smith said. "We've been impressed with his speed and skill, and his highly competitive spirit.''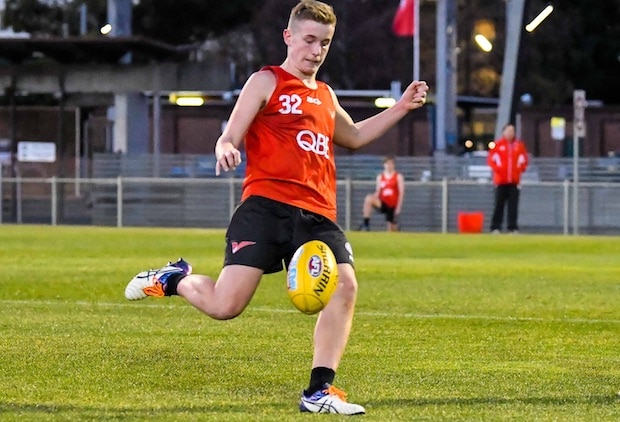 Chris Smith said both boys were role models for other young Academy players.
"They've been awarded the Frank Burton Scholarships because even though they're only 15, they show real professionalism in the way they go about their football. We believe they both have a very bright future and will be ones to watch.''
And Harrison's sister, Ella, could also be one to watch. She is a member of the Academy's U12 Youth Girls' Squad, and plays for Southern Power.
Last year's recipients of the inaugural Frank Burton Scholarships, Academy members Marc Sheather and Sam Eynaud, have both gone on to play for the NSW U16 side this year.
Frank Burton was the Chief Financial Officer for the Swans in the early 1990s, and rarely missed a game in over 30 years. He saw the Swans play in five Grand Finals, and his favourite player was one of the most inspirational players to pull on a Swans jumper, former captain and Brownlow Medallist, Paul Kelly.
The Sydney Swans Foundation was launched in 2005. It aims to assist the development of junior footballers throughout NSW and to ensure the Club has the cutting edge equipment and facilities needed for the senior team to have sustained success.