Jude Bolton was initially reluctant to move to Sydney. He'd only once visited the NSW capital as a teenager and found a little daunting the prospect of uprooting his entire life and moving so far away from friends and family.
So much so that when offered a three-year contract after being drafted by the Swans in November 1998 he rejected it and instead opted for the standard two-year deal.
It wasn't an unreasonable position for the boy from the Calder Cannons in the outer north-western suburbs of Melbourne to take, but very quickly his concerns dissipated.
As he said, as soon as he got to the club and "met all the lads" he was "rapt".
So began a 15-year career in the red and white that has seen him etch his name firmly into the club records books. In more ways than one.
Not only does he rank second among more than 1400 players on the all-time games list, and enjoy royalty status as one of just five dual premiership players, but he has one quirky honour all to himself.
He is the only player named Jude ever to play for the Swans.
Also, he is the only Jude ever to win an AFL premiership at any club. And if there is another Jude to have played at the highest level his name doesn't come quickly to mind.
If you google the name Jude it refers to the Biblical name Judeis, or "the praised one".
Jude Bolton is very much the praised one for his endeavours on and off the field.
Why Jude? Because his father was an English literature major and named him after the main character in 'Jude The Obscure', Thomas Hardy's tragic novel and the latest novel the great author ever wrote in 1895.
Jude might also mean "indestructible" because he was just that during his AFL career.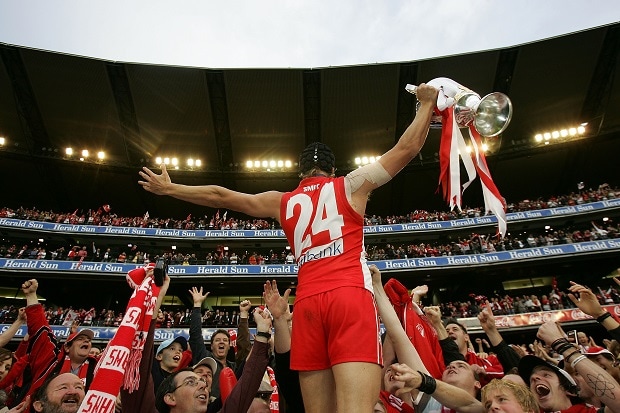 Bolton was as tough as they come. He played a huge role in the 2005 Premiership.
From 2001-2010, having established himself in the AFL side, he played 232 of a possible 237 games. Even in his last three years from 2011-13, after he'd turned 30, he played 68 of a possible 74. In his last 13 seasons Bolton played every game in the season on eight occasions.
Bolton played in the finals in 12 of his 15 seasons and played every one of the Swans' 26 finals during his time at the club, ranking second all-time in finals for the Swans behind Goodes (28). Only 16 players in AFL history have played more finals.
At the time of his retirement Bolton led the AFL in all-time tackles, and three-and-a-half years later still ranks third behind Matt Priddis and Lenny Hayes. He ranks 8th in all-time contested possessions and 11th in all-time clearances.
Bolton is one of just 29 players to have played 200 games for South Melbourne/Sydney Swans. And this week he celebrates the anniversary of his double century.
It was June 22, 2008, when Bolton played his 200th game against Melbourne in Canberra.
It was the fourth-placed Swans, with eight wins and a draw from 12 games, against the bottom-placed Demons, who were 1-11 going into Round 13.
The Swans enjoyed an all-the-way win 17-12 (114) to 11-8 (74), with Brett Kirk collecting 27 possessions and three Brownlow Medal votes. Barry Hall kicked five goals for two votes, and Melbourne's Matthew Bate kicked an equal career-high four goals for one vote.
"It was a big moment for my family. My late grandmother came up to watch. There were a number of media commitments and after a tough game and a good win we had a celebration at a pub nearby in Manuka with all the family," he recalled.
As much as Canberra isn't a destination you might normally associate with big milestone games Bolton's 200th was one of 13 games in the national capital in a career that took the 325-gamer to 16 AFL venues and every State and territory in Australia except the NT, plus Wellington in New Zealand.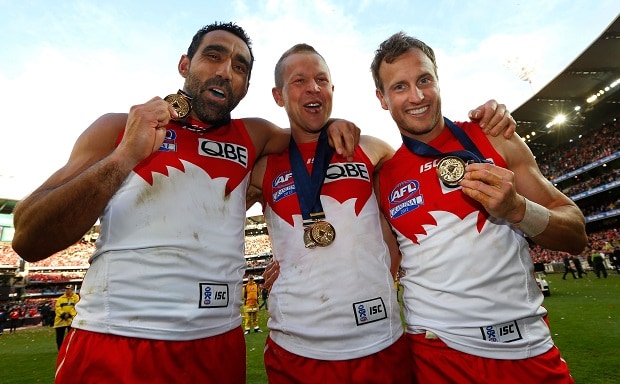 Three of the four Sydney Swans to have played in two premierships - Adam Goodes, Ryan O'Keefe and Jude Bolton. Missing? Lewis Roberts-Thomson.
He played 128 games at the SCG to rank third only to Goodes (143) and O'Loughlin (136).
Also, he made multiple visits to Stadium Australia (43 games), MCG (41), Docklands (34), Football Park (19), Subiaco (17), Gabba (11), Kardinia Park (9) and Princes Park (5), and played once each at Bellerive in Hobart, Carrara, the WACA, Waverley, Wellington and York Park in Launceston.
He won everywhere except Waverley, having played at the one-time secondary home of the AFL in Melbourne in his eighth game in 1985, losing to Hawthorn.
Only Goodes among Swans players has played at more different venues. He worked his magic at 17 different grounds, adding Adelaide Oval and the Sydney Showgrounds' to the Bolton list while missing the WACA..
It's no surprise Bolton ranks behind Goodes in this category. With 372 games to his credit, Goodes, Sydney's games record-holder, ranks ahead of most players in most things.
But they share one very special honour. With the legendary Vic Belcher and teammates Michael O'Loughlin and Lewis Roberts-Thomson they are the Swans' only dual premiership players.
Belcher achieved this honour via wins in 1909 and 1918, and Goodes, Bolton, O'Loughlin and Roberts-Thomson did so by sharing flags in 2005 and 2012.
Bolton finished top 10 in the Sydney club champion seven years in a row from 2003-09, with a best of third in 2003, and represented Australia in the International Rules series in 2004.
He also won the 2014 AFLPA Madden Medal, an award made annually since 2007 to a retiring player who has best demonstrated on-field excellence, personal development and growth, and community spirit.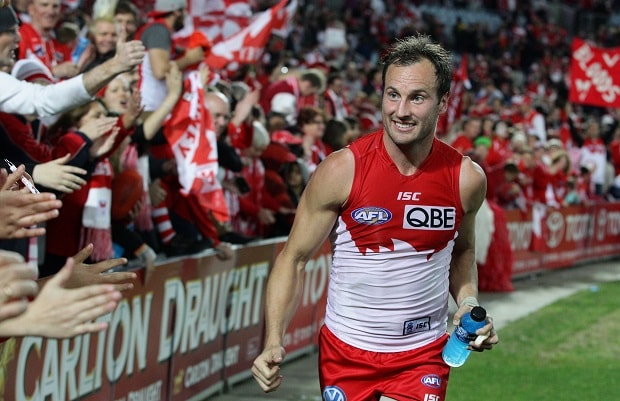 Bolton thanks the crowd in his last game in 2013.
Bolton, much admired for his charity work that continues in retirement, was rightfully very proud to sit alongside Glenn Archer (2007), Robert Harvey (2008), Michael O'Loughlin (2009), Brett Kirk (2010), Cameron Ling (2011), Luke Power (2012), Lenny Hayes (2014), Chris Judd (2015) and Matthew Pavlich (2016) as winners of this prestigious award.
And humbled, too. "I reckon all players should understand how blessed they are to play at the highest level. And the more you can give to the organisations and people that need it the most the more personal satisfaction you get," he said in typical Bolton fashion.
It's all part of a remarkable career than only evolved because the Swans recruiting team picked the the former St.Kilda supporter and special fan of Robert Harvey, Nicky Winmar and Tony Lockett with selection #8 in the 1998 AFL National Draft on 1 November 1998.
Bolton was taken behind #1 pick Des Headland (Brisbane), #2 Justin Longmuir (Fremantle), #3 Nic Fosdike (Sydney), #4 Ryan Fitzgerald (Sydney), #5 Michael Stevens (Port Adelaide), #6 Murray Vance (Carlton) and #7 Josh Carr (Port Adelaide).
In a draft that produced 11 200-gamers, Bolton topped the return with his 325 games from Lenny Hayes (297), Heath Scotland (268), Andrew Embley (250), Brady Rawlings (245), Mark McVeigh (232), Tyson Stenglein (208), Carr (207), Brendan Fevola (204), David Wocjinski (203) and Steven Baker (203).
Arriving at the club, Bolton inherited jumper #24 from Mark Orchard, who had 41 games in that number in 1997-98 and finished top 10 in the club champion in both years. It was no accident. Like Orchard, Bolton was originally from Ballarat and chose it when various options were offered to him.
Having debuted in Round 12, 1999, Bolton quickly bettered the Swans record for most games in #24 when he played his 65th game in 2002.This surpassed the 64-game mark set by 1936 grand final player Owen Evans, who wore #41 from 1935-41.
He made a habit of winning big milestones games. In his 100th game on 23 May 2004 Sydney beat Hawthorn by one point at the SCG. And in his 300th game on 21 September 2012 Sydney beat Collingwood by 26 points in a preliminary final at Stadium Australia.
He had a personal best of 41 possessions against the Western Bulldogs at the SCG on 3 June 2012, and twice kicked four goals in a game – against Brisbane at the SCG on 3 September 2011 and North Melbourne in Hobart on 13 April 2013.
In retirement, the father of two does a lot of media work, and outside football he looks after the Partner eco-system through Asia Pacific and India for a US software company, Domo.