IT'S THE pointy end of our game - where the goals are created and scored. AFL.com.au reporters have combed through the stats to see who are the key men at your club for getting the ball inside 50, who are the most efficient, who are the most frequent targets and who are the best at converting entries into scores.
Adelaide
Who gives it: Richard Douglas Sixty-seven inside 50s in 2014. AFL Ranking Equal fifth. Douglas is a long-time Crows delivery man – no player at West Lakes has gained more inside 50s over the past five years than he. He uses the ball so well by foot and can finish when in range as seen in the final term last weekend against Collingwood.
The most efficient: Sam Jacobs The ruckman has managed to find a target 59.3 per cent of the time when kicking inside 50, highlighting his brilliant skills for a big man. Jacobs is in awesome form this season, averaging more disposals and hit-outs a game than ever before.
And who gets it: Taylor Walker Despite missing the opening seven games of the season, Walker has already been targeted more in attack than any of his teammates. He's had the ball kicked to him 83 times since his round nine return and is building form as the club approaches a finals campaign.
The converter: Eddie Betts Adelaide scores 51.4 per cent of the time when Betts is targeted inside 50. - Harry Thring
Brisbane Lions
Who gives it: Pearce Hanley Fifty-seven inside 50s in 2014. AFL ranking 28th. As Hanley showed against Gold Coast at the weekend, he is not only prolific, but lethal. The Irishman loves to run-and-carry anywhere from half-back to the midfield and is a long, penetrating kick that gives the Lions' forwards a good chance to contest.
The most efficient: Josh Green Green's relatively low success rate (44.1 per cent) in the wider League highlights a big Lions problem – they don't have a lot of great kicks going forward and not a lot of great options to kick to. Green is clever, and a terrific provider at the moment, but how they crave the return of Daniel Rich (ACL) in 2015.
And who gets it: Jonathan Brown Since Brown's retirement, they will now have to find another avenue to goal, but this stat highlights their reliance on the former champion. Brown was the intended target on 78 occasions, still the most for his team, despite not playing since Round 13.
The converter: Jonathan Brown As with the above stat, Brown leads this category and shows why the club is so desperate to find a key forward replacement. They scored on 38 per cent of the occasions the ball was directed to Brown, but now need new targets. Daniel Merrett and Michael Close are the first two choices at the moment. - Michael Whiting
Carlton
Who gives it: Bryce Gibbs Fifty-six inside 50s in 2014. AFL ranking equal 31st. Gibbs has enjoyed a career-best season in 2014 after moving into the midfield on a permanent basis. Playing further up the ground, Gibbs has been able to kick Carlton inside its forward 50 more than any other Blue.
The most efficient: Chris Yarran Returning to the half-back line this season, Yarran has rediscovered the devastating run that makes him such an attacking weapon for the Blues. Most importantly, he has finished his work well by foot, hitting 60.9 per cent of his inside 50 targets.
And who gets it: Lachie Henderson The one-time swingman has settled in the Blues' forward line this season, where he has given his teammates a strong aerial target. Carlton has directed more inside 50 kicks at Henderson than any other Blue this year (88).
The converter: Levi Casboult The 24-year-old forward is one of the most-improved players in the competition this year and among the AFL's elite contested marks. When the Blues have kicked to Casboult inside their forward 50, they have scored 54.8 per cent of the time. - Nick Bowen
Chris Yarran has proved an efficient influence off the half-back line this year. Picture: AFL Media.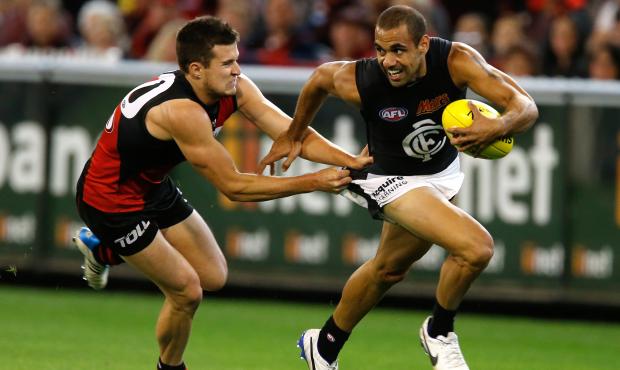 Collingwood
Who gives it: Dayne Beams Sixty-two inside 50s in 2014. AFL ranking equal 16th. He was back to his best against Port Adelaide with eight inside 50s. He found Jarrod Witts with a well-weighted pass on Sunday and always looks to use the ball to advantage.
The most efficient: Luke Ball He finds a teammate inside 50 60.7 per cent of the time, belying his undeserved reputation as an ordinary kick. Ball is a good decision maker, and although he wins the ball in tight he has the courage to work into space and not waste the ball.
And who gets it: Travis Cloke Only Sydney Swan Lance Franklin and Richmond's Jack Riewoldt are targeted more inside 50 than Cloke. All three have had to work without a reliable sidekick this season but Cloke's goal tally of 34 is the lowest of the three. Cloke's past month has been good and he will benefit from Ben Reid's presence.
The converter: Jarryd Blair Ideally he would hit the scoreboard more, having kicked nine goals in 16 games but he fills a role similar to Hawthorn's pocket rocket Paul Puopolo. Blair also manages to make something happen when he is targeted inside 50 with the team converting 50 per cent of the time when it heads to Blair. – Peter Ryan
Essendon
Who gives it: David Zaharakis Sixty-six inside 50s in 2014. AFL ranking equal eighth. It should be no surprise Zaharakis heads this list for the Bombers given he is their best run-and-carry option through the midfield. With class and calm decision-making, Zaharakis is trusted with the ball at Essendon to pass it inside 50 and find loose or leading teammates.
The most efficient: Jobe Watson The injured Essendon skipper still heads the club for efficiency with disposals that go inside 50. Disposals from Watson which go inside Essendon's forward arc are retained by the Bombers 51.5 per cent of the time, showing him to find the right options with ball in hand.
And who gets it: Joe Daniher In a new-look forward set-up this season, Daniher has been the focal point in attack under coach Mark Thompson. In just his second year, Daniher has kicked 19 goals after being the target 91 times for the Bombers. The 20-year-old is on the sidelines after surgery on his collarbone, meaning the Bombers will need to find other avenues to goal given their propensity to look for Daniher.
The converter: Paddy Ryder When the in-form ruckman is Essendon's inside 50 target, they score more often than not, with a conversion rate of 58.6 per cent. He has proved to be one of their most valuable forward options given his kicking accuracy and mobility in comparison to other big men around the competition. - Callum Twomey
Fremantle
Who gives it: Danyle Pearce Eighty-two inside 50s in 2014. AFL Ranking first. Pearce was the number one for inside 50s at Fremantle last year but he's elevated to number one in the AFL in 2014. The Dockers like to put the ball in his hands to use that penetrating left boot and he can kick goals from outside 50.
The most efficient: Paul Duffield While Pearce goes in most often, Duffield's precision kicking makes him the most effective in the AFL at 67.7 per cent. He is the designated kick-in specialist for Fremantle as well so he is arguably the Dockers' most trusted player with ball in hand.
And who gets it: Matthew Pavlich The Dockers have been criticised in the past for being too Pavlich-centric and although that has changed over the past 18 months the veteran is still the number one target inside 50. The Dockers have gone to him 134 times and he's kicked 35 goals in total this year.
The converter: Hayden Ballantyne Fremantle score 53.2 per cent of the time from inside 50s directed to Ballantyne in 2014. - Alex Malcolm
Matthew Pavlich is still the Dockers' number one target inside the forward 50. Picture: AFL Media.
Geelong
Who gives it: Steve Johnson Seventy-two inside 50s in 2014. AFL ranking third. Johnson hasn't had his best season, and he doesn't kick a lot of goals anymore, but he remains one of the Cats' most valuable attacking weapons.
The most efficient: Tom Hawkins This is in an interesting one. Hawkins, who you would expect to be on the receiving end of most inside-50s, actually sends a lot of kicks inside the arc himself. And he is very efficient, finding a target 56.3 per cent of the time.
And who gets it: Tom Hawkins And now Hawkins bobs up again, this time on the receiving end of the Cats' forays into attack. He is Geelong's most common target for kicks inside 50. He has been targeted 155 times this season.
The converter: Tom Hawkins The big Tomahawk is also the best target when Geelong goes into attack. When Hawkins is the target, the Cats score 49 per cent of the time. He is, in other words, a very valuable player indeed. - Adam McNicol
Gold Coast
Who gives it: Jaeger O'Meara Seventy-two inside 50s in 2014. AFL ranking fourth. O'Meara has continued on from his stunning debut season and is a big driver of the exciting Suns midfield. He often bursts from stoppages, takes a bounce, and pumps it inside 50. He's not the most accurate kick, but that will come.
The most efficient: Harley Bennell No surprises here. Bennell is all class and his 61.5 per cent efficiency going into the forward 50 is the third best in the competition. He is good off either foot and weights his passes beautifully. The more the ball gets in his hands, the better for Gold Coast.
And who gets it: Tom Lynch The relentless vice-captain draws the ball so much through his work-rate. While the Suns have two other imposing options in Sam Day and Charlie Dixon to kick to, Lynch demands the ball with his repeat efforts and has been the intended target on 119 occasions. The more you present, the more you get.
The converter: Harley Bennell Like the efficiency stat, there's little surprise Bennell is the most lethal option inside the forward 50. He has played largely forward since starting his season in round seven and is a nightmare to match up with one-on-one. Bennell uses his evasion to lose opponents and is also one of the best shots on the run at the club. When they kick to him inside 50, the Suns score a staggering 60 per cent of the time. - Michael Whiting
Greater Western Sydney
Who gives it: Adam Treloar Forty-nine inside 50s in 2014. AFL ranking equal 54th. Midfielder Adam Treloar is the player most responsible for delivering the ball into the Giants' forward line.
The most efficient: Stephen Coniglio While Treloar has the most inside 50, it is midfielder Stephen Coniglio who consistently hits a target in attack. Almost half (48.7 per cent) of the 20-year-old's inside 50s find a teammate, making him one of the Giants' most dangerous players.
And who gets it: Jeremy Cameron It's no surprise that Giants key forward Jeremy Cameron is the club's No.1 target in attack. In 2013 he finished third in the Coleman Medal race, kicking a career-best 62 goals, in just his second AFL season. A huge talent, opposition teams can expect the Giants to be kicking to Cameron more often than not in the years to come.
The converter: Will Hoskin-Elliott Cameron might be the Giants' No.1 target in attack but he's not the best forward when it comes to goal conversion. If there's a shot on goal after the siren, then the Giants will want the ball in the hands of Will Hoskin-Elliott. He converts in front of goal 55.6 per cent of the time, making him the Giants' most reliable goalkicker. - Nat Edwards
Hawthorn
Who gives it: Luke Hodge
Sixty inside 50s in 2014. AFL ranking 24th. In a team of elite ball users, the skipper's piercing left foot is still one of the most damaging attacking weapons Hawthorn possesses. Hodge's decision-making under pressure also makes him one of the main men the Hawks want with ball in hand.
The most efficient: Cyril Rioli
He's lauded for his nous around goal, electrifying pace and defensive pressure, but Rioli is perhaps under-rated as a delivery man. No longer should that be the case. Rioli hits a target by foot inside 50 60.7 per cent of the time, placing him among the cream of the AFL crop.
And who gets it: Jarryd Roughead
No surprises here. The Hawks are renowned for their extensive goal-kicking options, but their spearhead remains their best marking option – in a contest and on the lead. Roughead has only been the target on 107 occasions, though, which is 61 fewer than ex-teammate Lance Franklin at the Sydney Swans.
The converter: Jack Gunston
He's quick, agile, marks strongly and kicks it gun-barrel straight – so why wouldn't Jack Gunston be Hawthorn's most reliable avenue to goal? Whether he converts himself or sets up a teammate, the Hawks score 52.4 per cent of the time when Gunston is the target.
– Travis King
Jack Gunston is the Hawks' key converter of inside 50s into scores. Picture: AFL Media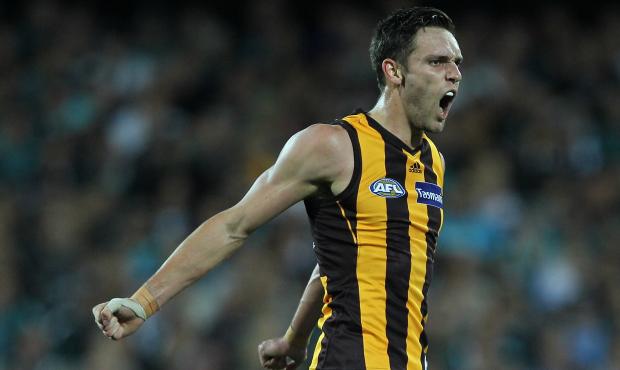 Melbourne
Who gives it: Nathan Jones Sixty-one inside 50s in 2014. AFL ranking equal 19th. The co-captain is the club's No. 1 ranked player for kicks inside the arc in a team that is statistically the worst in the competition for total inside 50s. Jones often wins the ball from a clearance and bangs it forward, giving his forwards a fighting chance in a one-on-one contest with their opponent.
The most efficient: Jeremy Howe A move down back has not stopped Howe from influencing the way in which Melbourne scores. Aside from his intercept marking, the Demons high-flyer is regarded for his run and carry from defence as well as his ability to spot targets on the lead through forward 50, all at an efficiency of 55.6 per cent.
And who gets it: Chris Dawes Melbourne's scoring troubles have been well documented, further exacerbated by injuries and absences in their key position stocks. After coming into the team in round four, Dawes has been a constant for the Demons, being their target 73 times. His ability to compete and bring the ball to ground is highly valued by Paul Roos and his coaching staff.
The converter: Cam Pedersen With Dawes, Mitch Clark and Jesse Hogan all sidelined at the start of this season, Pedersen acted as a lone hand up forward for the Demons. The versatile big man has kicked 13 goals in 2014, the second most goals at the club behind Dawes. The Demons score 43.5 per cent of the time when Pedersen is the target, but ideally he would be the third or fourth banana when all of Melbourne's players are fit and available. – Ben Guthrie
North Melbourne
Who gives it: Brent Harvey Fifty-nine inside 50s in 2014. AFL ranking equal 25th. Harvey continues to be one of the Roos' most damaging playmakers and there are few, if any, players North would want kicking inside its forward 50 more than 'Boomer'. A pinpoint kick and composed decision-maker, Harvey gives his forwards silver service.
The most efficient: Nick Dal Santo The former Saint has more than lived up to expectations in his first year at Arden Street. His class ball use by foot has stood out, with the veteran midfielder hitting 58.7 per cent of his inside 50 targets.
And who gets it: Drew Petrie The 31-year-old spearhead continues to be the Roos' clear No. 1 target in attack, with 104 of their kicks inside 50s directed at the vice-captain.
The converter: Brent Harvey No one makes things happen on North's forward line like the 36-year-old, with 52.4 per cent of the inside 50 kicks directed at him this year resulting in a North score. – Nick Bowen
Port Adelaide
Who gives it: Travis Boak Sixty-seven inside 50s in 2014. AFL ranking Equal fifth. The Power's skipper has again taken his game to new heights this season, averaging a career-best 27 possessions a game. His dominance through the midfield and delivery into attack has helped Port's forward line become one of the most deadly in the competition.
The most efficient: Matt White Increased opportunity at Alberton has allowed the former Richmond player to flourish and his ability to hit a target when kicking inside 50 55.4 per cent of the time showcases his foot skill when moving at speed. White's outside game has proved crucial to Port's this season and he'll be just as vital in the finals.
And who gets it: Jay Schulz It's hardly surprising given Schulz's goalkicking reputation that he's demanded his teammates' attention in attack this season. Schulz has been targeted 141 times in 2014 – a lofty number justified by the fact he's leading the race for the Coleman Medal.
The converter: Justin Westhoff Port Adelaide scores 47.8 per cent of the time when Westhoff is targeted inside 50. - Harry Thring
Ex-Tiger Matt White has proven a valuable pick-up for Port Adelaide. Picture: AFL Media.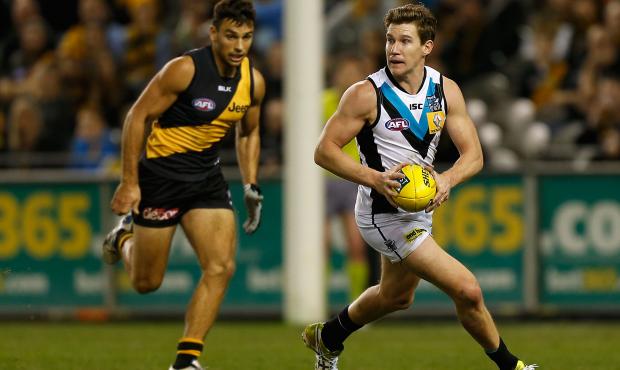 Richmond
Who gives it: Brett Deledio Fifty-seven kicks inside 50 in 2014. AFL ranking equal 28th. Deledio has spent more time this season finishing off attacking chains rather than launching them from half-back as he often did in 2013. He has lifted his inside 50s from an average of 4.13 last year to 4.85, with his rebounds dropping from an average of three a game to just over two.
The most efficient: Nick Vlastuin The second-year Tiger has retained the ball with 62.1 per cent of his kicks inside 50. Often stationed across half-back, he is more often kicking to open parts of the ground or switching play, but he has gone inside 50 on 31 occasions in 14 games.
And who gets it: Jack Riewoldt The Tigers were criticised early in the season for not targeting Riewoldt enough, but he remains their No.1 option in attack. The Tigers have kicked to Riewoldt 157 times inside 50, more than any other player in the AFL apart from the Sydney Swans' Lance Franklin.
The converter: Ben Griffiths Of Richmond's top five forward targets, Ben Griffiths sparks the highest percentage of scores when the ball is directed his way. The Tigers hit the scoreboard 55.6 per cent of the time when the ball is kicked to Griffiths, who has played 10 games this season. – Nathan Schmook;
St Kilda
Who gives it: Lenny Hayes Fifty-three inside 50s in 2014. AFL ranking equal 40th. The veteran Saint has enjoyed an impressive final season and leads the team for possessions after 19 rounds. He has also taken the ball inside 50 by foot the most out of any Saint. After 15 games, Hayes also leads the Saints in tackles and has proved a valuable and important contributor in his 16th season.
The most efficient: Nick Riewoldt The captain has played all over the ground again this season, and while he's often on the end of entries inside 50, he has been the most effective Saint at entering the arc by foot, with 58.3 per cent of his disposals finding a teammate, based on a minimum of 25 kicks inside 50.
And who gets it: Nick Riewoldt Amazingly, the versatile veteran not only effectively finds his teammates inside 50 but has been on the receiving end of the most kicks of any Saint. He's been the prime target 148 times. Only Geelong's Tom Hawkins is in the same position of being the most efficient at finding targets inside 50 by foot and also receiving them the most himself.
The converter: Jack Billings The first-year forward has been the most valuable option inside 50 this year, with the Saints scoring 76.5 per cent of the time when he is the target. Billings has kicked 12 goals from 14 games. – Jennifer Phelan
No surprise that Lance Franklin is the Swans' go-to man. Picture: AFL Media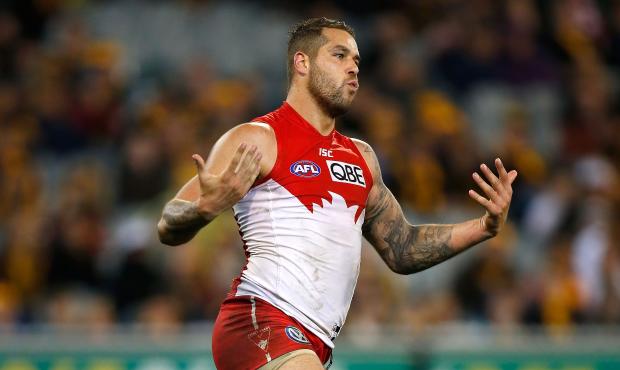 Sydney Swans
Who gives it: Lewis Jetta Seventy-eight inside 50s in 2014. AFL ranking second. A shin injury ruined Jetta's 2013 season but he's now playing some of his best football. The speedy midfielder has been a key player in taking the ball inside 50 by foot for the Swans and one of the most prolific in the League in doing so, with only Fremantle's Danyle Pearce bettering him in that area this year.
The most efficient: Rhyce ShawThe former Magpie might not have played since round 14 because of an ankle injury but he's made his 13 games count by being the most effective Swan in taking the ball inside 50 by foot. A total of 48.6 per cent of his entries have found a teammate.
And who gets it: Lance Franklin Unsurprisingly, the Swans' big off-season signing has been on the end of the most entries inside 50 by foot, having been the No.1 target 168 times. The former Hawk has kicked 50 goals from 16 games with his form surging in the second half of the season.
The converter: Adam Goodes The veteran two-time Brownlow medallist didn't start his season until round six because of continuing problems with the knee injury that cut short his 2013. This year, the Swans have scored 47.5 per cent of the time when the ball has found Goodes' hands when delivered inside 50 by foot. – Jennifer Phelan
West Coast
Who gives it: Luke Shuey Fifty-six inside 50s in 2014. AFL ranking equal 31st. West Coast is 11th for inside 50s in the AFL and Shuey is the Eagles' most productive. Shuey's output is proportionate with the Eagles' year. Opponents know how damaging Shuey can be with ball in hand and that's why he is tagged and restricted regularly.
The most efficient: Scott Selwood He is not known for his delivery and for Selwood to be the most efficient kick of any Eagle going inside 50 at just 47.6 per cent shows where the club is deficient. Given the quality key forwards that West Coast possesses it is startling that no Eagle is hitting more than 50 per cent of their targets going inside 50.
And who gets it: Josh Kennedy The vice-captain has been targeted 114 times this season for 38 goals and 24 behinds. He hasn't been as accurate as last season, when he kicked 60.23, but he hasn't had as much football directed to him in 2014.
The converter: Jeremy McGovern West Coast scores 46.7 per cent of the time from inside 50s directed to McGovern in 2014. - Alex Malcolm
Western Bulldogs
Who gives it: Jack Macrae Forty-nine kicks inside 50 in 2014. AFL ranking equal 54th. The second-year sensation is one of the Dogs' main ball carriers and also one their most reliable, complimenting an array of inside midfielders.
The most efficient: Robert Murphy The evergreen playmaker has always been known for his line-breaking brilliance, but efficiency has always been a staple of his game. And 2014 is no different, with the 32-year-old hitting a target up forward 52 per cent of the time.
And who gets it: Stewart Crameri Lured to Whitten Oval from Essendon to help the Dogs kick more goals, the 26-year-old is the club's leading goalkicker with 27 majors. He's also the man they look to most, with Crameri being the target in attack 77 times so far in 2014.
The converter: Luke Dahlhaus The 21-year-old is one of the most-improved players in the AFL this year, with former North Melbourne star David King suggesting he could be an All Australian. When the Bulldogs have gone looking for Dahlhaus inside their forward 50, they have scored 60 per cent of the time. – Ryan Davidson