Alex Jesaulenko was reportedly the last ever AFL/VFL player to captain-coach.
It was during his brief foray with St Kilda where the former Blue inadvertently fell into both roles, first as playing coach in 1980 and then captain-coach the following season. He held the now extinct position for a total of eight rounds before retiring.
While it wasn't during the regular season, just a one off and the fact he didn't play on Saturday, Jarrad McVeigh's foray as senior coach in last weekend's NAB Challenge win against Port Adelaide still got us thinking about the Swans' captain-coaches of the past.
The Sydney Swans/South Melbourne Football Club has a rich history of captain-coaches, beginning with Charlie Ricketts in 1909 to Bob Skilton in 1966.
To celebrate McVeigh's first successful stint in the hot seat we take a look back to unearth the names, the calibre of players, some of their stories and the challenges faced during their time at the helm.
Charlie Ricketts (1909, 1912)
Charlie Ricketts had played three seasons of football before earning the formal title of South Melbourne's first ever coach.
Having taken over the captaincy from Bill Dolphin, Ricketts would have assumed coaching duties in some capacity during the season anyway but South Melbourne officials wanted to formalise the position.
Ricketts, a talented and superbly skilled rover, was later credited with engineering the side which would go on to claim South Melbourne's first VFL flag that same season.
John Healy, aka 'Markwell', wrote in Melbourne's The Australasian Newspaper in his usual poetic tone that Ricketts' leadership helped transform his cohorts from "junior players into a company of artists" by the end of the breakthrough season.
Having stepped down from his position due to illness, Ricketts was reassumed the position in 1912.
Despite leading his side to a Grand Final, Ricketts was sensationally overlooked as captain by the playing group in favour of Vic Belcher the following season and subsequently departed the club to play for then VFA affiliate Richmond.
Ricketts, who finished with a 28-8 (win-loss) coaching record, is a member of the Sydney Swans/South Melbourne Hall of Fame.
Vic Belcher (1914-17)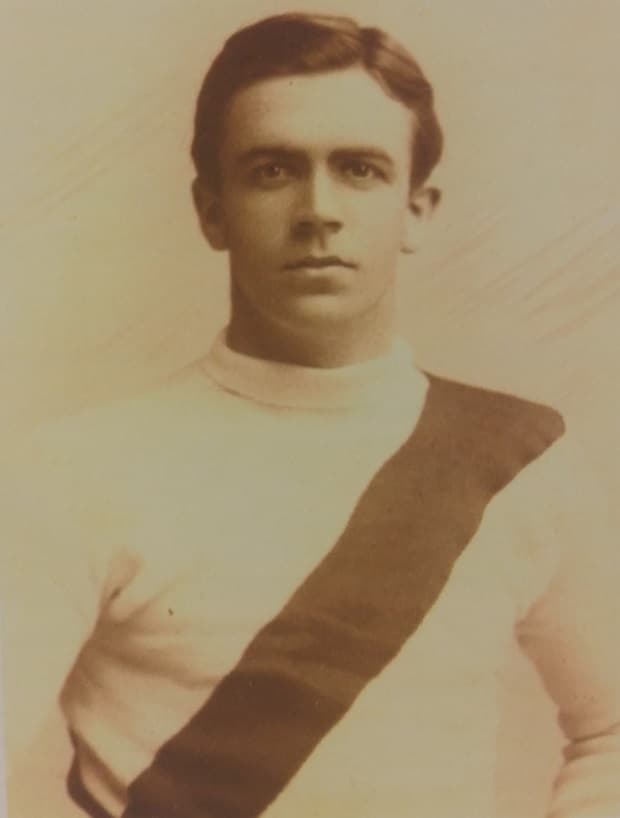 Vic Belcher took charge of South Melbourne during a testing time for the club and Victorian Football League.
Unrest in Europe led to the breakout of World War 1 in 1914, with Belcher elected captain-coach only five months before the then Prime Minister Joseph Cook committed Australia's involvement.
Originally from Tasmania, Belcher made his name as a talented district footballer around Melbourne before joining the red and white in 1907.
He would go on to play in the '09 and '18 premierships as a key position player, notching 226 games across a 13-year career to sit 18th on the club's all-time games list.
In his first season at the helm, Belcher led his charges to the Grand Final against Carlton but lost by just six points in heartbreaking fashion. Trailing by 21 points at half-time, South fought back to keep the minor premiers to just one goal for the entire second half.
The Argus later wrote "although South Melbourne has not won the premiership, they had gained something more".
Belcher's leadership was invaluable throughout 1915 when, by the start of the season, a large contingent of his teammates answered the nation's call. Due to the number of men signing up to join the fight South Melbourne pulled out of the 1916 season.
But what was happening on-field ultimately took a back seat to the atrocities on the battlefield. Over five years, 10 current or former members of South Melbourne would make the ultimate sacrifice.
Normality somewhat resumed in 1917 with South Melbourne re-joining the competition and Belcher entrusted with the role again.
He coached out the year only to step back at season's end, opting for the vice-captaincy role under successor Herb Howson (coach) and Jim Caldwell (captain).
He played for three more seasons, captaining the club again in his final season (1920) before retiring from the game with a 29-19 coaching record and an everlasting legacy.
Belcher remains one of only four Swans (alongside Adam Goodes, Jude Bolton, Ryan O'Keefe and Lewis Robert-Thomson) to play in two premierships.
Johnny Leonard (1932)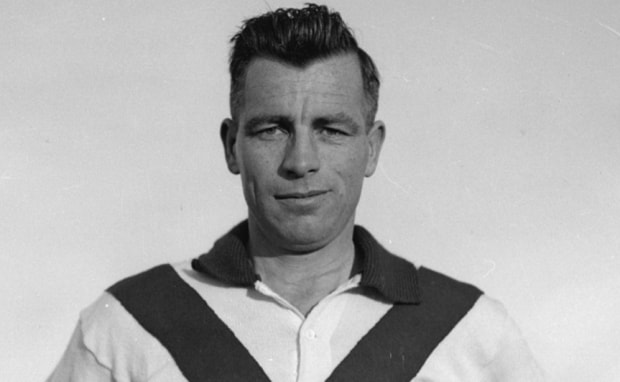 Johnny Leonard is better known for his feats in the Western Australian Football League than for his time at South Melbourne.
But his impact was just as significant.
Struggling and in need of a spark at the time, South's committee decided to look far and wide for talent that would help them climb back into finals contention.
In the wake of five consecutive best and fairest wins for WAFL club Subiaco, two league (Sandover Medal) best and fairests and 25 state guernseys, the then 30-year-old Leonard was a left-field choice as captain-coach but an inspired one.
Leonard knew who the picks of the crop were in Western Australia's talent pool and succeeded in bringing some players with him, all of whom would go on to feature in the 1933 Premiership.
They included centre half-forward Brighton Diggins, flanker Bill Faul and on-baller Gilbert Beard.
Due to the number of interstate players, the ambitious recruiting drive ultimately led to South Melbourne being dubbed "The Foreign Legion".
In his first and only season as coach, Leonard won the first 10 games of the 1932 season and looked destined for the double chance but injury took its toll.
Even though he wasn't part of South's third flag, Leonard would be forever credited with the club's re-build.
Gordon Lane (1950-52)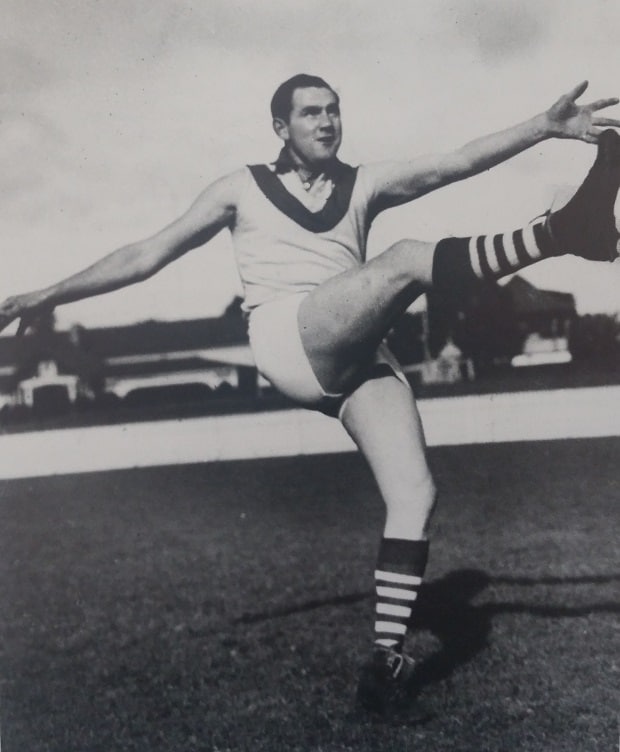 South Melbourne's poor run home in 1949 led to the demise of coach Jack Hale and saw the committee turn to former Essendon key Gordon Lane.
Lane was a centre half-forward and a big game player who had booted bags of six and seven goals in the 1942 and 1946 premiership deciders.
At 187cm and 94kg, Lane possessed a strong overhead mark and was once rated as the best forward in the game by Richmond's Jack Dyer.
Injury hurt his form during the previous two seasons at Windy Hill but, nevertheless, South saw something in him and offered him the job.
Despite a miserable season in his first season as coach, Lane led a resurgence while rediscovering his own form at the same time.
After finishing eleventh in 1950 in his first season as coach, Lane led his charges well to only narrowly miss out on the finals in his last.
Bob Skilton (1965-66)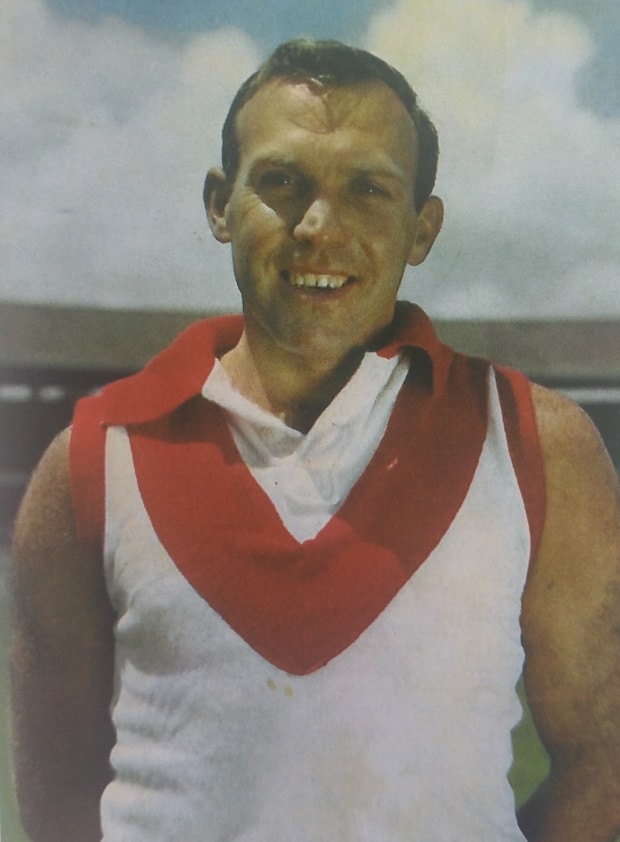 Was there anything Bob Skilton couldn't do?
Between his decade-long tenure as captain, Skilton took over as coach for two of those seasons as a logical replacement for Noel McMahen in 1958.
The 26-year-old was in the prime of his career and had already won two Brownlow Medals when the top job fell on his capable shoulders.
If there wasn't optimism before the season, there was plenty post-season after South Melbourne finished just out of the finals in ninth.
It was a huge improvement on the previous three seasons with Skilton instilling his renowned toughness on the group.
That quickly wore off however after South endured another tough season.
Skilton, disappointed with his side's progress, declared that he would be stepping down as captain-coach at season's end.
The full list
Charlie Ricketts (1909, 1912)
Bill Thomas (1910-11)
Vic Belcher (1914-17)
Roy Cazaly (1922)
Charlie Pannam (1926-28)
Johnny Leonard (1932)
Jack Bissett (1933-36)
Herbie Matthews (1939-40)
Gordon Lane (1950-52)
Ron Clegg (1958-59)
Bob Skilton (1965-66)