'Fireman Fred' was on duty when the station's telephone rang.
It wasn't the hotline so Fred and the crew were their usual cheery selves as they enjoyed a game of snooker at Melbourne's Eastern Hills Fire Station.
The call was for him.
"Hello?"
3KZ commentator Norman Banks was on the line.
"Aren't you listening?" Banks asked. "You're leading the Brownlow." (We can only imagine now how that conversation played out).
A full-back winning the league's most coveted award was unprecedented. None had won it in its 32-year history until then. Only one more – St Kilda's Verdun Howell (1959) – has won it since.
Goldsmith was hence sceptical at first, dismissing the call as a prank before hanging up.
The phone rang again.
"I assure you, Fred, this ain't a joke."
Fred and the crew hurried to the mess room where they tuned into the rest of the broadcast.
When Permit and Umpires Committee chairman Roy Russell announced Goldsmith as the 1955 Brownlow Medallist, the whole place erupted.
If the news didn't completely sink in then, it did later when about 20 journalists took over the establishment on the corner of Victoria Parade and Gisborne Street wanting an interview.
Celebrations lifted as the then 23-year-old was chaired around the station by his fellow firefighters for a photo.

The crew from Eastern Hill Fire Station celebrate with Fred Goldsmith after his 1955 Brownlow Medal win.
Then, it was Goldsmith's turn to dial.
He called the brigade's chief, who granted him an early knock-off, before heading home to Williamstown where family and friends were waiting to revel in his success.
Goldsmith had only a short time to reflect on an accolade that he never gave himself a chance to win.
For one, he thought Essendon's Bill Hutchison was a shoo-in.
"Bill was a certain winner in my book," Goldsmith told journalist Peter Banfield back at the station. "I felt I went well this year, but I played better in 1954."
His prediction wasn't far off with Goldsmith pipping Hutchison by only one vote.
Goldsmith led for most of the night, earning five "preferences" (best-on-ground performances) from the umpires. Hutchison, a champion rover who won back-to-back Brownlow medals in '53 and '54, received only two preferences but picked up some handy twos and single votes to stay in touch during the 18-round count.
Goldsmith hung on with 21 votes to become South Melbourne's third Brownlow Medallist, following in the footsteps of Herbie Matthews (1940) and Ron Clegg (1949).
"It was about time a full-back took home the Brownlow Medal," Hutchison later said from his West Essendon home. "Fred is a fine chap and he thoroughly deserves the honour."
Goldsmith enjoyed a relatively brief career with South Melbourne, but got the most out of it.
He played 119 games over nine seasons, won his 'Charlie', was one of several inaugural inductees into the Sydney Swans/South Melbourne Hall of Fame and earned a place in the Club's Team of the Century.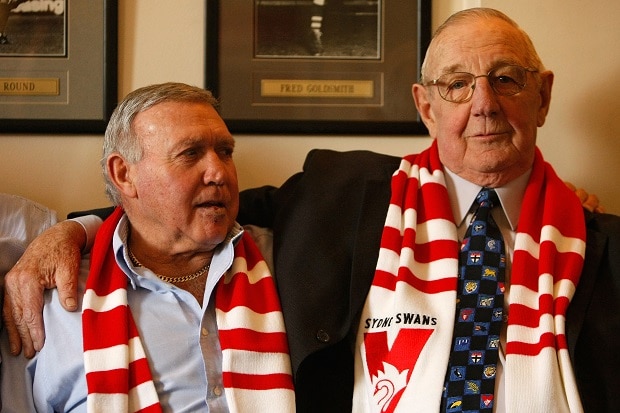 Bob Skilton and Fred Goldsmith reunite in 2009, ahead of their induction into the Sydney Swans Hall of Fame.
After his 1951 debut Goldsmith was tried in nearly every position on the ground before settling in defence – for a few years, anyway.
The story of how Goldsmith landed at Lake Oval initially was the work of South Melbourne contemporary Billy Gunn.
Gunn, a talented utility and teammate of Goldsmith's at Spotswood in the Footscray District Football League, told keen South Melbourne recruiters he'd sign if his good mate Freddie came with him.
As an incentive, or so the legend has it, Goldsmith was offered a pair of socks as a signing bonus.
With those socks pulled high, Goldsmith didn't play like a traditional full-back.
"He was an excellent mark," Bob Skilton said, speaking to Melbourne radio on Thursday, in the hours after learning of Goldsmith's passing.
Skilton played alongside Goldsmith for four seasons, between 1956 and 1959. He loved his teammate's attack on the football.
"The year he won the Brownlow, Hugh Mitchell (Essendon) kicked a bag of goals against him," Skilton added.
"That was mainly because he'd love to fly for his marks. He wasn't ultra-defensive."
It was probably his marking prowess that prompted coach Herbie Matthews to trial Goldsmith forward.
The move paid off. Goldsmith topped South's goal-kicking in 1957 with 43 goals, including a day out against Richmond in Round 3.
He bagged nine goals, seven before half-time, in the contest at Lake Oval with The Argus describing how Goldsmith "lifted what was a hesitant, lumbering group of individuals in the first 15 minutes into a confident, aggressive striking force."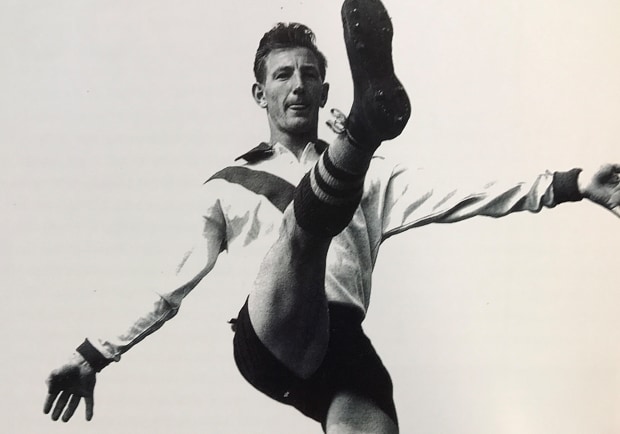 Fred Goldsmith was described as spectacular in the air, unbeatable on the ground and an accurate kick.
He'd remain at full-forward until his retirement in 1959.
When Goldsmith left to captain-coach Albury in the Ovens and Murray Football League, South Melbourne had lost an integral member of the footy club.
"The best way to describe him was that he was a real down-to-earth, team man," Skilton added.
"The minute the game was over, he loved everyone around him, loved his teammates and opponents.
"One of the great things in football then was mixing with the opposition after the game…he loved that side of the footy."
It was with teammates Goldsmith really celebrated his Brownlow Medal win.
From Williamstown, Goldsmith headed to Lake Oval where teammates had gathered and were already helping themselves to the two barrels of beer donated by the Club.
Skilton was there: "Goldy was always the life of the party."
After almost missing his own triumph, Goldsmith never missed a Brownlow Medal night until last year when the 84-year-old was too ill to attend.
The Swans great battled throat cancer before passing away peacefully on Thursday, April 13.