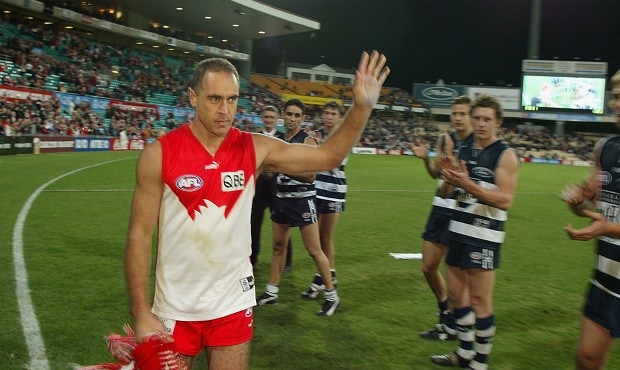 It is not entirely foreign and certainly not unreasonable for an AFL footballer to "take the fifth" when he is asked a question he doesn't want to answer. Or shouldn't answer. And Wayne Schwass is no different.
Ask the former North Melbourne and Sydney Swans Club Champion winner which club he wants to win when his two former clubs are opposed and he does exactly that. Or at least his version of "the fifth".
"If it's going on the Swans website then I've got to say the Swans," he replied with a laugh.
Fair enough. Good answer. As you'd expect from a modern-day champion on the field who in retirement continues to do great things off the field.
Answering the question more seriously, Schwass said: "I'm really torn. I love both clubs and I genuinely hope they both do really well. But if I have to make a choice I'd lean ever so slightly to the Swans," he said.
And then there was the kicker. The justification that satisfies all.
"I have three children and one of them is a massive Swans fan so we are pretty connected with the Swans. On that basis, I've probably got to go with the Swans. Just."
It's an unfair question to ask of a player who is a member of a very exclusive group of players to win a best and fairest at two clubs – and legitimately Schwass has split loyalties.
But when you throw children into the equation you're off the hook. It's the perfect get-out clause. 'Schwatta' you're excused.
Schwass, who played 184 games for North from 1988-97 and then 98 games for the Swans from 1998-2002, has three children with wife Rachel.
Twin daughters Indigo and Tameka are 14, and son Kai is 10. Indigo is a Geelong fan, Tameka follows Sydney. And Kai is a West Coast man.
As Schwass explains, Tameka has had a tough year after the 2017 Swans started the season with an 0-6 record.
"She's not used to the Swans being outside the top eight so we've had to explain to her that you just can't have everything you want all the time," he said.
"But she's a lot happier now that they've found a bit of form."
So, with Tameka comforted by the Swans mid-season resurgence and Indigo and Kai content that their teams are also in the finals mix, Schwass has been able to turn his attention to his other child. PukaUp.
In his own very succinct words, Schwass explains that PukaUp is a new social enterprise which focusses on mental health, emotional well-being and suicide prevention.
PukaUp? "It's a Hindi word that means authentic and genuine," he said.
And what's it all about?
The PukaUp vision, he says, is to create environments for every person to have authentic and genuine conversations about mental health and emotional well-being.
Without trying to do it, Schwass has become the face of one of the AFL's latest and hottest issues: player depression – and all that goes with it. Or at least a pivotal figure in the fight against one of the game's most concerning problems.
It's not a new phenomenon. Sydney's own Lance Franklin missed the 2015 AFL finals due to his own battles with mental illness.
But after Collingwood's Alex Fasolo and Western Bulldog pair Travis Cloke and Tom Boyd have recently gone public with their mental health battles it has quickly become a hot topic in the world of AFL football.
The No.1 public spokesman for the collective AFL fight against mental health, or at least certainly the go-to man for an AFL media finding its way in this space and looking to understand what it's all about, is Schwass.
It's a topic dear to his heart.
Schwass was diagnosed with depression in 1993, when he was vice-captain at North. But it wasn't until March 2006, after his playing career had finished, that he went public.
For more than 12 years he admits he lived a lie, pretending all was well when it wasn't.
Putting it all on the table, he said, was the beginning of getting his life back.
Not only did he do so because he wanted to help break down the stigma surrounding mental health but also because it was part of his therapy.
As has been well-documented, Schwass said he went public for very good reasons.
"Sport has given me a great vehicle to advocate for better social inclusion around mental illness and that's something I'm incredibly passionate about," he said.
As Schwass combines the private challenges of parenthood in football retirement with the public challenges of a much bigger issue in a world that has no end date, he relies heavily on the lessons of his own distinguished AFL career.
It was a career of a lot of highs and lows which ended at the Swans largely because of a four-match suspension and a very public spray from North coach Dennis Pagan late in 1997.
North had finished 7th on the home-and-away ladder with a 12-10 record and beat Geelong by 18 points in the qualifying final.
But Schwass had been suspended for four weeks, and missed the Roos' subsequent 13-point semi-final win over West Coast and their 31-point preliminary final loss to St Kilda.
Glenn Archer, too, had missed the Roos' second and third finals through suspension, and as Pagan walked towards the players' race after their exit from the premiership, he gave Schwass and Archer a fearsome spray.
"It's the question I get asked most often at sportsman's nights .. what did he say?" said Schwass, preferring not to detail the Pagan outburst.
It didn't matter. It was all over. The 1996 North premiership hero never played for the club again.
As fate would have it, Schwass was managed by Ron Joseph, a former North Melbourne powerbroker turned player manager. And so, too, was young Sydney draftee Shannon Grant, who had played 58 games for the Swans from 1995-97.
"I wanted out of North and Shannon Grant wanted to go home to Melbourne from Sydney. It was the perfect sliding doors moment," said Schwas.
So Schwass, the experienced 1994-95 North best and fairest winner, headed to the Swans and Grant went to the Roos.
The New Zealand-born wingman, who had moved to Australia aged three and joined North from Warrnambool in western Victoria, wasn't exactly heading into the unknown.
In his early years in Melbourne he'd lived with Colin Seery, a former North match-day runner who by now was the Sydney CEO.
But it was a defining moment in his career. A life-changing move.
"I loved everything about Sydney. The club, the people, the city. Everything," he said. "And most importantly, it allowed me to fall back in love with football.
"I wasn't there for the success that followed but even when I got there I knew the club was on the right path."
Remembering vividly a conversation with new teammate Craig O'Brien not long after he had arrived at the SCG, Schwass said very clearly the Swans at the time were a club trying to find their culture.
"And they found it. And it's why they are one of the best clubs in the League," he said.
"It's a club full of great people and I consider myself very fortunate to have played there."
The Schwass love affair with the Swans reaped immediate dividends.
He was 29 when he debuted for the club against the Brisbane Lions in Round 2, 1998 at the SCG, when Luke Power and Shane O'Bree debuted for the Lions. He was a wonderful player in the #2 red and white jumper.
In his first four years in Sydney Schwass played 89 of a possible 92 games, including four finals, and finished 4th-1st-4th-6th in the Club Champion award.
He was All-Australian in 1999 and scored a runaway win in the Swans best and fairest, polling 189 votes to beat Daryn Cresswell (148) and Matthew Nicks (142), Paul Kelly (108) and Tony Lockett (99).
In the same year, he polled 19 votes to finish 5th in the Brownlow Medal – the seventh double-figure tally in the game's highest individual honour and the sixth time he'd finished in the top 15.
He was outright 6th in 1993 and outright 4th in 1994, and polled a total of 137 medal votes.
And while only 49 of Schwass' Brownlow votes were earned in red and white it isn't forgotten among club statisticians that only three South Melbourne/Sydney Swans players have polled more than 137 votes in their entire career – Bob Skilton (180), Adam Goodes (163) and Greg Williams (154).
Eventually, though, the rigors of AFL football took a toll on Schwass' 180cm 82kg frame. After four separate operations in the 2001-02 off-season, Schwass hit the wall midway through season 2002.
"I remember the moment vividly. I was walking my dog on the North Shore about three hours before training and I didn't want to go," he said.
"I waited a couple of weeks to let it settle in but I knew it was time to pull the plug."
So, after the Round 12 loss to Geelong by two points at the SCG, in which the visitors had kicked the last five goals to take the honours, Schwass did what he thought was best.
With the Swans 14th on the 16-team ladder with three wins and a draw from 12 games, the 33-year-old told coach Rodney Eade he couldn't see the point in going on and keeping a younger player out of the side. He retired.
It was a tumultuous time for the Swans, who had a bye on the weekend following the loss to Geelong. And before the club played its next game, at the start of the post-Schwass era, Paul Roos had replaced Eade as coach.
As often happens after a mid-season coaching change, the team's fortunes picked up. And the 282-game veteran admits it may have been different and he may have got to 300 games if he held off his retirement a couple of weeks.
But he has no regrets, after all, he's a member of a very exclusive 'just missed the ton' club.
Roy Cazaly, Laurie Nash, Bert Frank and John Pitura each finished their Swans' careers on 99 games. And, like Schwass, Lockett and Adam Schneider ended at 98 games.
"There were two facts which told me I had made the right decision: I didn't feel right taking the money to keep playing if my heart wasn't in it, and would another 18 games have defined my career? Not at all.
"I'd had 14-and-a-half great years in the AFL and it was time to move on."
After seeing out the year in the Harbour City, Schwass moved back to Melbourne with wife Rachel to begin life after football. Among a varied work load these days he does media work and motivational speaking, and focuses his attention on Indigo, Tameka and Kai. And PukaUp.