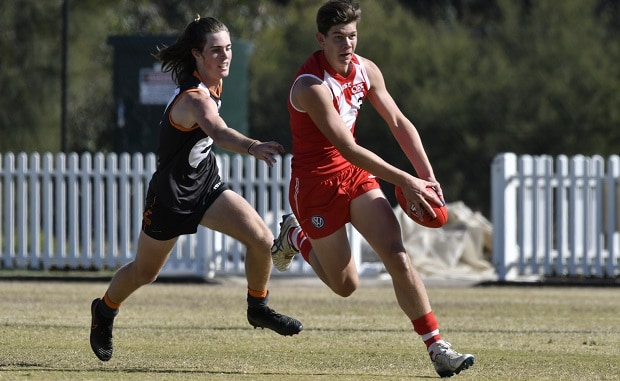 QBE Sydney Swans Academy member Josh Rayner has been named in a select squad of 16 year olds considered the most promising juniors in the country.
The AFL has announced that Josh will be one of two NSW boys in the 2017 NAB AFL Academy level one group, which was chosen after the national Under-16 Championships.
Josh, a key forward or defender, has been in the Swans Academy since he was 11 years old. He plays club football for Willoughby/Mosman in Sydney's north.
Twenty two boys were chosen in this year's level one Academy, and they're viewed as being among the top prospects for the 2019 national AFL draft.
The squad consists of 12 boys from Victoria, three from South Australia, three from Western Australia, two from Queensland and two from NSW. The second NSW boy selected is Liam Delahunty from Coolamon in the Riverina.
The head coach of the NAB AFL Academy, former Brisbane Lions player Luke Power, said he was impressed with Josh's performances at the U16 national carnival.
"We liked the fact that he was able to beat his opponent no matter where he was playing, and that he took intercept marks and had a real influence on the game,'' Power said.
"One of the most important factors when choosing this year's squad was to select boys who were clean with their ball handling, and Josh got a tick in that area.
"We're looking forward to working with another Swans Academy member,'' Power said.
Swans players Isaac Heeney and Callum Mills were AFL Academy members from the age of 16 to 18 before they were drafted.
Promising Swans Academy member Nick Blakey is currently in the 2016 AFL Academy squad, comprised of players who will be draft age in 2018.
QBE Sydney Swans Academy general manager, Chris Smith, said Josh was determined and focused and had come on in leaps and bounds in the past two years.
"His development has taken off, and he's got size, power and speed which is really exciting,'' Smith said.
"He's a versatile player who can play key forward or back, or as a tall midfielder. He's very good in the air, but also good when the ball hits the ground.
"It's a real achievement to be named in the AFL Academy, as it's a very select group.''
Josh Rayner's father, Rob, said his 'laid-back' son was taking the honor in his stride, but excited by the opportunity.
"There are a lot of very talented boys in the Swans Academy Under 16 program so Josh feels lucky he was chosen, but he's chuffed about it,'' Rob said.