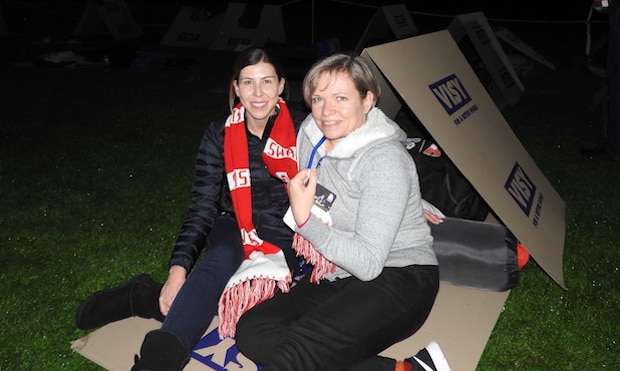 The Sydney Swans' Kelle Storey and QBE's Bettina Pidcock joined CEOs from many of Australia's favourite sporting codes in camping under the starts the SCG last Thursday night, as part of the Vinnies CEO Sleepout.
The Sleepout was a chance for corporates to get a glimpse of the struggles that many people experiencing homelessness go through.
They spent the night sleeping in the cold, winter weather, learning about the support services Vinnies offers and hearing first hand from people who have experienced difficulties that led to homelessness.
Storey, General Manager of Commercial, is extremely close to reaching her $10,000 fundraising target said the experience was even more confronting that she had anticipated.
"I thought I had a good grasp on the housing affordability crisis but to have three brave individuals share their stories made me understand the reality of homelessness and how hard it is to get back on your feet when you don't have a roof over your head," she said.
"To think children the same age as my 6-year old niece and 8-year old nephew are sleeping in cars or camped out in garages breaks my heart."
Interestingly, Storey said that the hardest part for her was not sleeping rough but going home to a warm house, having a long hot shower and putting on fresh, clean clothes.
"It really hit me then," Storey said.
"It made me understand how hard it must be to keep going each day when you don't have necessities and access to things I take completely for granted."
Bettina Pidock. QBE's Executive General Manager of Marketing and Communications, echoed Storey's sentiments saying the event was a humbling experience.
"The experience made me ponder what it's like to be really homeless," Pidock said.
"The Virtual Reality experience also brought into perspective the limited options available to someone who has no place to go."
Pidock said whilst it was a 'rough' experience, participants had benefits that people living on the streets would not have.
"We had the benefits of having security, the facilities at the SCG were clean and in the morning, we could return home to take a shower, but you don't have those luxuries living on the streets," she added.
You can still contribute to Kelle's fundraising effort by donating here.
Homelessness Facts:
- There are approximately 105,000 people experiencing homelessness every night across Australia.
- 60% of the homeless population is under the age of 35.
- More than 17,000 Australian children under the age of 12 have no home.
- A further 10,900 young people aged 12-18 are experiencing homelessness and most are estranged from their families 44% of people experiencing homelessness are women.