Imagine a player today taking 32 marks in a game. Most of them contested marks. And having more than 50 possessions. It's incomprehensible.
Ron Clegg, South Melbourne champion of the 1940s and '50s, did exactly that in a staggering performance against Fitzroy at Brunswick Street Oval in 1951.
It was so special his Saturday afternoon's work was included in the Sydney Swans Heritage List.
As the Heritage List description of one of the greatest individual performances in AFL history says, Clegg "almost single-handedly steered South Melbourne to a commanding halftime lead before saving the game in the second half as the opposition embarked upon a stirring comeback."
It was 23 June 1951. And in fact, the match ended in a draw as both teams scored 12.13 (85).
South, under captain-coach Gordon Lane, led by eight points at quarter-time and 32 points at halftime before Fitzroy cut the margin to 12 points at the final change and kicked 3.3 to 1.3 in the fourth quarter.
Eddie Hart kicked five goals for Fitzroy, and Ian Gillett, Don Scott and Allan Miller kicked two each for South.
But it was a day all about Clegg. Even if his extraordinary statistics are recorded only in football folklore.
It wasn't until 1965 that full statistics for marks and possessions were kept so his herculean 32-mark performance is not officially recorded. Nor his effort of "more than 50 possessions".
But official AFL records do show more than clearly just what an astonishing performance it was.
The most marks recorded in an AFL game since 1965 is 24. This stands to the credit of Melbourne's Greg Parke in 1970, and the Western Bulldogs' Brian Lake in 2007.
Richmond's Joel Bowden had 23 marks in a game in 2008, while four players are credited with 22 marks: Geelong's Bill Ryan in 1968, North Melbourne's Gary Dempsey in 1980, Adelaide's Nathan Bassett in 2006 and Lake in 2010.
Others in an exclusive group of 11 players to have had 20 or more marks in a game have been St Kilda's Rex Hunt (21 in 1976), Richmond's Matthew Richardson (21 in 1996 and 2008), Bowden (20 in 2006, 21 in 2008), St Kilda's Nick Riewoldt (21 in 2016), Fremantle's Luke McPharlin (20 in 2006 and 2007), and St Kilda's Sam Gilbert (20 in 2010).
Just as remarkably, only seven players have been officially credited with 50 or more possessions in a game.
Sydney's Greg Williams and Gold Coast's Gary Ablett Jnr share the record with 53 in 1989 and 2012 respectively, while Collingwood's Barry Price had 52 in 1971, and Adelaide's Scott Thompson had 51 in 2011.
Four players are credited with an even 50 – Collingwood's John Greening (1971), Collingwood's Tony Shaw (1991), and Hawthorn's ex-Swan Tom Mitchell (2017).
Furthermore, contested marks weren't recorded until 1999. North Melbourne's Wayne Carey is credited with most in a game – 10 in 2000.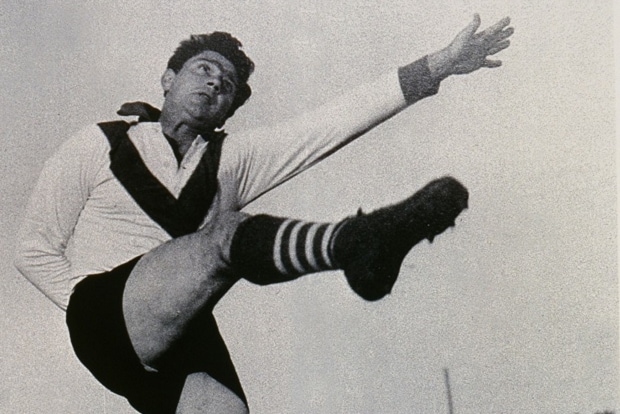 Sydney's Barry Hall, with nine contested marks in a game in 2008, shares second spot on this list with Richardson (1999 and 2006), Essendon's Matthew Lloyd (1999), Richmond's Brad Totnes (2001), Brisbane's Daniel Bradshaw (2001), Port Adelaide's Chad Cornes (2002) and North Melbourne's Drew Petrie (2011).
So the "32 marks – mostly contested" and "more than 50 possessions" unofficially credited to Clegg in 1953 would put him above and beyond exclusive company.
But the under-sized key centre half back cum centre half forward, who played 231 games for South Melbourne from 1945-60, doesn't need any statistics to confirm he was a champion of the club. He simply was.
So much so that in 1996 he was an inaugural member of the AFL Hall of Fame.
In 2003, Clegg was named at centre half back in the Sydney Swans Team of the Century, and in 2009 he was an inaugural member of the Sydney Swans Hall of Fame before being elevated to Legend status in 2016.
He won the Brownlow Medal in 1949, was runner-up in 1951, finished 4th in 1948 and 5th in 1953. And he was South club champion in 1948, 1949 and 1951.
Clegg polled 121 Brownlow votes at 0.56 votes per game – exactly the same average as fellow football icons Peter Hudson (Hawthorn), Alan Ruthven (Fitzroy), Keith Greig (North Melbourne), Michael Voss (Brisbane), Scott West (Western Bulldogs) and Jack Howell (Carlton).
When he retired he ranked fourth in all-time medal votes behind only Essendon 290-gamer Bill Hutchison (172 votes), Footscray 200-gamer Norm Ware (130 votes) and Fitzroy's 119-game triple Brownlow Medallist Haydn Bunton (122 votes).
At the end of the 2016 season Bunton and Fremantle's Nat Fyfe shared the all-time highest votes-per-game average of 1.04, while only 50 players in the game's history have averaged more votes than Clegg.
Only Bob Skilton (180 votes) and Adam Goodes (163 votes) among exclusively Swans players have polled more votes in the game's highest individual homer.
Clegg's phenomenal Brownlow Medal record is matched only by the story surrounding his medal win in '49, when he beat Hawthorn's Colin Austen on countback before Austen was awarded a medal retrospectively 40 years later.
Clegg only learned of his triumph when, driving with wife Billye, he turned on the car radio. Hurriedly he drove to the family home to celebrate. And when it came time for him to receive the medal in the members' dining room at the MCG during the finals, Billye arrived without a ticket and missed the ceremony by a few minutes.
A local product from the unlikely recruiting patch of the Melbourne Boys League, Clegg was aged 17 years 169 days when he debuted on 5 May 1945 against Richmond at Punt Road.
He was the 635th player to represent South Melbourne but the sixth-youngest on a list headed at the time by Harold Traynor, who remains the youngest player in club history on debut at 16 years 223 days in 1939.
Others ahead of him were Bruce McDougall (16/322 in 1902), Toner Hosking (17/7 in 1908), Art Mitsuko (17/76 in 1931) and Rod Leffanue (17/120 in 1930).
Even today, Clegg ranks 16th youngest all-time behind Traynor, McDougall, Noel Rohleder (16/251 in 1950), Peter Brain (16/259 in 1961), Robert Hay (16/285 in 1971), Marshall Younger (16/329 in 1956), Bob Kingston (16/337 in 1961), Hosking, Don Brooks (17/36 in 1968), Mietzcke, Terry McGee (17/118 in 1962), Leffanue, Kevin Pedrotti (17/138 in 1965), Bruce Davis (17/156 in 1970) and Mark Whitzell (17/160 in 1981).
Clegg had an extraordinary introduction to senior football, and played in one of the most memorable grand finals in just his 15th game six weeks before his 18th birthday.
As World War II headed towards a close, the League had fixtured a 20-game season for the first time to make up for games lost during hostilities.
It proved to be a blessing for rivals Carlton, and not so good for South.
After 18 rounds, which had been the 1944 total, South sat on top of the ladder with a 14-4 record ahead of Collingwood (13-5), Footscray (12-6) and North Melbourne (12-6). Carlton (11-7) were fifth.
But Carlton beat bottom side Geelong in Round 19 and Footscray in Round 20 to sneak into fourth spot with a 13-7 record, behind South (16-4), Collingwood (15-5) and North (13-7), and ahead of Footscray (12-8).
Clegg had quickly settled into senior football, but even before the finals he had learned one important lesson. To do as he was told.
In Round 13 the club had suspended captain Herbie Matthews and teammate Keith Smith for refusing to play in their selected positions the previous week.
But that was nothing compared to the torrid times ahead.
After Carlton had eliminated North from the premiership race with a 26-point win in the first semi-final South beat Collingwood by 11 points in the second semi to go straight into the grand final.
Carlton came from behind to beat Collingwood by 10 points in a roughhouse preliminary final that was a pointer of what was to come.
With the war having officially ended on 2 September, the 29 September grand final was the most anticipated in years.
Despite the long-awaited truce the MCG was still being used for war-related activities so the grand final was played at rain-soaked Princes Park.
It was a ground that was not meant to accommodate many more than 30,000 people, but somehow it squeezed in a crowd of 62,986.
Carlton led 2.4 to 0.5 at quarter time, but, as "In The Blood" records, the match erupted when 17-year-old Clegg was flattened off the ball.
From there it developed into what the media labelled "The Bloodbath Grand Final", and after Carlton led by two points at halftime fights erupted all over the ground in the second half.
"The Herald" reported how bottles had been thrown by people in the crowd, and told how Carlton's Fred Fitzgibbon, unavailable for the match due to suspension, jumped the fence to join the brawl. One South player pulled his jumper over his head so the umpires could not take his number.
Carlton beat South by 28 points in what was later described as the most vicious game in VFL/AFL history. Officials from each club expressed disgust at the unsavoury end to the season, each blaming the other.
Sadly, despite becoming a regular Victorian selection from 1946 and playing 15 interstate games, Clegg never played another final.
At the end of the 1949 season he rejected a sizeable offer of eight pounds a week to play in the VFA before being confronted by further and even greater temptation when Tasmanian club New Norfolk reportedly offered Clegg a milk bar, free accommodation and wages.
South, the VFL and the Australian National Football Council blocked the move.
After captaining South in 1953-54 he accepted a coaching job at North Wagga in 1955, this time with the club's blessing. But he missed the big-time atmosphere of League football, and returned in '56.
After being captain again in 1957, he was captain-coach in 1958-59 and captain in his final season in 1960, when a young Bob Skilton made his debut.
When he retired Clegg held the South Melbourne games record at 231, having surpassed Jack Graham (227), Vic Belcher (226), Jim Cleary (222) and Mark Tandy (207).
On Saturday 9 August 1958, 59 years ago today, he followed this foursome to became the fifth player to play 200 games for South Melbourne.
South, 11th on the ladder with a 4-11 record, were away to 8th-placed St Kilda (6-9) at Junction Oval in what was also the 100th game for the Saints' Neil Roberts, who won the Brownlow Medal in the same year, and Jim Dorgan's 100th and third-last game for South.
Happily for Clegg, Fred Goldsmith, the 1955 Brownlow Medalist and later a teammate in the Swans Team of the Century, kicked three goals as the Swans celebrated his 200th game with a 22-point win.
After leaving the VFL Clegg was captain-coach of Brunswick in the VFA in 1961-62. He died on 23 August 1990 aged 62. Even today he ranks 15th on the club's all-time games list, and will forever be one of the greats.