Newly appointed Sydney Swans Chairman, Andrew Pridham, sat down with SwansTV ahead of the Christmas break to discuss his new role, his vision for the Club and the challenge of succeeding long-serving former Chairman, Richard Colless.
Andrew, what can you tell us about your journey to the Swans? When did you become a board member and how did you get involved?
I've been on the board for 12 years, so it's been a long journey. We don't do things quickly at the Swans, as we all know, we try to do them right. Since joining the board we've obviously won two premierships and I've been a lifelong fan of the Swans. I'm actually from South Australia, but I've lived in Sydney for over 25 years, so it feels like home.
You've got a hard act to follow coming into the role after Richard Colless, who served as Chairman for 21 years. How would you describe your leadership style and how will it differ from Richard?
It's very, very hard to compare anyone to Richard because I think he's unique and he's one out of the box. His contribution to the Club over the last 20 years as Chairman, I don't think can ever really be fully understood by people. He was a fantastic leader and his vision, his drive and so much of what you see today at the Swans comes from Richard. I'll be very different in that I'm a trainee compared to Richard and I don't think that anyone could line themselves up directly against him.
I'm very much focused on just taking it step by step and improving every year as we've done in all of the time that I've been involved at the Club. It's about gradual improvement, nothing dramatic and it's about really just making sure that the Club, first and foremost, looks after the players, supporters, is a good corporate citizen and really does its best.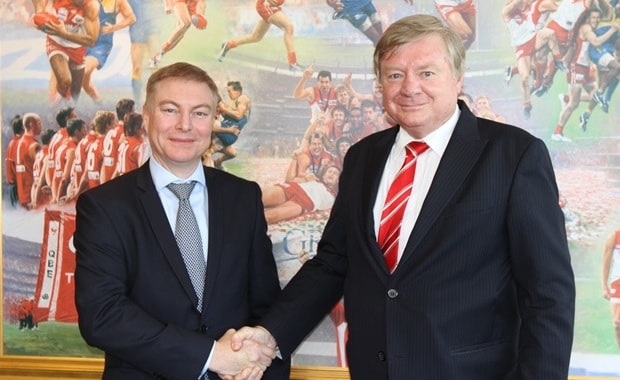 Now in place as Chairman, what are some of your short, medium and long-term goals?
The short, medium and long-term goals are very similar in that it's just about gradual improvement and it's doing the best that we can do and making sure that we've got the best people. As Chairman, my job is not to run the Club, it's really to make sure that we have the best management in place and the best structures in place and that the strategy is right. We have a terrific Board, it's going to be a privilege to lead the Board, and the stability that the Club has is one of its great strengths, so I'll really be focusing on just the bread and butter and just taking it step by step.
The Club is fortunate enough to be in a positive position both on and off the field. What would you say have been some of the Swans' recent achievements?
We've had consecutive years of profit, which given the history of the Swans and AFL in New South Wales is a major achievement. I think prior to this year's profit, which was a cash profit of around $1million, our combined profit for the previous 25 years was about $250,0000. We're a reasonably marginal business financially but I think what I see as an opportunity is that we can really strengthen our balance sheet and strengthen our financials. We have fantastic support from corporate sponsors and I can't thank them enough. I've spent a fair bit of time with them over the last six months and they are fantastic people. I think we have a shared vision to where the Club's going and I think we just need to continue doing that.
The Club produced a record membership in 2013. What is your membership goal for 2014?
Well, if the membership department wasn't here I'd say 100,000! But realistically, last year we hit 36,000 members with 10,000 that were in Melbourne. I think we can certainly exceed 40,000 this year and we're off to a really good start. Based on the numbers we're seeing I think we're tracking over ten per cent above where we were at the same time last year.
I think one of the things that has really impressed me, having followed Richard around in the last six months, is the amount of support we get not just in Sydney but in country New South Wales, the ACT, Melbourne, Perth, Adelaide and even off shore. Our supporter base, it's been calculated that we have over one million supporters, so to convert those over a million supporters to 40,000 members I think is very achievable.
Coming in as the new Chairman you're naturally focused on the future, but how important to you is the Club's history?
I think it's incredibly important. The Club has been in existence for around 140 years and is one of the longest continuously operating sporting clubs in the world. We've been in Sydney for 31 years and I think recognising the history of the Club is something that is particularly important to the Swans, having come from Victoria to Sydney in 1982. It's something that was a major focus of Richard Colless and the Board and we've actually established a heritage committee, which is chaired by Rob Pascoe, a fellow director. I think we'll continue to be very, very focused on recognising and celebrating the history and hopefully celebrating some great things in the future, which can add to our history.
And finally Andrew, with just one week until Christmas, what is your message to Swans members and supporters?
Firstly, have a safe and happy Christmas. I also think our members and supporters can look forward to a fantastic 2014 where we're in really, really good shape. I just really want to encourage members to come to the football. I think we're going to have a great season and we've got a really good draw and a very exciting team, as we all know.
The
Nominate Your Mate
program, in terms of signing up new members, is a great program. If we're going to get to 40,000 members for the first time in the Club's history, then the program is a really important initiative and I really encourage all supporters to become members.
There is nothing better than being a member of the Swans, I can tell you. It's red and white, just like Christmas, so you can have Christmas all year. I look forward to seeing you all in 2014 and spending some time with you.