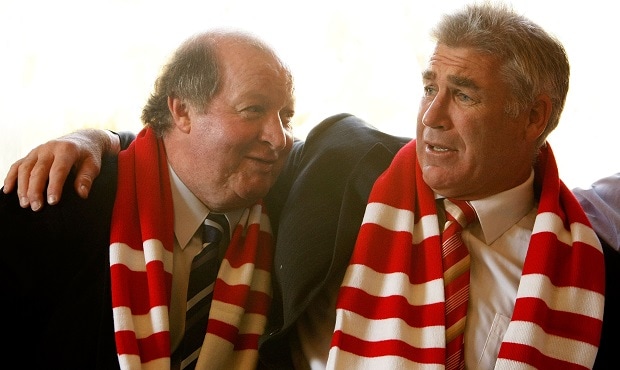 Gerard Healy played a lot more games for Melbourne than the Sydney Swans. Forty-nine more, in fact. But when his two clubs meet as they will tonight he's very definitely in the red and white camp.
Healy, 17 years into retirement and now a huge figure in the AFL media, played 130 games with Melbourne from 1979-85. He was vice-captain for a time, won the club B&F in 1984 and was third in the League goal-kicking in 1982 with 77 goals, behind only Malcolm Blight (103) and Simon Beasley (82).
But in 130 games in red and blue he had tasted victory only 41 times. And it wasn't as if he missed too many chances to sing the club song. In his six years at the club the Demons won 44 of 144.
In a 12-team competition they finished 11th-9th-12th-8th-8th--9th-11th.
And therein lies the reason why the left Melbourne and eventually made his way to Sydney, where in 81 games and five years he made such an impact that he was included in the Swans Team of the Century.
"I'd just had enough. Ron Barassi was the coach and I figured if he couldn't turn it around nobody could so I decided 'I'm leaving'," Healy said this week ahead of Friday night's clash at the MCG.
"I made my decision at Round 20 and strengthened it at Round 22. I just thought enough is enough. I wanted to enjoy my footy and I wasn't enjoying it at Melbourne so I said "I'm leaving".
If there was any doubt in his mind it was removed in Round 21 of the same season when Melbourne played Sydney at the SCG.
The Demons lost to the Swans by 68 points as Warwick Capper kicked seven goals and Tony Morwood to the three Brownlow Medal votes. Healy had 12 possessions for the visitors and kicked two goals.
But it wasn't about the score. Not this time. It was more about what Healy saw in the Swans team.
"I was really impressed with the camaraderie of their group … you could sense it out on the ground," he said.
Admitting at the time that he was tempted just to retire from football and travel overseas despite having had talks with several rival clubs, he liked enough of what he saw in Sydney to explore that option further.
The Swans hierarchy was able to help the then 24-year-old to get into his chosen off-field profession of physiotherapy, and the rest quickly fell into place.
"They made me a good offer, they had much better weather, and a good footy team. That was it," he said of a move which saw him head to the Harbour City to play under Tommy Hafey after the former Richmond, Collingwood and Geelong coach had taken over from John Northey in 1986.
The Swans had moved permanently to Sydney in 1982 and had finished 7th-11th-10th-10th in their first four years in the Harbour City, but the prize capture of Hafey and the recruitment pf Healy, Geelong trio Greg Williams, Bernard Toohey and David Bolton, Essendon's Merv Neagle, Footscray's Jim Edmond and Fitzroy's Glenn Coleman had generated real hope.
The club also recruited Richmond's Maurice Rioli but the AFL ruled they could not fit the Tigers ace into the salary cap and he never pulled on a red and white jumper.
Healy, a super keen surfer, lived on Cronulla Point and had what he described as the best five years of his football career.
"I had great enjoyment on and off the field. Back then the club was not anything like the really slick, professional outfit it is today - it was only in its embryonic stages - but there was a really strong bond between the players and I had everything I wanted," he said.
Healy said the club had great leaders in Mark Browning and Dennis Carroll, and an 'unbelievable' chemistry among the entire playing group.
Like so many, Healy embraced the want to develop the code in what was ruby league's traditional heartland.
He said Hafey, ever the hard task master, especially during pre-season, was the perfect person to unite a playing group which had been pulled together from so many different places.
"The whole club was desperate for success and Tommy was the perfect person to make it happen.
"He (Hafey) had his own private torture chamber at Centennial Park over summer, and everyone was equal when they were doing repetition miles, repetition hills and repetition floggings," he said.
Healy also singled out one of the unsung heroes of the club at the time in Jack Giddy. "He was a bloke who had come across from rugby league and was a fantastic conditioning coach. He passed away only a couple of months ago," he said.
It all added up to an environment in which Healy was able to produce his very best. And be very, very good.
He won the Sydney B&F in each of his first three seasons at the club in 1986-87-88 - a feat matched by only two others in club history.
The incomparable Bob Skilton won the award later named after him five times in a row from 1961-65, and Peter Bedford won it three years in a row from 1969-71.
Healy also won the Brownlow Medal in 1988, was All-Australian in 1986-87-88, and in comparison to his 31.5% success rate at Melbourne was a much more palatable 53.1% at Sydney, with 43 wins from 81 games. And that despite going 1-10 in 1990.
Among the most dominant players in the game at his peak, he averaged 26.4 possessions in five years wearing the #3 jumper for the Swans, and in an era where 30-possession games were not exactly common place he topped this mark 29 times -10 in 1988.
Sadly, a chronic wrist problem kept him to eight games in 1989 and 11 games in 1990, and after a game-high34 possessions and one Brownlow Medal vote against Footscray at Western Oval in his 211th game in Round 15 1990 he retired age 29.
In 2000 he was inducted to the AFL Hall of Fame, and in 2003 was named at half forward in the Swans Team of the Century.
Having returned to live in Melbourne after his retirement, he immediately joined the part-time football media via Channel 7 in 1991 and established a successful physiotherapy practice, where he worked full-time for six years.
In 1994 he joined radio 3AW, where he still does a sports show with Dwayne Russell each Monday-Thursday from 6-7pm, and worked at Channel 9 in 2002-03 before being a founding member of the FoxFooty team in 2004.


A respected Fox match commentator and host of 'On The Couch', he is among the most respected media voices in the game.
Healy, who turned 56 in March this year, is on what he calls the 'east-west' route for Fox, which means he travels mainly to Adelaide and Perth for games rather than Sydney and Brisbane.
Still fanatical about keeping fit and off surfing at every opportunity, Healy and wife Lisa have three daughters – Bridget, Hoppy and Loui.
Bridget lives in Sydney, which gives him an excuse to visit as often as he can fit it into a busy schedule.
It's no hardship. "I miss Sydney. I loved living there – it's a brilliant town," he said.
And while admitting he still has a soft spot for Melbourne, enjoys a lot of good friendships there, and often goes surfing these days with Demons co-captain Nathan Jones, he is definitely a Swans man.
"No doubt about it … if I barrack I barrack for Sydney. It's one of the great footy clubs in any code in the country."