Milestone night, baby
Neil cordy
Daily Telegraph, September 14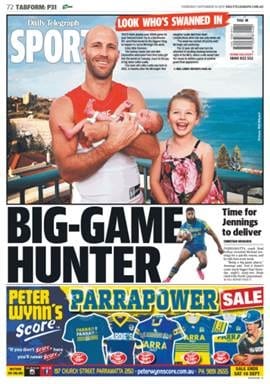 When it comes to omens, this is about as good as it gets for Sydney Swans fans.
Jarrad and Clementine McVeigh have another baby girl, Florence, who was born on Tuesday.
When their other daughter Lolita-Luella was born five years ago she featured in one of the iconic photos the AFL when Jarrad and Clementine cradled her in their arms just minutes after Sydney won the 2012 premiership.
Just 12 months earlier the McVeigh's had lost their first born Luella who died from heart complications when she was only weeks old.
Florence's birth will mean a double celebration for Jarrad who will play his 300th game in Friday night's semi-final against Geelong at the MCG.
"The week has started off pretty well," McVeigh said.
"Everyone is healthy and happy, after training I'll head back to the hospital."
The happy result takes care of any issues of where the Swans defender needs be on Friday night. With two daughters the McVeigh's could have candidates for the AFLW when Sydney starts it's team in the coming years.
"With two father-daughters that will be coming soon," McVeigh said.
Kennedy the man who has finals say
Sam Edmund
Herald Sun, Daily Telegraph, September 14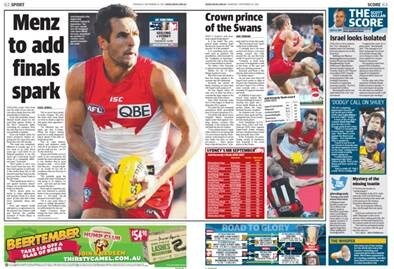 WHY is Sydney's Josh Kennedy a great finals player?
Is it his build? The composure under extreme heat? Because he keeps his feet? His bravery? Is it the mindset?
Is it something more romantic like genetics? His grandfather, John Kennedy Sr - the "Godfather of Hawthorn" - coached the club to three flags and is immortalised with a statue. His father, John Kennedy Jr, played in four premierships.
Maybe it's all of those things, maybe it's none of them. But what is beyond doubt is that the Swans' captain is the modern-day Mr September.
Kennedy has played 20 finals in his career and has churned out more than 100 rankings points in 15 of them. He has dipped below 83 only once in what has been a consistently high level of performance at the business end of the season.
And now he's coming for Geelong.
Since 2010, Kennedy ranks No.1 in the competition in finals for disposals (29.4 per game). He is also No.1 for contested possessions (16.8), groundball gets (12.4) and clearances (7.3).
For all the talk about Lance Franklin ahead of Friday night's semi-final against the Cats, history screams that Kennedy is the midfield warhorse who will light the fire for Sydney.
"I was joking about it today with a mate in a car saying that I've never been a big fan of pre-season so the longer we can go into finals the later we start pre-season. That's always been a big driving force," Kennedy told Fox Footy this week.
Special delivery 300+1 for McVeigh
Peter Lalor
The Australian, September 14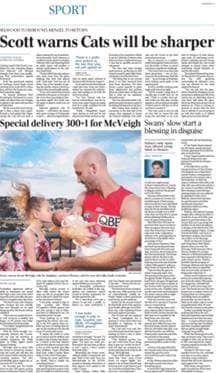 Footballers appreciate delivery skills in teammates but Jarrad McVeigh is also a fan of his wife's expertise in the area after she gave birth to a daughter early this week.
"We tried to put a few things in place because she was actually due next Monday, so we sped things up a bit," the Swans veteran admitted.
"The week has started off pretty well, everyone is healthy and happy, so I'll quickly train today then head back to the hospital.
"Two father-daughters (for the future) is all right."
With the birth brought conveniently forward, the 32-year-old can turn his attention to another milestone: his 300th game in Friday night's match against Geelong.
McVeigh came to terms with the Swans to extend his contract only last week and will play the next season before moving into a coaching position. The 2012 premiership player began his career at the SCG in 2004.
He becomes just the fourth Swan to play 300 games, joining former teammates Adam Goodes (372), Jude Bolton (325) and Michael O'Loughlin (303) in the exclusive club.
McVeigh looked around at other clubs before the Swans came up with an acceptable deal and is relieved to finish his career at the club where it started.
"I was lucky enough to play in Jude, Goodesy and Micky O'Loughlin's (300th games) and saw how special it was to them, and that's no different for me, I'm extremely proud," he said.
"From growing up in NSW supporting the Swans, and coming to the SCG games when nobody was here, to seeing what we saw on the weekend with the full house, I'm extremely proud.
"It meant the world to come out of school and be drafted, and be able to stay at home was fantastic. I looked at the best trainers and the best players and just tried to live in their pockets, guys like Paul Williams, Stuart Maxfield, Brett Kirk, Adam Goodes, Barry Hall, so I owe a lot to those guys.
"During my career, apart from my family, they've taught me everything I know."
Swans' slow start a blessing
Greg Denham
The Australian, September 14
As silly as it might sound, Sydney's winless first six rounds this season have been a blessing in disguise, both for the present and in the future.
Because without their worst start to a season in 24 years, it is doubtful much of their young talent would have been identified so early in their careers. The last time the Swans stumbled out of the blocks so badly was in 1993 when they lost their first 12 games before defeating Melbourne to end a 26-game losing streak.
Back then they were just no good, but there are no secrets to their resurgence this year since early May when they were the only team in the competition without a win, and languished at the bottom of the ladder with a percentage of 76.6.
Stats gurus Champion Data and their star media performer David King will tell us this and that, and more, about what led to the form turnaround. The Swans players will say the line in the sand for them was the on-field bullying of second-year defender Callum Mills against Carlton in their round-six loss at the MCG.
That was also the game in which Fremantle reject Alex Silvagni played the game of his life against Buddy Franklin, and kept him to one goal. Silvagni had previously never been a regular at the Dockers with 53 games spread across seven years. Franklin came out the next week and kickstarted the Swans' season with an eight-goal haul against Brisbane.
That win over the Lions was the first of 15 victories in 17 games since to create history.
McVeigh to join Swans' elite 300 club
Andrew Wu
SMH, The Age, September 14

When Jarrad McVeigh reported to training in late 2002, Paul Roos knew he had a 200-game player. The former Sydney coach underestimated his man.
The veteran Swan joins rare company on Friday night when he becomes only the fourth man to play 300 games in the red and the white.
He will be in exalted company but, as a two-time club champion and premiership captain, should not feel out of place alongside Adam Goodes, Michael O'Loughlin and Jude Bolton.
McVeigh is the sole player left from when the club's famous Bloods culture was established in the early 2000s. For a player who has embodied that ethos for so long, it's hard to believe there was a stage when he was out of favour.
Like all elite young talent, there were never queries about what the No.5 pick from the 2002 draft could do with the ball. It's what he did not do when he did not have it that needed work.
"The Swans value the defensive side of the game so much, still do, always have for 15-20 years," Roos said. "That's the biggest challenge for a kid coming into the system. They're all talented ball-winners, they come out of a system that doesn't teach transition from offence to defence.
The boy whose commentary for his blind friend inspired his sporting heroes
Jonathan Drennan
The Guardian, September 14
"Mateship" is an Australian expression that stands for friendship and equality, even in times of great challenge. Mark Smith and Jarryd Haines, two young boys from Sydney, embody this ethos of close friendship. The pair have known each other for most of their lives and always enjoyed playing sport together. If there was a ball involved, they would be in the backyard, acting out a crucial Ashes test or taking a spectacular mark in the Australian Rules Grand Final for their beloved Sydney Swans.
A few years ago, when Mark was only nine, he was diagnosed with cancer of the brain and spine. It robbed the young boy of many things: his sight, part of his hearing and his ability to play the sports he loves. Throughout the gruelling medical treatment that left Mark nauseous and exhausted, Jarryd remained his close friend, sharing their continued love of sport, particularly the Sydney Swans.
Two weeks ago, as normal, I took my seat at Sydney Cricket Ground with my fiancée to watch the Swans in their last regular game of the season. The old stadium was packed with fans dressed in red and white. Shortly into the second quarter, with the Swans edging away from their opponents, the Carlton Blues, I heard some remarkable commentary from a young boy. Play by play, Jarryd was bringing the game to life. I turned and saw Mark clutching a Sherrin football, grasping it tighter with every cadence in his friend's voice.
Although Mark cannot see anymore, his passion for the Swans has not ebbed. Armed with his cane, which he calls "Michael" – his favourite film is the Italian Job – he goes to the stadium and normally listens to streamed radio commentary that complements the roar of the crowd. Unfortunately, in the second quarter of the match the stream died. Thankfully, his friend Jarryd was there to step in with his own unique brand of commentary.
Sydney loves its winners and no one embodies that strength more than Lance "Buddy' Franklin, a towering colossus of a full forward who is considered one of the current greats in Aussie Rules. He is brash, bold and incredibly talented at kicking goals. Mention the name "Buddy" in Australia and you will get a knowing nod. Buddy was having one of his great days with the red leather football, kicking 10 goals to keep the crowd in raptures.
I barely looked at Buddy as I was focusing on Jarryd and Mark behind me. "What's happening, mate?" Mark implored as Buddy strutted around the 50-metre line looking for the ball searching for his tenth goal. "Don't worry Mark. I've got this," replied Jarryd calmly. "OK. Buddy's got it. He's quite far out. Will he go for it? He's going for it. It's good and it's his tenth goal! Buddy is on fire." Mark hugged his football on his knees, feeling the defined stitching and laces with fingers, lost in the magic of Australian football brought to life by his friend.
At the end of the game, I turned to Jarryd's father and told him I had enjoyed his son's commentary very much and that he should be very proud of his boy. He told me this was typical of Jarryd; he's always looking out for Mark. As I turned around, Jarryd was helping Mark navigate the stairs as Sydney Swans winning anthem reverberated around the stadium. I got on the bus home and tapped out a tweet:
Scott warns Cats will be sharper
Courtney Walsh
The Australian, September 14
Geelong coach Chris Scott is confident his Cats, including skipper Joel Selwood, will rebound strongly from their poor qualifying final performance against Richmond.
Scott has questioned analysis of Geelong's recent finals record and their form at the MCG, where they will face the Swans in a semi-final tomorrow night.
He instead attributes their thrashing by Richmond to a poor night out rather than any struggle to adjust to the speed and pressure of September.
But he conceded it was a struggle to find a player that outperformed a rival against the Tigers, saying the Cats did not have a player among the top 10 performers in the match. Scott, however, is confident senior players including Selwood, who was resuming from an ankle injury, will produce a sharper performance in the sudden-death final.
"We just didn't have any players who came away from the game thinking that they had played well," Scott said. "Joel was one of them. One of the beauties of getting the double-chance is that you can turn that around really quickly.
"Even Joel turned that around a little bit in the game, so if we get a few more of our good players having better nights, the whole way the game is played could turn on its head."
Confirmed starter: Cats recall Menzel for semi-final
Jon Pierik
The Age, September 14
Geelong will turn to Daniel Menzel to be an "X-factor" in Friday night's semi-final against the Sydney Swans and understand they cannot endure another miserable start if their season is to remain alive.
Menzel was controversially overlooked for last week's qualifying final against Richmond, with concerns he would be exploited defensively.
The clever half-forward had booted 38 goals for the season – equal second to that point with Patrick Dangerfield – but it was not enough to keep him in the side.
The Cats only managed five goals against the Tigers, and realise they need greater firepower against the surging Swans if their season is not to end in a straight-sets defeat.
Coach Chris Scott said on Wednesday that Menzel, off contract this season, would replace the injured Cam Guthrie.
"He was a bit disappointed [last week] but he was really excited to be feeling good going into this game and play a final," he said.
"He has been unfortunate the last four or five years, maybe even longer than that, that he hasn't been available at this time of the year. Even last year he was very sore towards the end of the year [after returning from a knee reconstruction]. For this game, he will feeling physically good."
Scott said Menzel, who celebrated his 26th birthday on Wednesday, had the capability to conjure goals at key times.
"He has certainly got that X-factor. When his body is feeling good, he is a really dangerous player ahead of the ball," he said.