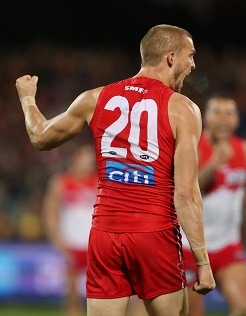 The productivity of the Sydney Swans forward line improved as the season went on and will only be better in 2018 according to key forward Sam Reid.
Reid stood alongside Lance Franklin as the key pillars to the Swans forward line this season with a mixture of Callum Sinclair, Kurt Tippett, Tom Papley, Dean Towers and George Hewett also making up the forward mix.
The 195cm key forward said it was nice to be able to get some consistency into the attack in 2017.
"Over the past couple of years there has been one or two of us in or out of the side," Reid said.
"It has been a bit chop and change so it has been hard to get to know each other's game styles as well so this year we were able to spend a pre-season together to learn more about each other.
"It functioned pretty well, we had a pretty good mix of talls and smalls as well as a bit of versatility with guys like Towers.
"Going forward it is only going to get stronger and I look forward to that."
After missing the entire 2016 season through injury Reid managed 22 games with a healthy return of 30 goals.
Being able to complete a full pre-season gave him the confidence to perform once the season proper arrived.
"To get to that point and be able to have a full pre-season was the plan, I was able to do that and probably was the reason that I was able to stay out there for most of the time this year."
"I took a lot of confidence out of pre-season that my body was fine and that was just confirmed this year that it is fine."
Despite being a free agent this season the 25-year-old signed a new four-year contract extension to remain with the Swans until at least the end of 2021.