His name is at the forefront as you walk into Sydney Swans headquarters at the SCG and he has been a major contributor to the football club over a very long time.
A 'True Believer' who stepped in to ensure the continuing viability of the Swans, Basil Sellers provided enormous financial assistance and made great personal sacrifices to safeguard the future of our great football club.
His passion for supporting new talent and assisting their development is second to none and our very own Tadgh Kennelly benefited from Sellers starting the Swans International program, with Kennelly telling the Sydney Morning Herald in 2013 that Sellers was the reason he had made a life out in Australia.
"We had nothing when I was a kid, but he gave me this opportunity. I fell upon an angel. He became like a father for me. I'm indebted to that man. He's a gentleman," Kennelly said.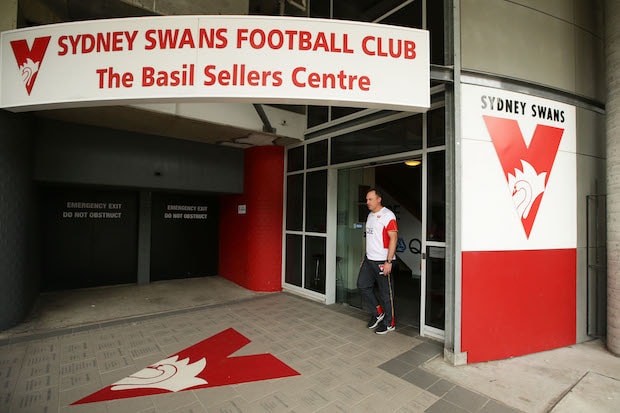 Sellers generosity also extends to our neighbours at Cricket NSW with a scholarship named in his honour, giving young cricketers the opportunities to fulfil their dreams of a career in cricket.
With Australia winning (men) and retaining (women) the Ashes over the summer, in a remarkable statistic for Sellers, six current Australian Ashes winning team members have been Basil Sellers Scholarship recipients over the years.
Captain Steve Smith, Usman Khawaja, Mitchell Starc, Pat Cummins and Josh Hazlewood have all been beneficiaries.
Sydney Swans ambassador, recently crowned ICC Women's Player of the Year and Southern Stars player Ellyse Perry has also been a scholarship recipient in recent years, as the Sellers' success stories continue to live on.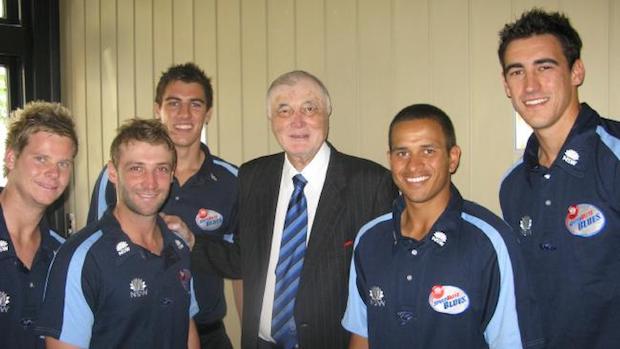 Basil Sellers pictured with Steve Smith, Philip Hughes, Pat Cummins, Usman Khawaja and Mitchell Starc.