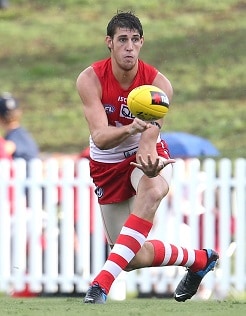 Emerging ruckman Sam Naismith is already looking forward to the upcoming preseason, determined to put a bad run with injury behind him and repay the faith shown by the Sydney Swans.
The pledge comes after Naismith re-committed to the Swans for another three years, a deal which keeps the 205cm big man in Sydney until at least the end of 2018.
The deal was a relief and "weight of my shoulders" after what has been a frustrating run for Naismith who had dealt with health and injury problems for a majority of the season.
The 23-year-old managed eight NEAFL matches in 2015 before a bout of glandular fever and training-induced groin problems forced medicos to put a premature end to his season.
The setbacks were particularly frustrating given Naismith was elevated from the rookie list in April as an immediate replacement for long term injury prospect Alex Johnson.
"This year has been a bit interrupted," Naismith said.
"After (the glandular fever) I over-trained, coming back a bit too quick, so that halted my end of the season.
"It's especially frustrating considering I was on the cusp and ready to play around Round 8 but then I was struck down.
"It's a bit unfortunate but that's footy - I can't really help it.
"Hopefully next season I'll be fine I just need a preseason to get going."
While Naismith continues to work towards a full recovery, there's a job to be done as the NEAFL Swans prepare for a cut-throat semi-final against Aspley on Saturday.
While Naismith won't make the trip with teammates, the ruckman has already played a role off-field and will no doubt be there in spirit as the side looks to progress to next week's preliminary final.
"My energy around the group is what I feel I need to bring right now," Naismith added.
"I need to help create a good atmosphere while using some of my knowledge, especially for the younger guys.
"Seeing it's my third year, I have to take on a bit of a leadership role."
Naismith, recruited from North Shore, was a member of the QBE Sydney Swans Academy before being selected with pick 53 in the 2013 Rookie Draft.
He made his AFL debut in Round 23 against Richmond last season.