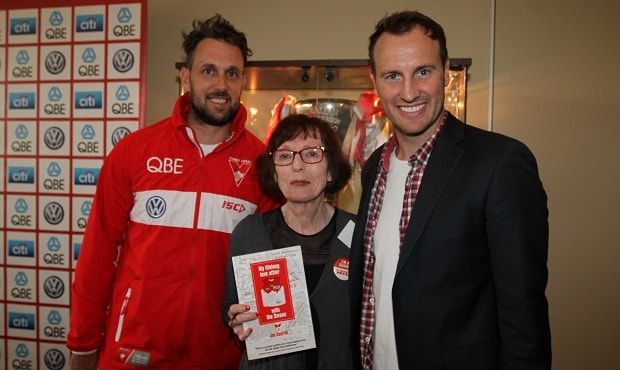 Former Sydney Swans players gathered at the SCG today to help launch a new book detailing a fan's lifelong passion for her football club.
My lifelong love affair with the Swans by Jan Courtin details a red and white adventure that began at the Lake Oval in South Melbourne some 67 years ago. Born into a Bloods family, Jan Courtin attended her first match in 1948, when she was just four years old.
The book details the journey from South Melbourne to Sydney, through turmoil, heartache and premiership success. The story involves family, rebellion, travel, love affairs, political awareness, sadness, joy – and the one constant: the love of the red and the white.
The foreward to the book has been penned by former Sydney Swans chairman Richard Colless AM, who said the book provides unique insights into the Club.
"I was flattered beyond belief when the author asked me if I would write the Foreword to her beautifully crafted book," he said.
"Written by a true believer for all the other true believers, it is a singularly welcome addition to the rich trove of Swans' history and culture."
A donation of 10 percent from the sale of each book will be given to the GO Foundation, a charitable organisation established by Adam Goodes and Michael O'Loughlin to provide Indigenous children with scholarships to quality schools.
To purchase a copy, visit: www.myswansloveaffair.com