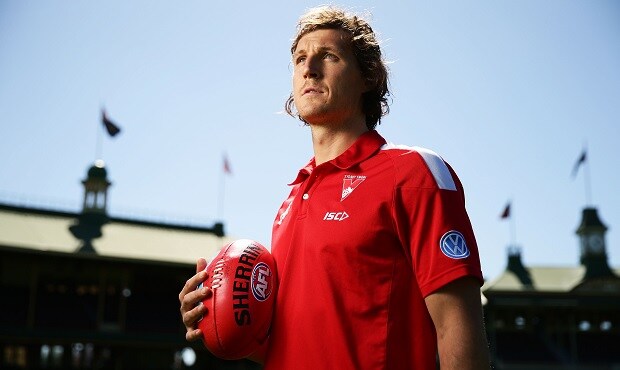 Southport Sharks coach Craig Crowley asked his players to write a phrase on the whiteboard that would underpin their performance in the 2006 Queensland State League Grand Final.

A 19-year-old Kurt Tippett, tall, tanned, and with a basketball and surf lifesaving background, moved to the board and wrote down a Latin phrase made famous in the film Dead Poets Society.

Carpe Diem, which means seize the day, was Tippett's choice.

It attracted the attention of those who used simpler football terms as motivation.

"We had a lot of tradies in the side," Southport legend Jason Cotter recalled to AFL.com.au with a laugh.

Despite his smarts, former Hawthorn and Southport premiership player Brent Renouf describes Tippett as an easy-going guy.

Others say he is quiet, yet popular, non-confrontational, yet determined.

At Southport in that Grand Final in 2006 he lived up to the phrase he scribbled on the whiteboard, seizing the day by kicking a goal to help the Sharks over the line by just 12 points.

Renouf played at centre half-back in the same team as Tippett, just two years before playing in the ruck aged just 20 for the Hawks in their 2008 premiership side.

"We were the young twin towers for Southport," Renouf told AFL.com.au.

"There were some old heads that used to test us out at times."

Ten years and one week will have passed since that Grand Final at Carrara when Tippett wakes on Saturday to play in his second AFL Grand Final with the Sydney Swans.

Tippett's tale cannot be told without mentioning that saga that the 29-year-old has made every effort to put behind him.

He was the centre of one of the AFL's biggest off-season stories in the past decade when he crossed from Adelaide to the Sydney Swans.

It started when the Gold Coast Suns were born and he became a natural target as he emerged as a 202cm talent with Adelaide, kicking 55 goals in 2009.

Desperate to re-sign him at the end of 2009, the Crows made a promise to trade him if he wanted to leave when the contract expired.

Tippett agreed to stay, naïve to the importance of what was being agreed to at the time and the side deals the AFL would only become aware of once he wanted to leave the Crows at the end of 2012.

Those close to Tippett say his motivation for extending his time at the Crows at the end of 2009 was that he didn't want to let them down by walking to the Suns as an uncontracted player, something they feel has never been acknowledged enough given the drama that followed.

However, some who were at Gold Coast at the time were never convinced Tippett was the type to join a start-up club, with all the difficulties that would entail.

As an AFL footballer, he felt entitled to the best immediately.

When Tippett came out of contract again, the Sydney Swans were targeting him, keen enough on the then 25-year-old for coach John Longmire and CEO Andrew Ireland to interrupt celebrations and fly to the Gold Coast to meet him just days after winning the 2012 premiership.

The Sydney Swans were an attractive option for Tippett – and the post-Grand Final visit pivotal in luring him – but it led to complications.

Suddenly Gold Coast was out of the picture and the defending premiers were in the box seat.

The Swans offered Jesse White, coincidentally another of Tippett's Southport premiership teammates who was yet to prove he could be a consistent AFL player, and a second-round pick for the gun forward and eyebrows were raised.

How could Adelaide be prepared to accept such a small return for a player with star appeal who would command a big contract at the Swans?

An AFL investigation ensued which blocked that trade, then suspended the potential of any trade, until every detail surrounding his last contract with the Crows was looked at.

In the end Tippett reached the Sydney Swans through the pre-season draft at pick No.11 as he set terms but it came at a huge cost.

Tippett copped an 11-week suspension and remorseful manager Peter Blucher was outed for a year by the Players' Association Agents' Accreditation Board while then Adelaide CEO Steven Trigg admitted he had made a mistake and was sidelined by the AFL for six months and fined.

All three are back working in football, lessons learned.

The transfer wasn't an easy time for Tippett, coming off a season where he suffered three concussions that were traumatic enough to worry those around him and have him cover off every detail before resuming.

Everyone AFL.com.au spoke to about this time agreed Tippett would have hated letting people down, particularly after he kicked four goals to nearly win a preliminary final for the Crows.

Text messages he later sent informing several former Crows teammates he was leaving were construed as arrogance by some but one former Crows official told AFL.com.au it was more of a reflection of Tippett's struggle to find the right words to explain what he was doing.

Not asked to do anything special at the Swans rather than train hard until his suspension was served, he became known as a player who was very aware of what he needed to do to get his body right.

"He Googles a lot, doing his own research, and is more diligent than most," a former Swans official said.

Part of a sporting family with his brother Joel playing at North Melbourne and sister Gretel a key member of the Queensland Firebirds netball team, he has known what he needed to do to excel at the elite level.

He played in a losing Grand Final in his 26th game for the Swans at the end of his second season, kicking one goal and taking five marks.

It wasn't the result he wanted but he conceded later that it reflected his up-and-down season, interrupted by injury and then affected by a lack of confidence in his body.

"It was a tough season to sort of get a gauge on," Tippett told the Swans website.

"Being in and out of the side is something that's hard and being worried about your body and not having great confidence is something that can affect you."

It wasn't until about 2015, after Mike Pyke retired and Lance 'Buddy' Franklin was in full flight, for Tippett to become just another player at the club rather than someone who symbolised any perceived Sydney Swans advantage.

It was also when Longmire started training him in the ruck during pre-season.

"He's a very good ruckman as well as having the ability to push forward and kick goals," Longmire said in February 2015.
Since then he has become one of the game's best ruck/forwards. He finished eighth in the Swans' 2015 best and fairest and earned respect for his ability to re-invent himself on the run.

Longmire stuck to the script, never wanting more from his highest-paid players than what he expected from their teammates.

He kept faith with Tippett, and the Swans are reaping the rewards, even despite his recent injury troubles.

After a hamstring injury requiring surgery midway through the season and then a fractured cheekbone in the qualifying final against the Giants he has made it to the line again for a tilt at a flag.

A premiership would make all the travails worthwhile, capping a 168-game, 318-goal career never far from the headlines.
"It's the ultimate," Tippett told SEN radio during the AFL Grand Final Parade on Friday.

And it would please those who have known him the longest, the old mates from the Gold Coast where it all started for Tippett.

"It will be good to see him perform in the Grand Final. Hopefully he has a good go at it on Saturday," Renouf said.