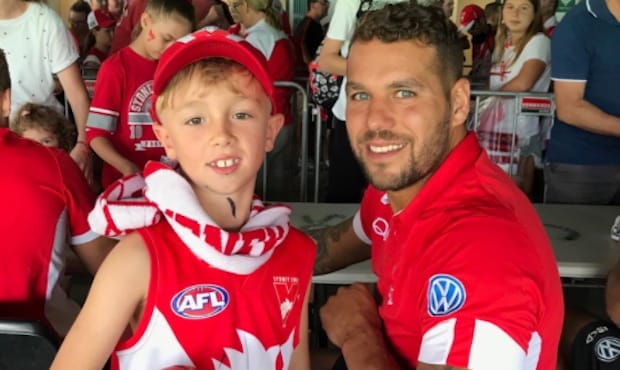 Thousands of Sydney Swans fans have turned up to help celebrate the start of the season at the 2018 Fan Day, presented by Volkswagen.
Supporters and members flocked to the SCG were there was plenty of fun and festivities to take part in on Saturday morning as the countdown continues to the start of the home and away season.
The full playing list was in attendance with the autograph station very popular among the fans as the players were split into two groups for the signing session.
The fans took the chance to get plenty of photos to cherish the memories of being so close to their favourite Swans stars including Coleman Medallist Lance Franklin and Captain Josh Kennedy.
Club mascot Cyggy was also very popular in front of the cameras.
In the Swans Fan Zone presented by McCafe there was plenty of prizes given away thanks to McCafe, part of the very popular Citi Spin 2 Win Wheel.
There was also plenty of kicking and handball challenges taking place and also free face painting for those who wanted to wear the red and white with pride.
Vice-captain Luke Parker thanked the fans for their ongoing support.
"It is incredible, each year it gets bigger and bigger," Parker said.
"It is great to be able to give back and see the smiles on their faces with the support they give and to see them enjoying themselves as much as we do."
Plenty of new members signed up with a record number already on board for the 2018 season after recently passing the 50,000 member mark.
In the Swans Fan Zone there was plenty of prizes given away with all the give aways happening as part of the very popular Spin 2 Win Wheel.
Also in a special moment for fans they had the first chance to get a sense of the inner sanctum of the SCG with Swans 360 made possible by QBE on offer.
Through a powerful 360 degree virtual reality video, fans had the chance to get behind the scenes with unique access to our come from behind win over Essendon in 2017.